Pro-Optic 85mm f/1.4 - Full Hands-on Review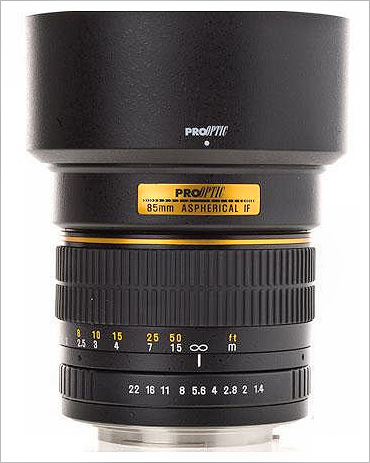 Pro Optic 85mm f1.4 manual focus lens
85 mm lenses, particularly fast 85mm lenses like the Pro Optic 85mm f1.4 are generally regarded as the optimum lenses for portraiture. The focal length is such that it doesn't distort perspective and so gives a natural look. The high speed and corresponding shallow depth of field allow the subject to be isolated by focus and allow the background to blur softly. They are equally usable on full frame and crop sensor cameras, but full frame cameras better enable their full potential to be realized.
The problem with such lenses is that they are often expensive. For example the Canon 85/1.2L II USM is priced around $2000. The slower f1.8 version is more reasonably priced at around $400, but it's slower and so doesn't have quite as shallow depth of field or degree of background blur as the faster lens does. The Pro Optic 85mm f1.4 lens covers the middle ground at a reasonable cost (under $300), but has the disadvantage that it lacks autofocus. Some photographers are prepared to trade of the lack of AF against other features, so I thought I'd take a look at the Pro Optics 85/1.4 and compare it with the similarly priced Canon 85/1.8 USM. Do the extra speed and lower of the Pro Optics 85/1.4 outweigh the AF advantage of the slower and more expensive Canon lens. Read on to find out...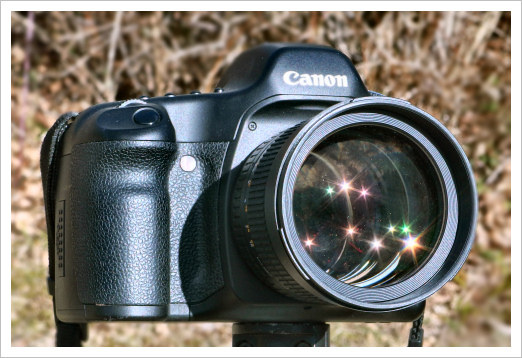 Pro Optic 85mm f1.4 mounted on a Canon EOS 5D
Pro Optic 85mm f1.4: Construction
The Pro Optic 85mm f1.4 appears to be very solidly built. It feels much more like a manual focus lens built in the 1960s than a modern AF lens (and that's not a bad thing). It feels heavy and seems to be made out of metal rather than the plastics more commonly found these days. The focus is very smooth and well damped with no play. The rotation from close focus to infinity is around 120 degrees. The aperture settings are clearly marked and the aperture detents are positive. There is a distance scale calibrated in ft and meters. Like most current lenses, there is no DOF scale or IR focus marking. A plastic bayonet fitting hood and a soft carrying pouch are included with the lens.
This particular lens came in a Canon EOS EF mount, but it's also available in mounts for Nikon and Sony Alpha/Minolta Maxxum. It has full frame coverage, but can of course also be used equally well on APS-C crop sensor cameras. On a Canon APS-C body it has the equivalent field of view of a 136mm f1.4 lens on full frame and on Nikon/Sony it has the equivalent FOV of a 127.5mm f1.4 lens. All versions come with a lens hood, front and rear caps, a soft case and a one year warranty.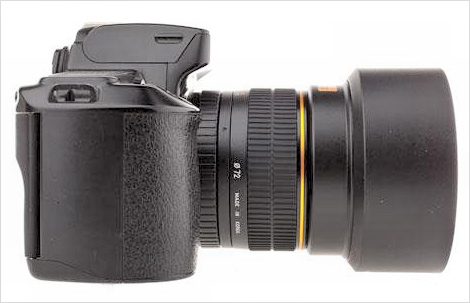 Pro Optic 85mm f1.4 with hood
I couldn't find an optical diagram this specific lens, but the specification note that it does use an aspheric element. I suspect that this lens (or at least a very similar lens) is also sold under a number of other names. There are lenses with what appear to be identical specifications and appearance which appear under the names of Rokinon, Bower, Opteka, Samyang and possibly Falcon and Polar. The names on the lenses are usually applied using a stick-on or screw on label or nameplate. There's also a Vivitar lens with the same specifications but which looks a little different. Below is an optical diagram for the Samyang 85mm f1.4 which I suspect has the same optical formula as this Pro Optic lens (the green element is the aspherical). Whether these very similar looking lenses all have the same level of quality control, whether they all have the same lens coatings and whether they all perform equally I don't know. I suspect that they are probably all made by the Samyang Optics Company in Cahngwon, Korea. However, this is a test of a Pro Optics lens and the results and conclusions don't necessarily apply to similar lenses marketed under other brand names, even if they appear to be the same.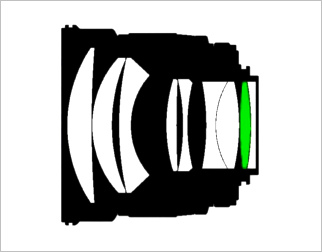 Pro Optic 85mm f1.4 Specifications
| | |
| --- | --- |
| Focal Length | 85mm |
| Aperture range | f1.4 - f22 |
| Optical Construction | 9 Elements in 7 Groups |
| Minimum Focus Distance | 3.3 ft. / 1 meter |
| Filter Size | 72mm |
| Dimensions (length x width) | 72.2mm x 78mm |
| Weight | 17.9 oz (507g) |
Pro Optic 85mm f1.4: Focus
Obviously the Pro Optics 85/1.4 isn't going to autofocus on any camera since it has no focus motor or mechanical or electrical coupling to the camera, so you have three focus options:
Focus by eye using the camera's viewfinder screen.
Focus by electronic aid using the camera's AF system (if available)
Focus on the camera's LCD screen using Live View (if available).
Focus is critical with a fast lens because depth of field is so small. At f1.4 an 85mm lens on a full frame camera focused at a distance of 2m (typical for a portrait) is less than 2". It's very difficult to focus with this degree of accuracy by eye on a ground glass screen. It can be done. My eyes aren't perfect (I need reading glasses) and I can usually get pretty close to perfect focus given enough time, but I can't do it every time and I can't do it with a moving subject and it gets harder as the light level gets lower. An eyepiece magnifier can help, but even then it's not perfect. It also depends on your ground glass screen being in perfect registration for focus. Not always true in these days of AF cameras where most users never manually focus anything! There are alternate focusing screens made for many DSLRs both by the camera manufacturers and by 3rd party companies (e.g. focusingscreen.com and katzeyeoptics.com). A typical screen designed for manual focus with a split image rangefinder in the center usually sells for around $100. Metering may be affected with some cameras since many read image brightness off the screen.

AF confirmation chip for Canon EOS
Focusing using the camera's electronic aids (green dot and beep for EOS) is possible if an AF confirmation chip is installed on the lens. The Pro Optic 85/1.4 for Nikon is available with such a chip but as far as I know the Canon EOS mount version is not. However you can buy the AF confirmation chips on eBay and install (i.e. glue) them onto the lensmount yourself (see my general article on manual focus lenses and adapters). I've done this myself on other lenses, but since the lens I tested wasn't mine I didn't attempt it in this case. They usually work pretty well. Perhaps not 100% perfectly 100% of the time, but probably more often than most people could reliably focus by eye, plus it's faster than by eye too. There have been some reports of some of these chips causing camera problems, but I've got 3 or 4 lenses and adapters with them on and I've had no problems so far.
Live View is by far the most accurate method of focus. Most current DSLRs allow Live View and focusing on the camera's LCD screen, often using 5x or 10x image magnification. This will give you 100% good focus 100% of the time - as long as your subject doesn't move, and you don't move the camera. It's also pretty much impossible to do without the camera on a tripod. You can do it by holding out the camera at arms length, or by installing one of the LCD screen magnifiers sold for video use, but that's hardly what I'd call convenient.
So focus is clearly an issue. You aren't going to be very happy trying to use a manual focus lens for sports for example, though before the 1980s everyone used manual focus lenses for everything since there were no autofocus SLR systems. However for portrait use in a studio where Live View would be easy to use and your subject is still, manual focus doesn't present any real problem at all.
Incidentally, the Pro Optics 85/1.4 doesn't seem to show any focus travel. That means that if you focus wide open at f1.4, the same focus setting will also give you optimum results at smaller apertures. Some lenses with significant spherical aberration do show a shift of best focus with aperture. The Pro Optic 85/1.4 doesn't show significant spherical aberration wide open and doesn't shift focus when stopped down.
Pro Optics 85mm f1.4 lens: Exposure
In principle autoexposure is possible using a Canon EOS body (and most other DSLR bodies) in aperture priority mode. In the simple case (which this isn't), the camera would measure the amount of light falling on the sensor and calculate the appropriate shutter speed for whatever the ISO setting on the camera is. In fact this works - sort of.
The catch comes from the fact that it's not the light actually falling on the sensor that gets measured with most DSLRs. Different cameras may have different types (and positions) of metering sensors, but for example on the new EOS 1D X sensor is located up in the prism area of the camera, above the eyepiece optics. It reads most of the image area, looking down on the focus screen. This is a pretty typical arrangement for most current EOS DSLRs. Now it appears as though the light measured by this sensor depends on the exact lens geometry. It's been suggested that the position of the exit pupil of the lens is involved for example. Canon presumably know where their exit pupils are, the camera also knows which lens is mounted and can read information from a memory chip in the lens. This information could potentially be used in calibrating exposure. In fact if you change the focusing screen on some EOS bodies, you have to tell the camera which focusing screen you have installed (via a custom function) in order to retain accurate metering. The end result is that if you use a Canon EF/EF-S series lens on an EOS body, the correct exposure is calculated.
But...if you put a non-Canon lens on an EOS body and that lens doesn't transmit any information about itself to the camera, the camera can't apply any exposure correction that might be necessary to give the best exposure settings. The autoexposure system will still react to changes in light and changes in aperture but it might get the exposure settings a little wrong. Its possible the the differing angle of the cone of light that illuminated the viewfinder screen as the aperture of the lens is changed requires some compensation. This is what appears to happen with the Pro Optic 85mm f1.4 lens. It's not a huge surprise to me. I've seen similar issues ever since I put manual focus lenses on my old EOS 10D and 20D bodies. Not every lens has exposure issues and those that do don't always have the same issues on different generations of EOS bodies. I tested the Pro Optic 85/1.4 on both an EOS 7D (APS-C) and EOS 5D (Full Frame) body. The results of one such test are shown below. The numbers represent the shutter speeds the camera chose (e.g. 3200 = 1/3200s).
The rightmost column shows "normal" operation with a Canon EF 85/1.8 USM on an EOS 7D. As the aperture is closed down the shutter speed slows and the image density is about the same at all apertures. That's not quite what happens with the Pro Optics 85/1.4 on these bodies. At the left the Pro Optic 85/1.4 was mounted on the EOS 7D. At larger apertures there is underexposure, at f4 it's about right and at smaller apertures there is over exposure. The center column shows the behavior on an EOS 5D. In this case there is over exposure wide open, approximately correct exposure at f2.8 and overexposure again as the lens is stopped down. Note that the top row showing the lens wide open is f1.4 for the Pro Optics 85/1.4 but only f1.8 for the Canon 85/1.8 USM.
Now you could attribute this to the actual aperture of the Pro Optic lens not being consistent and reproducible (e.g. if f8 was sometimes f8, sometimes f7 and sometimes f9), but that's not the case as the images below demonstrate:

Here I've assumed the "correct" exposure is 1/3200s at f2. I've then changed the shutter speed to give the same exposure at each aperture. When the lens was closed down one stop from f2 to f2.8, the shutter speed was changed from 1/3200s to 1/1600s. As you can see, from f2 through f11 the exposures are uniform. At f1.4 the image is underexposed, which suggests that the F-stop, or more accurately the T-stop, with the lens set to f1.4 is closer to about f1.6. This is shown by the image sequence below:

On the left is the nominal "correct" exposure of 1/3200s at f2 shoy with an EOS 5D. The next 4 images where taken with the lens set to f1.4 with shutter speeds of 1/3200s, 1/4000s (-0.33 stops), 1/5000 (-0.67 stops) and 1/6400s (-1 stop). Theoretically the image shot at 1/6400s and f1.4 should have the same density as that shot at 1/3200s and f2, but it doesn't. From this and other exposure tests, it looks like the average exposure at the f1.4 setting is about 2/3 stop more than at the f2 setting, which suggests that wide open the "T stop" of the lens is about 1.6. That means the shutter speed should be reduced by 2/3 stop going from f2 to f1.4 or that, for example, exposure at 1/400s at f2 and 1/640s at f1.4 give rise to the same image density. This was measured using an EOS 5D and looking at the center of the frame so that effects of vignetting didn't play a part.
Comparing images shot with the Pro Optic 85/1.4 wide open and the Canon EF 85/1.8 wide open, the Pro Optic lens is about 1/2 stop faster in the center of the image and almost a full stop faster in the corners of a full frame image (due to the higher level of vignetting by the Canon lens).
So what's the upshot of all this? Well, I can't say what the situation would be on a Nikon, Sony, Pentax or Olympus DSLR. I can't even say what it might be on anything but an EOS 7D or EOS 5D. However I can say that if you use the Pro Optics 85/1.4 (or indeed any other non-electronically coupled manual focus lens you need to do some sort of exposure testing to see if your DSLR requires any exposure compensation. Mine certainly does. Yours might not, but don't assume that it doesn't without testing.
Pro Optic 85mm f1.4: Aperture
The Pro Optic 84/1.4 has a manually controlled aperture. There's a click stop at f1.4 and f2.0 and then click stops at 1/2 stop settings through f16 plus f22, so the available settings are 1.4, 2, 2.4, 2.8, 3.3, 4, 4.8, 5.6, 6.7, 8, 9.5, 11, 13, 16, 22.
Vignetting can be visualized by looking at the shape of the out of focus image of a point across the frame. The more circular the image, the lower the vignetting. The images below show the relative shapes for the Pro Optic 85mm f1.4 at f1.4 and the Canon EF 85/1.8 at 1.8 at about 90% of the distance the corner of the frame of an EOS 5D (full frame)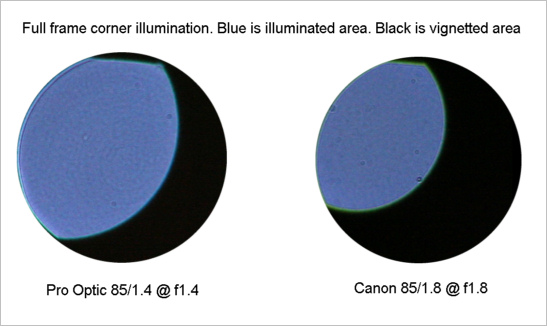 As you can see, the Pro Optic 85/1.4 does quite well. The black circle is the shape with no vignetting and the blue sector is what is actually seen. This shows that wide open the Pro Optic 85/1.4 vignettes less then the Canon 85/1.8. The vignetting of the Pro Optic 85/1.4 is about 1.6 stops in the extreme corner of a full frame, which is very good. At f2 the vignetting in the extreme corners is just under 1 stop. The Canon EF 85/1.8 at f1.8 shows just over 2 stops of vignetting in the extreme corners at f1.8, dropping to about 1.5 stops at f2.
The next image shows the shape of the aperture of each lens when stopped down to f5.6. Neither is the ideal circle. Both show and 8 bladed iris, with the Canon showing a somewhat more symmetrical shape. Wide open both, of course, show a perfectly circular aperture.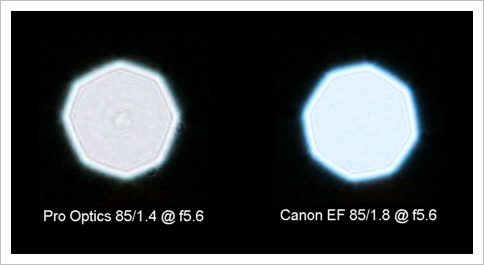 Here's the Pro Optic 85/1.4 aperture shape and relative size going from f1.4 to f5.6:

Pro Optic 85mm f1.4: Distortion
As you'd expect from a prime lens of this focal length, distortion was negligible. I really couldn't see any, even when shooting full frame.
Pro Optics 85mm f1.4: Chromatic Aberration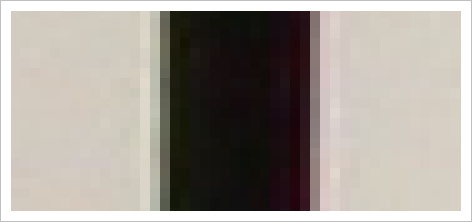 Again there's really none to speak of. The above image shows a 1000% crop (that's a 1000% crop, not a 100% crop) from the corner of a full frame image. You can see just a hint of CA, but at normal images sizes, even looking at 100% crops, you don't see it.
Pro Optics 85mm f1.4: Spherochromatism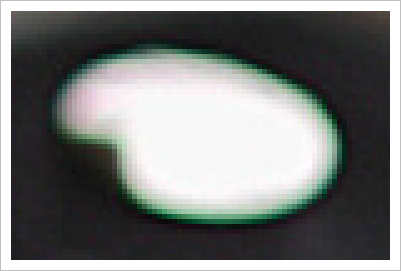 Out of focus object, behind plane of focus. The high contrast black/white edge (shown here at 500% magnification) has a green colored fringe to to spherochromatism
Spherochromatism is a variation in spherical aberration with color. It's most often seen with very fast lenses used wide open and it manifests itself as a purple coloration or fringe on hard edges on out of focus objects closer than the focus point and a green coloration or fringe on out of focus objects farther away then the focus point. The Pro Optic 85/1.4 does show spherochromatism wide open, but it's rarely a problem in actual use. I only noticed it in test shots where I really looked for it.
Pro Optic 85mm f1.4: Flare
Flare is the spilling of light into dark regions of an image due to light bouncing around within the lens when the front element is directly illuminated by a strong light source. It lowers contrast in in extreme cases make an image look as though it was shot through afog. It's minimized by better anti-reflection coatings on the lens elements and better baffling and light absorbing materials used within the lens barrel.
The Pro Optic 85/1.4 is not as good as the Canon 85/1.8 at flare suppression. Under worst case conditions (i.e with the sun actually in the frame), the image with the Pro Optics lens tends to "wash out" to a significantly greater extent than a similar image taken with the Canon lens. This means that it's more important to use the supplied lens hood with the Pro Optic lens, especially when shooting towards the sun. The hood is no use when the sun is in the frame, but it can significantly reduce flare when the sun is just outside the frame. The Canon lens can also benefit from a hood, though you have to buy one separately since Canon don't supply one with the lens.
Pro Optic 85mm f14: Image quality
Let me say at the outset that I didn't expect the Pro Optic lens to be as good as the Canon 85/1.8 USM, so I was a little biased. I do try to be objective though and after testing I can say that I'm actually impressed by the image quality of the Pro Optic lens. Under most circumstances it's very close to the Canon (as long as you get the focus right!). Distortion is low, chromatic aberration is well controlled and sharpness is good, even out to the corners of the full frame. It's better slightly stopped down than wide open, but that is true for all lenses.
Comparing the Pro Optic 85/1.4 with the Canon 85/1.8 wide open, the Pro Optic image is slightly softer and lower in contrast, but remember the Pro Optic lens is 2/3 stop faster wide open. Stopping down to f2 sharpness up both lenses a little as is shown below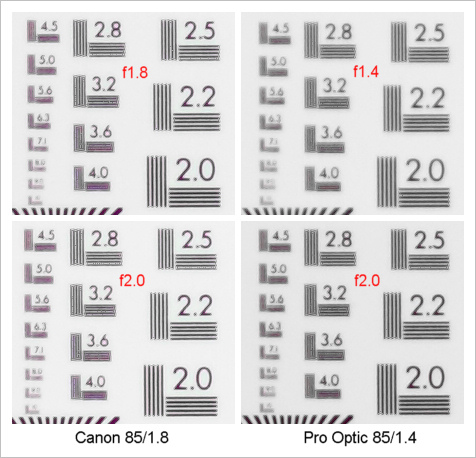 Center of frame on EOS 7D
As you can see, there's not a huge amount of difference, The Canon lens is a little sharper, but these are 100% crops. In typical portraits the difference would be pretty small. Corners, even on full frame images are pretty similar. Slightly less sharp than the center with the Canon lens at f1.8 slightly sharper than the Pro Optics at f1.4.
Here's more of a "real world" image comparison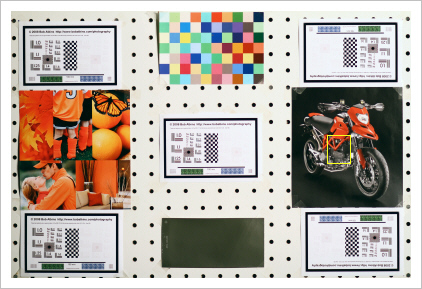 [Area in yellow shown below as 100% crops]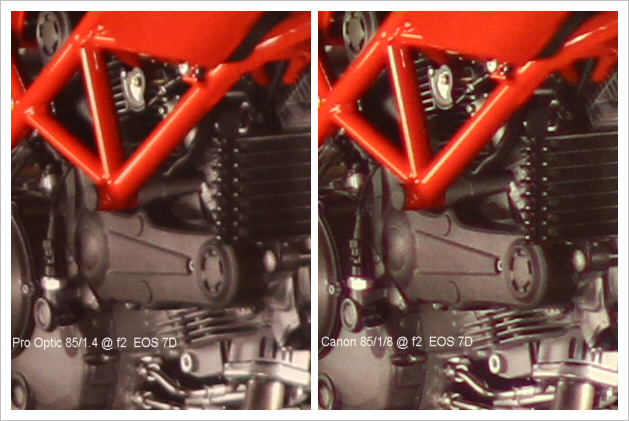 The image from the Canon 85/1.8 USM is just slightly shaper than that from the Pro Optic 85/1.4, but they are close and the difference would be hard to spot in smaller sized image.
Pro Optic 85/1.4 Background blur and Bokeh
The larger aperture of the Pro Optic 85/1.4 over that of the Canon EF 85/1.8 gives it a shallower depth of field and more background blurring. "Bokeh" is more the quality or smoothness of the blur than the quantity of blur. Below are two images taken using an EOS 5D, with each lens focused at the same distance and shot wide open. The focus distance was about 4ft and the background was at around 8ft. The images are 50% crops from the same background region.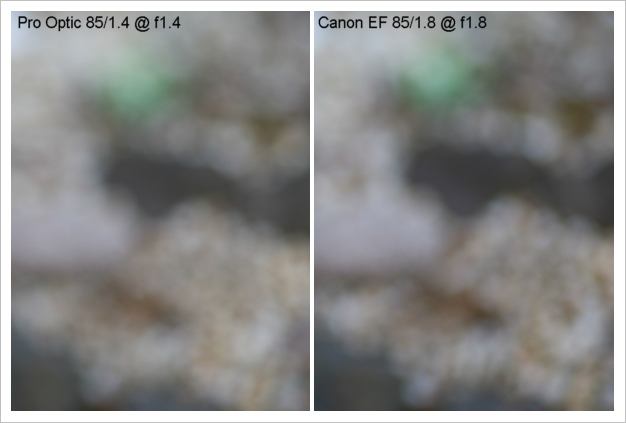 It's clear that the Pro Optic lens generates a somewhat smoother (of at least more) out of focus region than the Canon lens does, as you would expect. If you're looking for the maximum amount of smooth background blur, then the Pro Optic lens has the edge in this case. The difference isn't huge and a casual viewer might not notice it, but it's certainly there if you know what to look for.
Pro Optic 85/1.4 in Practice
While optical bench measurements and theory are just fine, actually using the lens can tell you quite a lot too! For example just how much of a problem is the manual focus? How sharp are the images? Does the background blur look OK? How sharp does a portrait need to be?
Since an 85mm lens is an "ideal" portrait lens, the obvious test is to go out and shoot some portraits and so that's what I did. I shot around 30 portraits both indoors and outdoors using an EOS 5D (that's the old, original EOS 5D) and focusing by eye on the viewfinder screen (unmagnified). All the images were shot at f1.4, where focus is most critical. I took care in focusing, but not extreme care, i.e it usually took me a couple of seconds to rack focus back and forth to determine what appeared to be the optimum position. About 3 or 4 images out of the 30 were enough out of focus to classify as "rejects". Maybe 3 or 4 more were on the edge of being soft, but they could be usable at small sizes but most of the others were pretty good as far as focus went. Looking carefully at 100% on screen blowups maybe they were not all critically sharp, but the whole frame displayed on a 17" monitor generally looked good. So my "accurate" focus rate was around 75%. Given the very shallow DOF of an 85/1.4 at f1.4 it can be as much of a problem to place the focus zone in the right place as it is to get sharp focus at any one point. At times getting both eyes in focus at the same time can be tricky when the model is looking away from the camera.
As far as exposure goes, I earlier noted that on a 5D the lens tends to overexpose slightly. However I chose to shoot at the meter reading in aperture priority mode to see what would happen. I shot in RAW mode so that I had more latitude for exposure correction and I did check image playback and histograms to make sure that exposures were not grossly in error. In general the exposure results were as I'd have expected. Slight overexposure in most cases. The images shown below were taken from the RAW files processed using Canon's DPP software, plus in some cases some further minor corrections in Paint Shop Pro v9. I did not resort to PhotoShop itself! Here are the sample images and notes: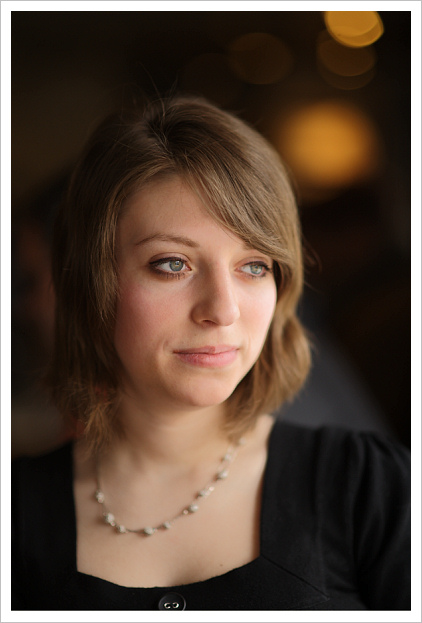 This was shot indoors in a nationally well known coffee store (which shall remain nameless). The light wasn't too bright so you might think that made manual focus tricky, but with the f1.4 aperture of the lens the viewfinder image was still pretty bright and most of the shots taken under these conditions were sharp. The background blur is very pleasing. You basically can't tell where the shot was taken and the out of focus regions are smooth. You can see the shape of the out of focus specular highlight at the top right isn't circular because of the vignetting in the corner with the lens wide open, but it isn't any more distracting than it would be if it had been circular. All in all the Pro Optic 85/1.4 worked very well under these conditions. The RAW file was converted with -0.8EV of overall exposure compensation and a "-5" compensation setting for for the highlights (there was strong light coming in from the right).
Moving outdoors and again shooting at f1.4 most of the shots were sharp. The background in this case was a rather uninteresting grassy field. You certainly wouldn't have wanted the background to be in focus and as you can see, with the 85mm lens set to f1.4 it wasn't. Overall exposure compensation during RAW processing was again -0.8 stops. Highlight compensation was "-1".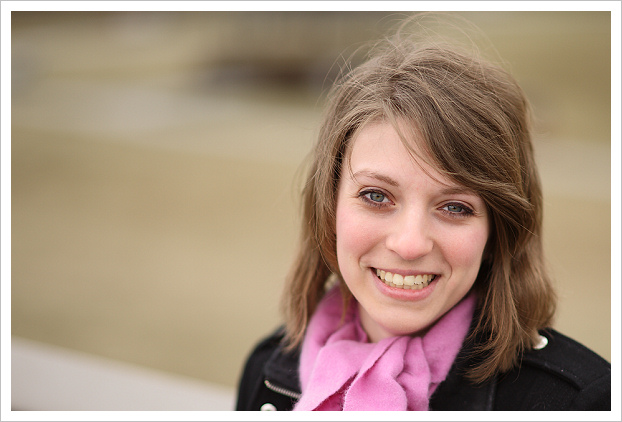 Of course the Canon EF 85/1.8 isn't bad either. The image below was shot at f1.8 and you can see the background is also nicely blurred. Focus was a lot faster though! All the shots I took with the Canon AF lens were in focus, as you would expect. In this case I actually applied +0.3 stops of overall exposure compensation to the RAW image in DPP and "-2" to the highlights.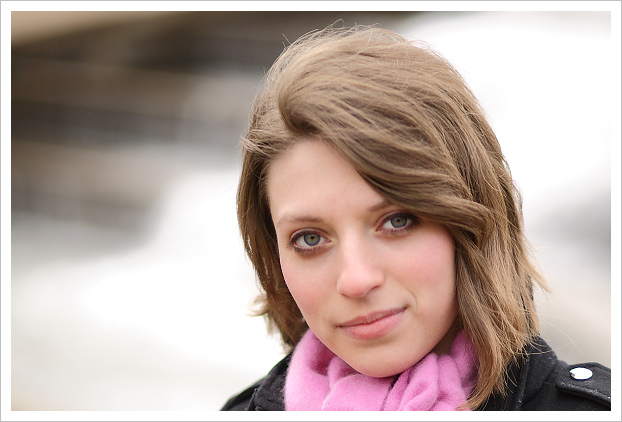 Thanks to Ari, the model in these images, for patiently waiting while I attempted to focus the lens!
Pro Optics 85mm f1.4: Conclusions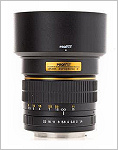 I was more impressed with the Pro Optic 85/1.4 than I expected to be. Overall it's a pretty good lens, close in performance to the Canon 85/1.8 USM, which is no mean feat since that's one of Canon's better consumer lenses. It's cheaper than the Canon lens and it's a little faster. Lens construction seems excellent. Solid metal build and a very well damped, smooth focusing action, nicer than the Canon lens which is optimized for motor drive.
However....unless you are a methodical and deliberate photographer you will probably miss autofocus, especially if you are young enough to have never actually used a manual focus lens before! "Back in the day" (i.e. before about 1980) all lenses were manual focus an all SLRs had focusing aids in the viewfinder such as split image rangefinders and microprism areas which gave a clear and positive confirmation of focus. Third party split image screens are available for many DSLRs and you intend to depend focus by eye on the screen you might want to pick a DSLR that has that option. AF confirmation chips and Live View can also work well, but again they would be of more use to the slow and deliberate photographer than the action shooter. However I'd still add one if I owned the Pro Optic 85/1.4 myself. The necessity of manual exposure setting or correction with some cameras is also something that would require a slower and more deliberate approach to photography or at least some thought and experimentation before depending on in-camera meter readings. For a studio portrait photographer, focus and exposure setting issues wouldn't really be much of a problem, for someone needing a fast lens for indoor sports, they probably would be.
The extra speed of the Pro Optic 85/1.4 over the Canon EF 85/1.8 is certainly useful. In terms of exposure wide open you gain about 1/2 stop in the center of the image and almost a full stop in the extreme corners of a full frame image (due to the difference in vignetting). With both lenses wide open the Pro Optic 85/1.4 will blur backgrounds slightly more than the Canon and it gives slightly smoother bokeh, but those effects probably might not be noticed by a typical viewer. Some photographers would see them though and if they are important to you the the Pro Optic 85/1.4 is certainly worthy of consideration. Optically it's a very good lens, but it's going to be hard for some users to get past the lack of AF and need for manual stop down metering, possibly with exposure compensation in auto modes with some cameras.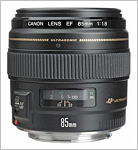 So what would I recommend? Well, while I have no complaints at all about the optical characteristics of the Pro Optics 85/1.4, I still think that for most Canon EOS photographers who want a general purpose, fast, 85mm lens the Canon EF 85/1.8 USM would probably be a better buy. It's $369 right now (03/13) since there's a $50 instant rebate on it. The Pro Optic 85/1.4 is only $279 in a Canon mount, but the price difference of $90 wouldn't be enough to make me give up AF. The Pro Optic lens certainly shows lower vignetting, but that's countered by the fact that RAW images shot with the Canon 85/1.8 can automatically be corrected for vignetting using Canon's (free) DPP software. DPP won't do corrections on non-Canon lenses. Nikon shooters have the option of the Nikon Mount Pro Optics 85/1.4 with an AF confirmation chip installed for a total price of $299, which is an excellent deal and certainly the way I'd go if I wanted this lens and shot with Nikon gear. The $299 is a special right now (03/13). The regular price is $319. Nikon's own autofocus 85mm f1.8D is $459. I don't shoot Nikon, but by all accounts the Nikon 85/1.8D is an excellent lens with a very good reputation.
Here's my full review of the Canon EF 85/1.8 USM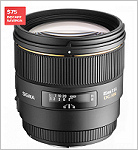 Of course the way to get around all the drawbacks of the manual focus fast lens is simply to buy the excellent Canon EF 85/1.2L II USM. It's a superb lens, but the price of around $2000 (after rebate) makes it out of the reach of most photographers (including me).
A lower priced fast 85mm which is getting very good reviews is the Sigma 85mm f1.4 DG. recently the DxO website took a look at it and concluded that "...the lens sets a new benchmark for optical performance for a retro-focus lens in this focal length and itís a feat thatís even more remarkable given the price is well-below that of any of the big name brands...". Currently there's a $75 instant rebate on the Sigma 85mm f1.4 DG making the current price only $894. That's not cheap, but compared to the price of the Canon 85/1.2L ($2000)and Nikon 85/1.4 ($1500), it's an absolute bargain. It is still 3x the price of the Pro Optics 85/1.4 though, so it's not in everyone's budget.
Bottom line on the Pro Optics 85mm f1.4. It's a very good lens but using it requires some patience and thought to get focus and exposure right. If you don't mind that, and you want something a little different, then go for it. Optically it will not disappoint you. Personally, I was very pleased with the image quality. However, if you want a lens with similar characteristics that you can "point and shoot" without the necessity of thinking about focus and exposure, spend the extra $100 or so on the Canon EF 85/1.8 USM and live with the slightly slower lens speed.