Sigma 50-500/4.5-6.3 OS HSM Review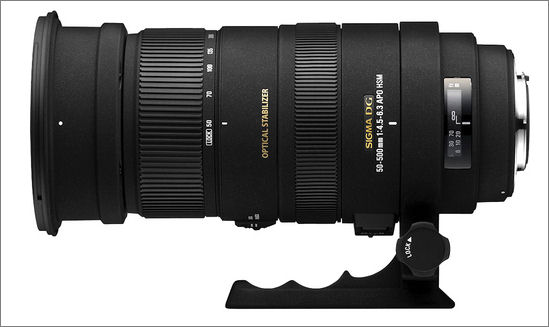 Sigma 50-500/4.5-6.3 OS HSM
The is the largest range (10x zoom)long telephoto (500mm) produced available for use on (D)SLR camera bodies. Canon have their and , but that's only 4x. In 2014 a number of long zooms were announced and/or released including the , the and the , but again these are only 4x zooms.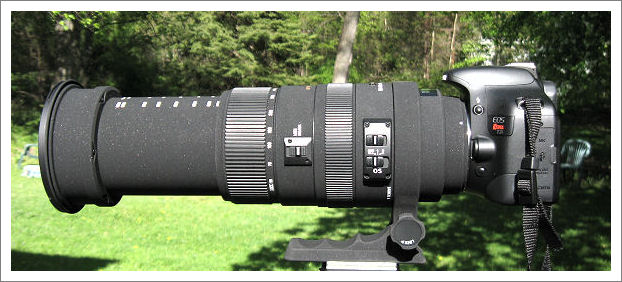 Sigma 50-500 OS HSM at 500mm, Canon EOS Digital Rebel T2i
All these lenses have full frame coverage so they can be used on both full frame and crop sensor DSLRs. I tested the Sigma 50-500/4.5-6.3 OS HSM on Canon EOS cameras (EOS 40D crop sensor and EOS 5D full frame), but it is also available in mounts for Nikon, Sony/Minolta, Pentax and Sigma's own DSLRs, which pretty much covers all full frame and APS-C sensor cameras, leaving out only the Olympus four-thirds sensor cameras. When mounted on a Canon APS-C crop sensor DSLR (Digital Rebel, 50D, 7D) the 1.6x focal length multiplier results an a lens with the same field of view as an 80-800mm lens would have mounted on a full frame camera.
The list price of the Sigma 50-500/4.5-6.3 OS HSM is $2400, but it's widely available via the major discount stores for around $1500. A similar (but not optically identical) non-stabilized version (the Sigma 50-500/4-6.3 HSM) was available for around $1000, but that lens has now been replaced by the stabilized version. The OS version has closer focusing (and higher maximum magnification) as well as 2 more lens elements.
Sigma 50-500/4.5-6.3 OS HSM Specifications
Construction
22 Elements in 6 Groups
Angle of View
46.8°-5.0° (diagonal)
Diaphragm Blades
9
Miminum Aperture
f22
Minimum Focus Dist.
50-180 cm / 19.7-70.9 in (depends on focal length setting)
Filter Size
95mm (adapter for 86mm filter included for use with APS-C DSLRs)
Maximum Magnifications
1:3.1 (at around 200mm and a focus distance of 60cm)
Diam. x Length
104.4x219 mm / 4.1x8.6 in (@ 50mm)
Weight
1970g / 69.5oz.
Available Mounts
Canon, Nikon, Pentax, Sony/Minolta and Sigma
Note the rather large filter size, 95mm. Sigma do supply an adapter which allows the use of smaller, 86mm, filters which can be used when the lens is mounted on an APS-C crop sensor camera. If the filter adapter is used with the lens mounted on a full frame camera it would result in severe vignetting (dark corners). Sigma caution against using the adapter with polarizers because the filter may be hard to remove. I'm not 100% sure why, but the filter adapter is plastic and I guess it's possible the filter could become stuck. Polarizers might be difficult to "unstick" since they have a rotating element which could make gripping them a little tricky. There is no provision for using rear mounted filters. I presume if you are careful that a polarizer could be used with the adapter, just don't screw it in too tight!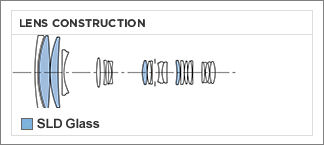 The Sigma 50-500/4.5-6.3 OS HSM uses 22 elements in 6 groups with 2 large and 2 small SLD glass elements. SLD glass is Sigma's "Special Low Dispersion" glass and its use results in lowered chromatic aberration and increased image sharpness.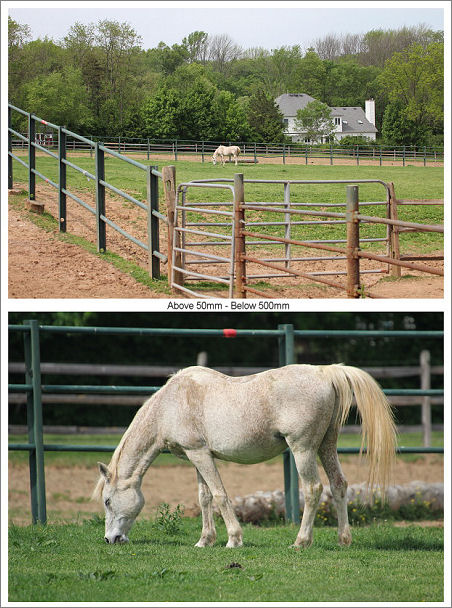 The wide focal length range of the Sigma 50-500/4.5-6.3 OS HSM means that it can be used for just about anything other than wideangle shots. At the shorter end it's usable for portraits and travel shots, while at the long end of the range it's excellent for sports and wildlife. The relative slow maximum aperture (f4.5 at 50mm, f6.3 at 500mm) does mean that you may need to use a slightly higher ISO setting then you might with some other lenses in this focal length range and the background won't be as blurred as it would be with a lens like a 70-200/2.8 or fast prime. However the Sigma 50-500/4.5-6.3 OS HSM gives you a focal length range which would require 2 or 3 faster lenses, plus the $1600 cost makes it a good deal cheaper than a set of faster zooms and/or primes covering the same range (not to mention lower size and weight). Though Canon shut off AF with lenses slower than f5.6, Sigma have a work-around in their electronics which allows full AF operation even at focal lengths where the maximum aperture is f6.3 (which is 1/3 stop slower than f5.6).
The maximum aperture of the Sigma 50-500/4.5-6.3 OS HSM varies with focal length as follows:
f/4.5 @ 50-55mm
f/5.0 @ 56-112mm
f/5.6 @ 113-243mm
f/6.3 @ 244-500mm
"OS" in the name of the Sigma 50-500/4.5-6.3 OS HSM is the designation uses on its Optically Stabilized lenses. It's equivalent to Canon's "IS" (Image Stabilization and Nikon's "VR" (Vibration Reduction) systems. Sigma claim up to 4 stops of stabilization. At 500mm, using the "1/focal length" rule of thumb, that would mean you could shoot handheld at 1/30s and get results as sharp as you'd expect when shooting handheld at 1/500s with a non-stabilized lens (the minimum shutter speed required for a good chance of getting a sharp image).
"HSM" in the name of the Sigma 50-500/4.5-6.3 OS HSM is the abbreviation for Sigma's "HyperSonic Motor", which is the equivalent of Canon's USM (UltraSonic Motor) and provides fast and quiet autofocusing. You may also see "APO", "DG" and "SLD" in the lens name/description at time. "APO" is short for apochomatic, which in this case signifies a lens with lower chromatic aberration than a "non-APO" lens migh have. "DG" is Sigma's designation to show that the lens is designed for full frame use and "SLD" stands for Special Low Dispersion glass (used to lower chromatic aberration).
The Sigma 50-500/4.5-6.3 OS HSM is supplied with a lens hood, filter adapter (95mm to 86mm) and a carrying case. It also comes with a standard 1 year international warranty from Sigma, plus a further 2 years extended warranty (3 years in all) when purchased as a USA lens from an authorized USA Sigma dealer. If you buy a grey market ("parallel import") lens then the warranty coverage from Sigma may be different and you may not get the extended warranty coverage.
NEXT - Part II - Optical Performance