Sigma 50-500/4.5-6.3 OS HSM Review
Part II - Optical Performance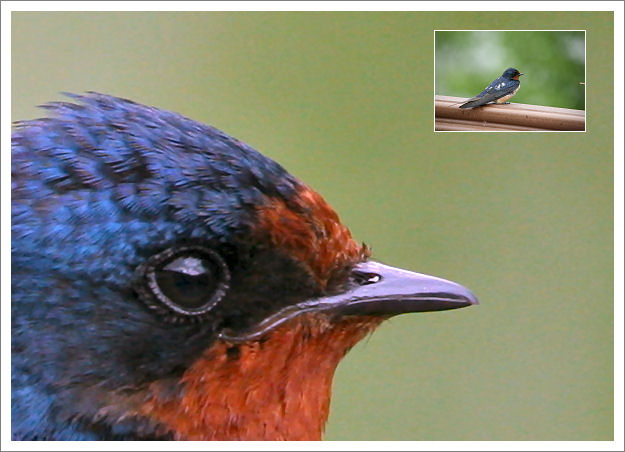 Sigma 50-500/4.5-6.3 at 500mm - 100% crop (inset shows full frame)
Focal Length
Focal length is defined in terms of the parameters measured when a lens is focused at infinity (technically it's the distance from the rear principle plane of the lens to the rear focal plane). Focal length affects image magnification, so that from a given distance from a subject, magnification is higher with longer focal length lenses - but of course you knew that! I tested the Sigma 50-500/4.5-6.3 OS HSM focal length at infinity when set to 500mm by photographing the moon with both the Sigma lens and a Canon 500/4.5L which I had previously determined to be very close to 500mm in focal length. Though the Moon isn't physically at infinity, optically speaking,it is.
Comparing the image sizes produced by the two lenses I calculated that the true focal length of the Sigma 50-500/4.5-6.3 OS HSM at the 500mm setting was approximately 485mm. This is well within the usually accepted range +/- 5% from the marked focal length.
Most internal focusing close focus zooms actually change their effective focal length when close focused. This enables close focusing without lens extension. The result of this is that magnification is often a little less then you might expect based on subject distance and focal length setting. The Sigma 50-500/4.5-6.3 OS HSM is no exception here. Again comparing image scale with that of other lenses of known focal length I calculated the following effective focal lengths for the Sigma zoom:
At infinity ~ 485mm
At 25m ~ 465mm
At 7m ~ 435mm
At 2.5m ~ 385mm
The effect of this as I mentioned above is that from a fixed distance from the subject, the Sigma 50-500/4.5-6.3 OS HSM will give slightly less magnification than you might expect. For example at a subject distance of 7m, the Sigma lens will give 87% of the magnification produced by a Canon 500/4.5L prime lens.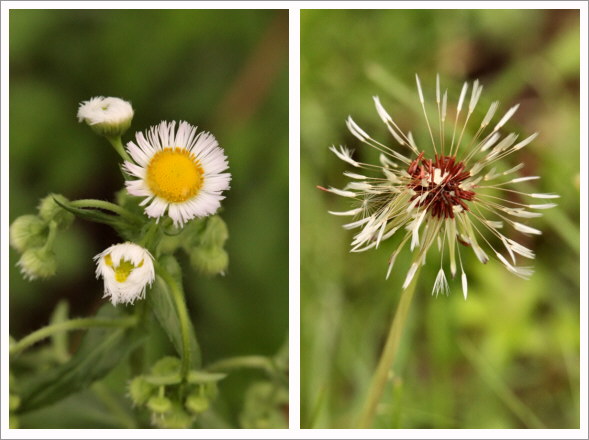 Semi-Macro shots taken with Sigma 50-500 at f11, 332mm focal length
Changing focal length with focus distance isn't really a problem in most circumstances (especially when you can move closer to your subject) and the Sigma lens will give significantly higher magnification than the Canon 500/4.5L lens when both lenses are at their minimum focus distance because the Sigma lens can focus much closer. At 0.6m from the subject and a focal length setting around 200mm the Sigma 50-500/4.5-6.3 OS HSM will yield a magnification of 0.31x (about 1/3 life size). The maximum magnification of the Canon 500/4.5L is 0.11x (at its closest focus distance of 5m).
Vignetting
The Sigma 50-500/4.5-6.3 OS HSM shows vignetting when shot wide open, as do all zooms (and for that matter, just about all primes). Vignetting is more noticeable when the lens is used on a full frame camera then when it's used with a crop sensor camera for obvious reasons (on a crop sensor camera the corners of the full frame image are cropped off). The lowest level vignetting is seen at a focal length setting of around 100mm and it is strongest at the focal length extremes of 50mm and 500mm.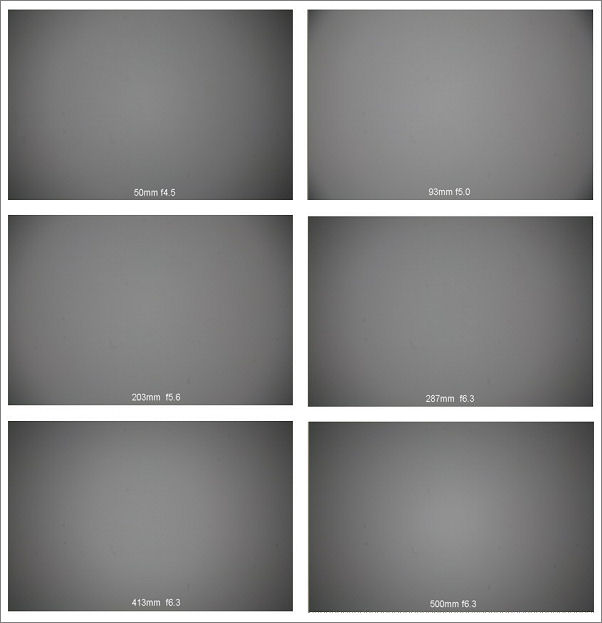 Vignetting with the lens wide open on a full frame camera (50, 93, 203, 287, 413 and 500mm)
Stopping down by one stop pretty much eliminates vignetting with crop sensor cameras and stopping down 2 stops pretty much eliminates vignetting on full frame cameras.
Image Quality
Overall I'd rate the image quality of the Sigma 50-500/4.5-6.3 OS HSM as good at all focal lengths, especially in the center of the image. Image quality falls off a little as you move towards the corners of the frame, especially if the lens is used on a full frame camera. Some chromatic aberration is present which is most noticeable at the long end of the zoom range.
Below is a 100% crop sample of center and edge quality wide open (f6.3) at 500mm (EOS 5D, full frame):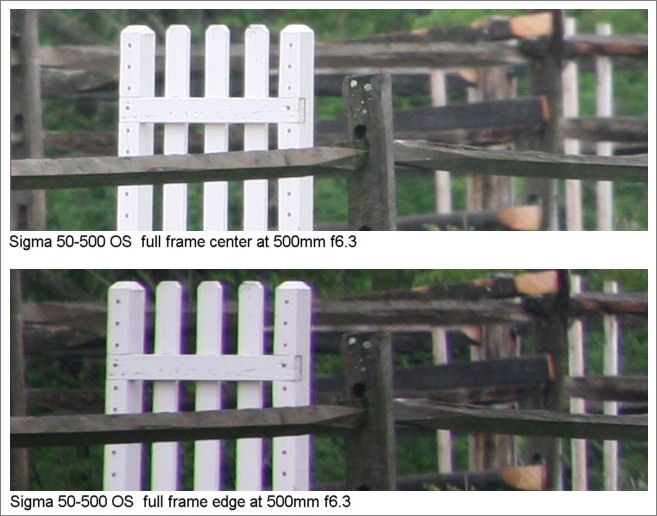 As you can see, center sharpness is very good, but there is visible chromatic aberration (color fringing) at the edge of the image, though sharpness and contrast seem well maintained. The edge crop is darker then the center due to vignetting.
At around 400mm the story is pretty similar, with good center sharpness and visible color fringing towards the edges of the full frame image: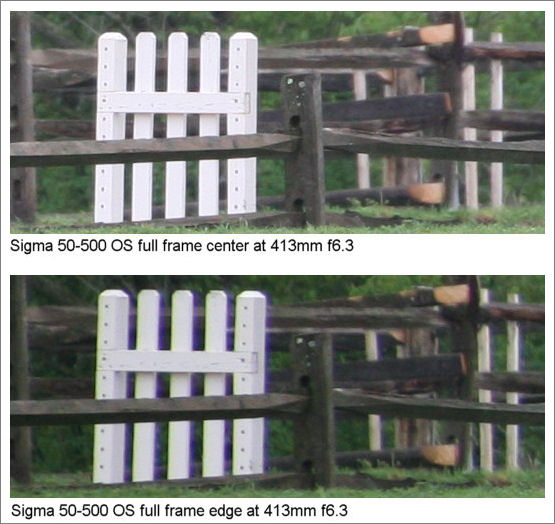 At shorter focal lengths the color fringing is significantly lower. The crops below are from an image shot at 287mm (according to the EXIF data) and as you can see the color fringing is very slight, even in the corners of the full frame image.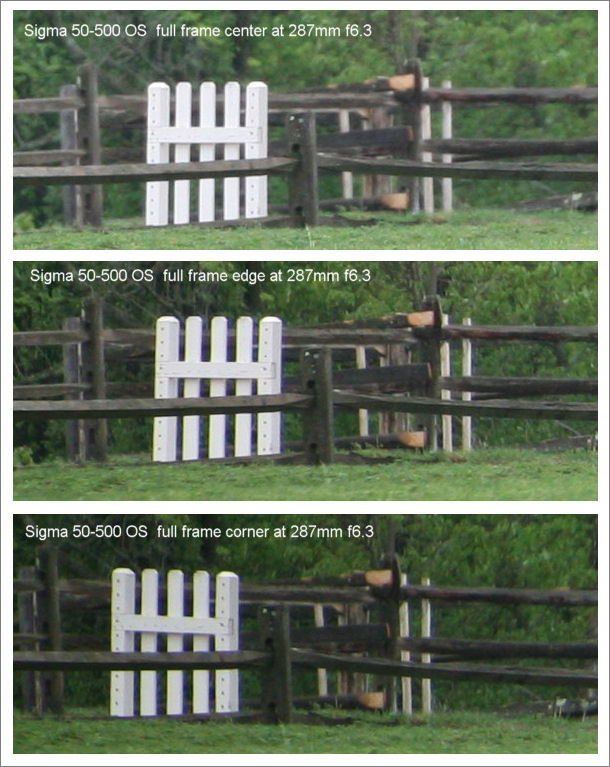 The same pattern persists at shorter focal lengths (50 to 200mm). Center sharpness is good, with slight softening towards the edges of the image.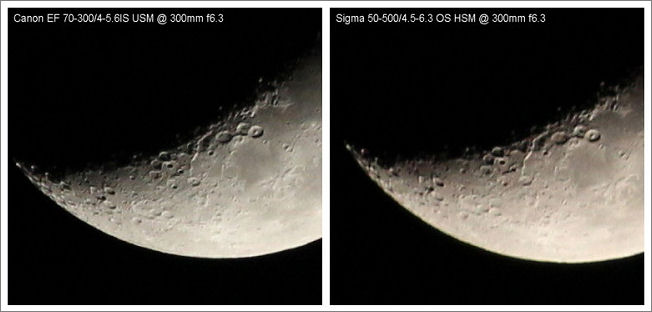 At 300mm the center sharpness of the Sigma 50-500/4.5-6.3 OS HSM is roughly similar to that of the Canon EF 70-300/4-5.6 IS USM as can be seen from the moon images above.
Finally here's a comparison of the image quality in the corner of a crop sensor frame (EOS 40D) between a Canon EF 500/4.5L USM and the Sigma 50-500/4.5-6.3 OS HSM. As you can see, the Canon prime is clearly better, though it's a larger, heavier and significantly more expensive lens - and it's not a zoom either!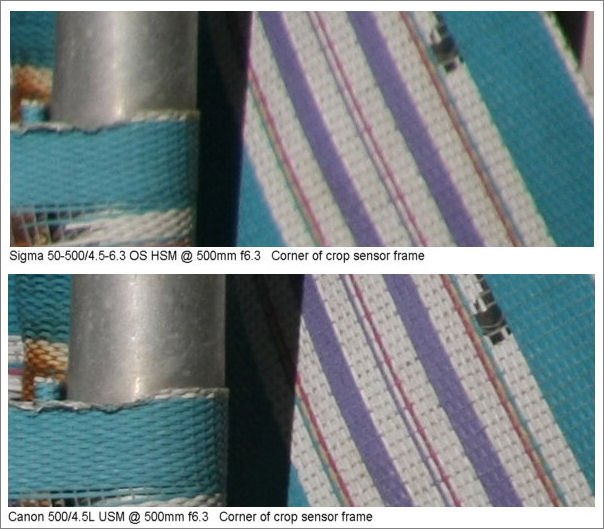 Autofocus
Generally the AF works well. The HSM motor is fast and quiet, as you would expect. Overall AF accuracy seemed pretty good but I did notice a number of images (taken at the long end of the zoom range) which were a little out of focus. I did some testing comparing AF with manual focus using Live View on the EOS 40D. Manual focus gave consistently good image sharpness but some of the AF images weren't as sharp as the ones which had been manually focused.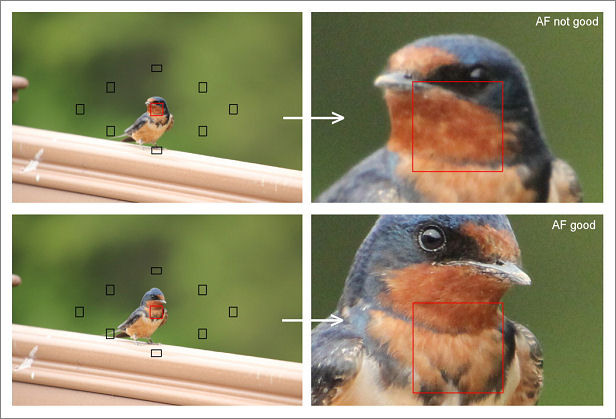 Two shots. Red square shows position of AF zone
I'm not sure if the f6.3 maximum aperture at focal lengths longer than about 250mm has any influence on focus. Canon design their AF system to operate with lenses of f5.6 and faster, so f6.3 is 1/3 stop slower than their design limit. AF wasn't always bad, so it's not a matter of adjustment or front/back focus. It may depend on target contrast, brightness etc. to some extent or it may just be that sometimes AF is spot on and sometimes it's at the limit of the inevitable variation. Even with f5.6 Canon lenses, AF is specified to be "within the DOF", though it's usually much better than that.
Optical Stabilization (OS)
Sigma's optical stabilization is quite effective. I compared the handholdability of the Sigma 50-500 OS HSM with that of the Canon EF 70-300 IS USM at a focal length setting of 300mm and I found the stabilization of the Sigma lens was at least as good as that of the Canon and possibly slightly better at around 3 stops. Even at 500mm the OS was very effective (around 3 stops). I did notice a slight tendency for the OS system to "fight" against operator movement of the lens. By that I mean that it was quite difficult to get the focus point exactly over the part of the subject I wanted. If it was off to the left and I moved the lens to bring it back to center, the OS system would kick in, shift the image and I'd overshoot back and forth! It's only an issue at longer focal lengths, but the Canon system seemed a little "smoother".
The OS system has two modes (I and II). Mode I gives dual axis stabilization while mode II provides single axis stabilization, which is more useful when panning with a moving subject. In their literature Sigma note that: "For Nikon and Canon mounts, Optical Stabilizer (OS) function will not work with film SLR cameras except Nikon F6 and Canon EOS-1V". I'm not quite sure why this should be so since stabilization is contained within the lens, but be warned if you're still shooting film with an older SLR.
NEXT - Part III - Image Samples, Final Remarks and Conclusions