Canon Speedlite 270EX
To go along with the new Digital Rebel T1i Canon have announce a new Speedlite flash, the 270EX. This will presumably replace the current 220EX.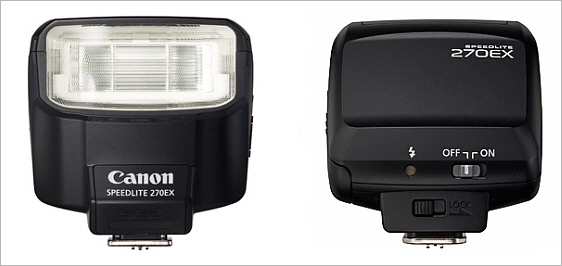 The 270EX itself has only one control - an on/off switch! The head can be manually tilted with 4 click stops up to 90 degrees and it can also be manually zoomed to cover the areas seen by 28 and 50mm lenses. Presumably this coverage is based on full frame 35mm, so for EF-S lenses the coverage would be optimized for for 17.5mm at the wider setting and 31.25mm lenses at the longer setting. Of course there is no problem with using lenses with longer focal lengths. The flash will more than cover the area seen by a 100mm, 200mm or even 600mm lens, it's just that in that case some of the light is "wasted" because it's outside the field of view of the lens. The 270EX should be fine with EF-S 17-50, 17-85, 18-55 and 18-200mm lenses, but with a lens like the EF-S 10-22, below about 17mm you'll start to see ever darker corners and edges.
There is a flash ready light on the back of the 270EX, but no test fire button. As far as I can tell Canon haven't yet announced a price, but with the 220EX selling for around $125 and the 430EX II selling for around $270, I'd guess at an initial street price somewhere around $170. No word on availability either, but presumably it will be available by May when the new Rebel T1i is due to ship. Amazon have listing for the 270EX - Speedlite 270EX at Amazon.com - but as of 03/27/09 no word on availability and price.
Main Features
Compact, lightweight design compatible with PowerShot cameras (G-series and select SX-series) and all EOS SLR and DSLR cameras
28mm and 50mm settings (manual)
E-TTL (II) operation. Manual power can be set from compatible cameras (but not on the flash itself)
Tilt head for bounce lighing
Simple set-up using the camera's rear monitor (with compatible cameras)
Color temperature communication with compatible digital cameras
Optimized recycling time (approx. 0.1 to 3.9 seconds)
Quieter charging
Easy storage soft case
Powered by 2 AA batteries
Metal foot (stronger than plastic)
Note that there is no infrared (or red) AF assist light. The flash tube strobes for AF assist.
Note that the 270EX has no wireless capability and cannot be used as a slave in a Canon wireless flash setup.
Speedlite 270EX Specifications
Type

Mode: E-TTL II, E-TTL

Compatible Cameras
All Canon EOS cameras; PowerShot G-series cameras and select SX-series cameras

Guide Number

72 ft./22m (at ISO 100); flash head at 28mm zoom setting
89 ft./27m (at ISO 100); flash head at 50mm zoom setting
Recycling Time
Normal flash: Approx. 0.1 to 3.9 seconds; Quick flash: 0.1 to 2.6 seconds (AA-size Alkaline Batteries)
Flash Range

(At ISO 100, with EF 50mm f/1.4)
For normal (28mm): 2.3-51.5 ft./0.7-15.7m
For tele end (50mm): 2.3-63.3 ft./0.7-19.3m
For high sync speed (at 1/250 second): Approx. 2.3-24.9 ft./0.7-7.6m
AF Assist Beam

Intermittent flash firing system
Effective range:
At center: Approx. 13.1 ft./4m
Periphery: Approx. 11.5 ft./3.5m (in total darkness)
Bounce / Swivel
Up: 60°, 75°, 90°
Custom Functions

C.Fn-01: Auto power off (Enabled/Disabled)
C.Fn-06: Quick flash during continuous shooting (Enabled/Disabled)
Power Source
Two AA-size/LR6 Alkaline Batteries
Dimensions
2.5 x 2.6 x 3.0 in./64 x 65 x 76.5mm
Weight
5.1 oz./145g (without batteries)