Acadia National Park Trip Report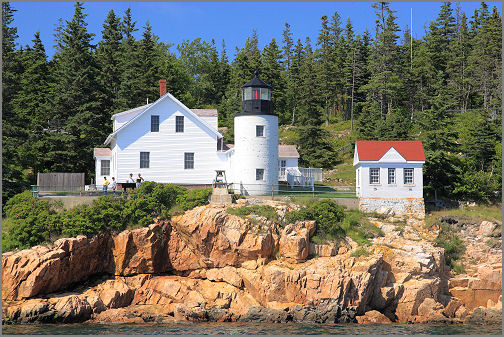 Bass Harbor Light, shot from a moving boat
EOS 5D, ISO 200, 1/200s@f8, EF24-105/4L @ 105mm
This is a combination of a trip report and a field test of my new Canon EOS 5D + Canon EF 24-105/4L IS USM. I was happy with the combination when I tested it "in the lab", but this is a report on actual field use.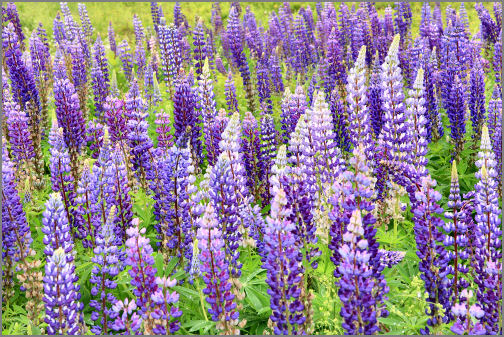 Though Lupins have been classified as an invasive species by the park, they still thrive!
EOS 5D, ISO 400, 180s @ f16, EF24-105/4L @ 105mm
I took a two week trip to Maine, spending most of the time in the area of Acadia National Park. It's an area I'm pretty familiar with since I've been visiting the area for over 20 years now. As usual I hauled along most of the cameras and lenses I own. A Canon EOS 40D plus an EOS 5D (plus a Powershot 720is) and lenses from a Canon EF 500/4.5L to a Peleng 8mm fisheye, including a 50/1.8, 24/2.8, 70-300IS, 24-105IS, ef-s 17-85IS, ef-s 10-22 and a bunch of others too numerous to mention. Add to that three different tripods and if I take much more I'm going to need a bigger car!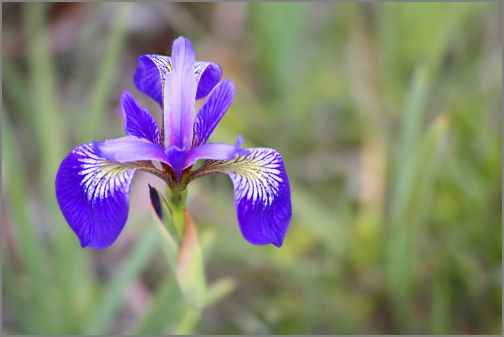 Blue Flag Iris
EOS 5D, ISO 400, 1/200s@f8, EF 70-300/4-5.6IS @ 300mm
So which lenses and cameras did I actually end up using most of the time? Well, looking at the shots I took (about 20GB of RAW+JPEG images), most of the time I was shooting with the EOS 5D and EF24-105/4L IS combination. The large, bright viewfinder of the EOS 5D is really nice and I found the 24-105mm range covered most of what I wanted to shoot. 24mm was wide enough for landscape shots and allowed the use of a polarizer without getting the uneven skies you often see when really wide shots are polarized. 105mm was generally long enough to extract details from landscapes or take closeups of flowers and the mid-range was fine for general "tourist" shots.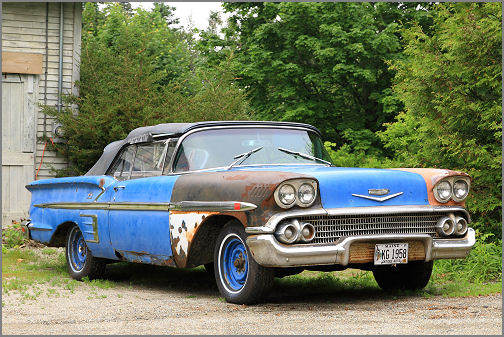 Maine "Antique Auto"
EOS 5D, ISO 400, 1/400s@f8, EF 24-105/4L IS @ 70mm
I was also very happy with the image quality I was getting from that combination (I took along a laptop too, so I could review the images). Even when forced to shoot at ISO 800 (and on a few occasions ISO 1600 and 3200), image quality held up very well and image noise was very well controlled.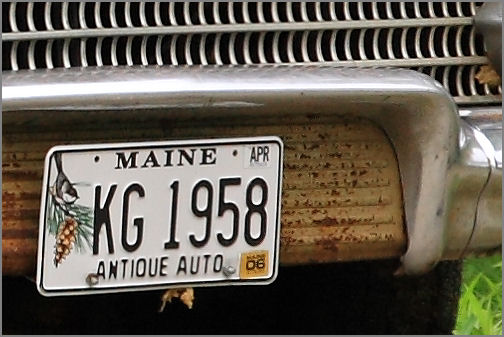 Detail from above image shown at 100% crop. Note sharpness and lack of noise, even at ISO 400.
On my monitor (17", 1280 x 1024 resolution) this represents a crop from a 42x28" print.
The EOS 5D and 24-105/4L make a great combination!
My second most used combination was probably the EOS 40D with the EF-S 70-300/4-5.6IS USM, especially for wildlife shots where the 1.6x multiplier of the smaller sensor camera proved useful. I'd have needed a 480mm lens on the 5D to get the same field of view as I got with 300mm on the EOS 40D and 480mm (or 500mm) lenses aren't exactly the sort of thing you want to carry with you on a long hike!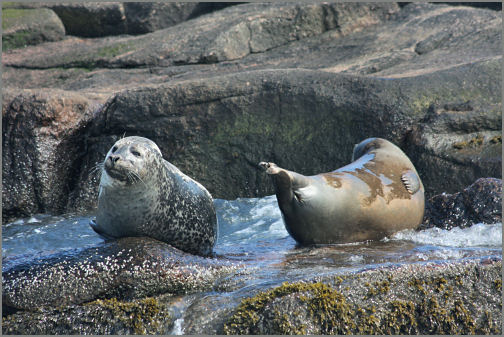 Harbors Seals (shot from boat)
EOS 40D, ISO 400, 1/800s @ f5.6, EF 70-300/4-5.6IS @ 300mm
I also used the 500mm on the EOS 40D on a few occasions where it was possible to set up a tripod for shooting cooperative wildlife! I also used the 75-300IS on the EOS 5D a few times where the extra reach of the lens was needed, or I wanted to shoot closeups without getting too near to my subject.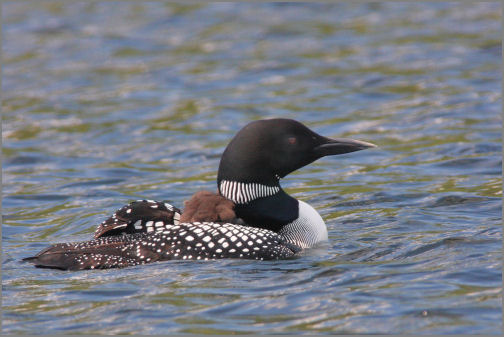 Loon with chick on its back
EOS 40D, ISO 800, 1/125s#f11, EF 500/4.5L + 2x TC (= 1000mm)
To be honest I could probably have just taken the 5D, 40D, 24-105IS and 70-300IS along with me, and I'd have had the right lens for 90% of what I wanted to shoot. The 500mm was also useful and I used it a lot, but only on a couple of occasions - I just took a lot of shots each time I did use it (anyone need 200 images of a Loon?).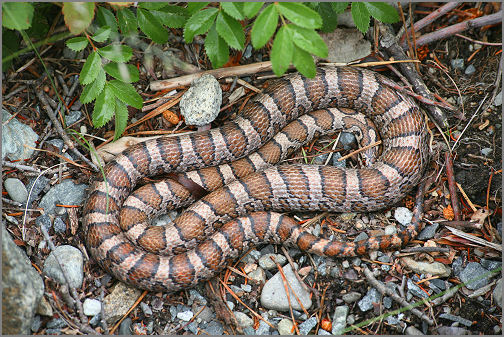 6 inches off the trail, an Eastern Milk Snake sleeps off a big meal!
EOS 5D, ISO 400, 1/200s @ f8, EF 70-300/4-5.6 @ 200mm
Not every day on the Maine coat is bright and sunny, in fact I think there was fog every morning (and some afternoons!) for almost a week. Still you can make use of the diffuse light for macro work and the fog can add "atmosphere" to images.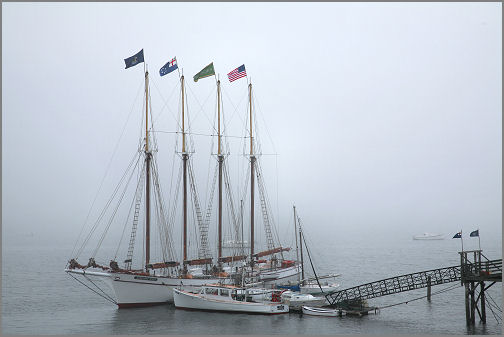 Bar Harbor harbor on a foggy morning
EOS 5D, ISO 200, 1/250s @ f8, EF24-105/4L IS @ 105mm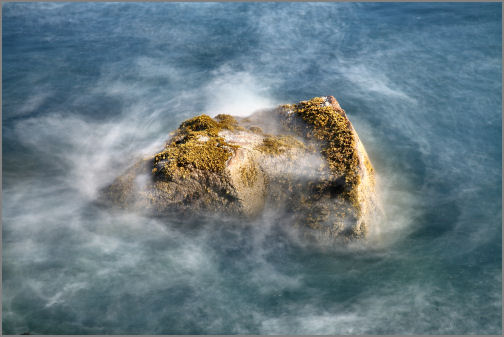 Long exposure of a rock in the surf. Hoya ND400 filter
EOS 5D, ISO 100, 10s @ f16, EF 28-105/3.5-4.5 @ 105mm
Finally, just to show that you don't absolutely need a DSLR and a telephoto lens for wildlife work, here's an image shot with my Canon A720IS P&S digicam. Of course you need a LOT of luck and a very cooperative subject. However if it's the only camera you have with you at the time, it's what you have to use!

Showshoe Hare
Canon Powershot A720IS, ISO 800, 1/40s @ f4.8, lens at 34.8mm ( = 210mm in 35 terms)
Conclusions
I'm very happy with the EOS 5D and 24-105/4L kit I bought last month. With Canon's current "instant rebates" it cost me $2600. The lens and camera bought separately (without any "instant discount") would be around $3250, so that's a very significant saving ($650). If you're interested in moving up to a full frame DSLR, the 5D kit is a pretty good deal. Sure, there will be a 5D Mk II at some point, but it won't be $1900 and it may not be available in a kit with the 24-105/4L. I'm OK with my decision to buy now, whatever Canon decide to do!

Fort Knox (Bucksport, ME) Interior.
EOS 5D, ISO 3200, 1/4s @ f4 ( EF 24-105/4L IS @ f4
Here's an example of pushing the EOS 5D and 24-105/4L to the limit. The shot was taken inside Fort Knox - not the one with all the money in it, but the one in Bucksport Maine. It's a 19th century stone fort which guards the Penobscott river at Bucksport. It's very dark inside some of the passages, so dark you need a flash light to see.

This was taken at ISO 3200, handholding the lens at 1/4s at the 24mm setting. Below is a 100% crop showing the sharpness and (relative) lack of noise after running the image through the Canon DPP RAW converter.
The EOS 40D is also a great deal right now at around $900 (including the "instant rebate"). You can't beat it if you're shooting at the limit of your telephoto lenses and need the extra "reach" that the 1.6x multiplier of the APS-C sensor gives you. As always, I was also very happy with my EF 70-300/4-5.6IS. I still think it's the best value telephoto zoom in Canon's lineup. The Image stabilization feature on both the 24-105/4L IS and 70-300/4-5.6L IS work well and can be very useful indeed when the light gets low and you don't have a tripod with you (as you can see from the sample image above).
Note that the Canon "instant rebates" end on July 19th 2008.
EOS 5D
EOS 5D +
24-105/4L IS
EOS 40D
EOS 40D +
EF28-135IS