Fast Primes and Background Blur
The effect of aperture on the nature and amount of background blur is something which doesn't always immediately spring to mind when choosing between a slower and faster lens. Faster lenses allow for faster shutter speeds which can freeze action, plus they allow shooting (and focusing!) in lower light then slower lenses.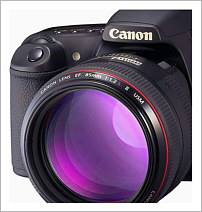 But in addition to these qualities, faster lenses can give a shallower depth of field and greater background blur (which are related, but which are not the same thing). Why would you want more background blur? Well, a smooth out-of-focus background makes the subject "pop" more. As the background comes into focus, especially if it has a lot of detail in it, it can distract from the main subject.
Lenses which blur the background most are fast lenses with longer focal lengths. Many of the "Swimsuit Illustrated" pictures are taken using long fast telephotos (200/2.0, 300/2.8, 400/2.8, 600/4) to minimize distracting backgrounds, though these are hardly "portrait lenses" in the usual sense. With a 600/4 you may need to use hand signals to communicate with your subject since you'll be so far away!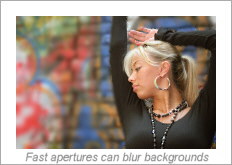 More commonly used for portraits are lenses such as the Canon EF 85/1.2, 85/1.8, 100/2.0 and 135/2.0. The purpose of this article is to show what the difference is between using a lens like the EF 85/1.8 (a modestly priced zoom), or a lens which covers 85mm with an f2.8 maximum aperture such as the 70-200/2.8L, a lens which covers 85mm with an f4 maximum aperture such as the EF 24-70/4L and a typical consumer zoom which might have an aperture of f5.6 at 85mm and may need to be stopped down to f8 for best sharpness.
The images below were shot using an EF 85/1.8 USM on an EOS 5D. The only difference is that each one is shot at a different aperture. These are downsized copies of the whole image, not crops.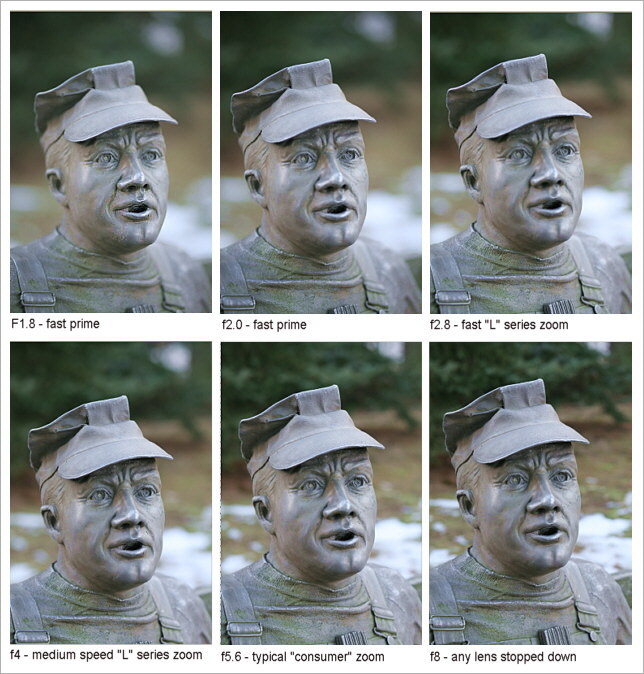 At f1.8 the background is smooth and doesn't distract from the subject. Note the white areas on the left just above the shoulder and at the top right. They are diffuse and unstructured. At f2.0 there isn't a lot of difference, though if you look carefully you can see that a little more structure is starting to appear in the background.
The third image shows the same scene at f2.8. While this was still shot with the EF 85/1.8 ($375), it could have been shot with a lens like the EF 70-200/2.8L ($1600). Canon's fast wide to short telephoto lens is the EF 24-70/2.8L and doesn't quite get to 85mm. As you can see more structure is appearing in the background. Just above the left shoulder two white patches (snow) are coming into view which were almost totally blurred out at f1.8
With a lens like the EF 24-105/4L or the EF 70-200/4L you'd be at f4 at 85mm and the next shot shows the image you would see. Now details are starting to appear in the bushes behind the subject, the white spots over the left shoulder are getting more conspicuous and the white object at the top right is starting to show more structure.
With a consumer zoom you'd often be at around f5.6 at 85mm and the next image shows what the view would look like. The bushes and the snow patches are developing even more structure and the background is getting even more distracting.
The final shot is at f8 just for comparison and to show what you'd get with a consumer zoom that you need to stop down a stop to get good sharpness. While the image may be sharp, the background very nearly is too and certainly distracts attention from the subject.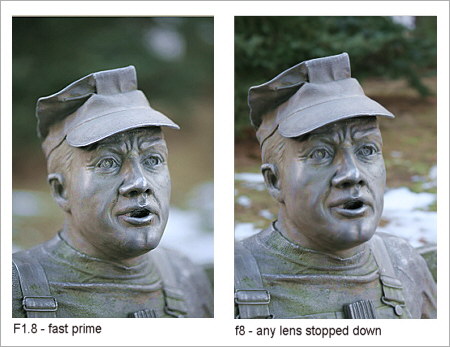 So here's a review of the extremes. On the left an 85/1.8 shot wide open (and it's sharp wide open!) and what an image would look like from a consumer zoom (typically f5.6 wide open) stopped down to f8 to get sharpness. What's interesting is that the EF85/1.8 costs about $375, which isn't very different from what you might expect to pay for a consumer zoom covering this range. If you were shooting the zoom at 1/30s, you'd be shooting with the prime at about 1/500s, so if your subject was moving and/or the light was low, the fast prime again would do a better job
Now I'm not on a campaign against zooms! Most of the lenses in my camera bag are zooms (10-22, 17-85, 24-105, 70-300 for example), but a lens like the 85/1.8 (or the 50/1.4, 100/2 or the 132/2) will complement the zooms, not replace them. So maybe think about a fast prime the next time you get the urge to "upgrade" your lenses. Such a lens might also make a good gift for the photographer with a well stocked bag of zooms!
Format size, DOF and background blur
Format size has an effect on DOF and blur. For a given angle of view and aperture, a smaller format (physically smaller sensor) gives more DOF and less background blur. Here's an example:

As you can see, the larger format blurs the background much more, even when the lens is stopped down to f4.5 to match the maximum aperture of the P&S digicam lens. Wide open at f1.8 the background is even smoother. A full frame DSLR does smooth out the background a little more than a crop sensor DSLR, but the effect is much less noticeable then the difference between a DSLR and a P&S digicam.
Which Lens for maximum background blur?
Well, that's a complex question. To blur a distant background you want a lens with as large a physical aperture as possible, which means a fast telephoto with a large front element. Here the EF600/4 is king, followed by the 500/4, 400/2.8, 300/2.8, 200/2.0 etc. While these are fine lenses, they are also (a) very expensive (b) fairly big and heavy and (c) a bit long for conventional portrait work.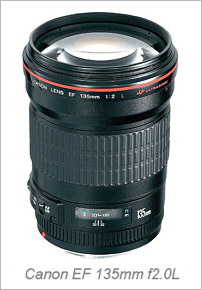 On the other hand if the background is near to the subject, the fastest possible lens may be more effective in blurring a close background (e.g. someone standing in front of a wall). Here the choice would include lenses like the EF85/1.2 and the 50/1.2, 50/1.4, 85/1.8, 50/1.8, 100/2 and 135/2. These lenses are a little more convenient to use, but the f1.2 examples are still pretty expensive.
The best compromise of blurring ability, price, focal length and utility may be the EF 135/2.0L. It's around $1000, it's fast, it has a large physical aperture and it's not too long for portraits if you have a reasonable amount of room (especially on a full frame camera). It's also VERY sharp and you can even add Canon's 1.4x and 2x TCs to it! The next best choice is probably the EF 85/1.8 (See full review here). Again very sharp but this time a bit smaller and ligher, quite affordable (around $375) and a good focal length for portrait work, even on a crop sensor body. The EF 100/2 is similar to the 85/1.8, but has a reputation of not being quite as sharp wide open. The EF 50/1.4 is also a good choice, again in the sub-$400 range. It's a very good choice if you use a crop sensor camera. Finally the EF 50/1.8 II. Cheap, plastic but sharp and fast. Maybe not the best lens but possibly the best bargain!
Nikon have a few similar lenses including the Nikon 85/1.8D, the Nikon 135/2.0D and the Nikon 85/1.4D
There is also a relatively inexpensive (~$350) 85mmm f1.4 manual focus lens available in a number of lens mounts (Canon, Nikon, Sony, Pentax) and it's sold under a variety of names including Bower, Polar, Vivitar, Rokinon, Opteka, Falcon and Samyang! Here's a link to the Vivitar version for Canon. It's around the same price as the excellent Canon EF 85/1.8 USM and I'm not sure I'd give up the quality and AF of the Canon lens for 2/3 of a stop more aperture. DOF is small at 1.8 and even smaller at f1.4, so you'd better be pretty confident of your manual focus ability if you buy a fast manual focus lens!
Related Articles
Where to Buy