Macro Lenses for the Canon EOS system
First, what exactly is a "Macro" lens. To a lens maker it appears sometimes to be a lens with "macro" printed on it! I've seen "macro" applied to any lens that will close focus to a magnification of about 0.25x (1/4 life size). However that's not really what most photographers would mean by a "macro" lens. A true macro lens is optically corrected to give a flat field, minimum distortion and high sharpness when focused at its closest distance, and at that distance provide a magnification of at least 0.5x (1/2 life size), though most true macro lenses will provide 1x (life size) magnification.
A simple lens (such as a typical 50/1.8) focuses by linear extension, which is just a fancy way of saying that you move the whole optical assembly closer and further from the sensor/film in order to focus. If you move it far enough, you can get 1x magnification. For a simple 50mm lens, if you put it 100mm from the sensor/film plane, it will give a 1x magnified image of an object that's 100mm from the lens. However there's a catch. Optical aberrations increase as you focus on nearer and nearer objects by moving the lens further and further away from the sensor/film. Field curvature, distortion and spherical aberration increase. You can make a 50/1.8 lens focus closer by using extension tubes of course and I've seen it said that since extension tubes contain no optics they can't degrade image quality, but that's not really the case. Moving the lens further from the sensor/film than it was designed to be introduces additional optical aberration.
So how do you get a lens that performs well both focused at infinity and focused at life size 1x magnification? Well, you use what are called floating elements. As you focus the lens, the elements of the lens move around in relation to each other in order for compensate aberrations at different focus distances. This may actually cause a change in effective focal length, but that doesn't really matter much. What it does is allow the design to be optimized for both close and distant focus. Obviously this is a more complex design than a lens with fixed elements and more elements may be required, so the cost is higher. For example the $85 Canon EF 50/1.8 II has 6 elements, while the $250 Canon 50/2.5 macro (which focuses to 1/2 life size) has 9 elements as shown below.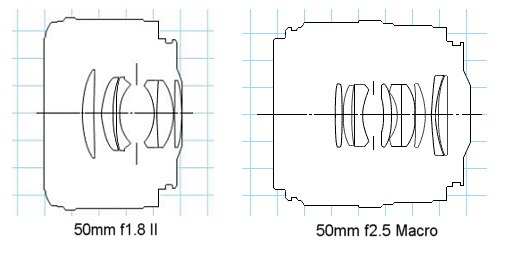 It's generally true that macro lenses are very well corrected and so yield very sharp images. Even 3rd party macro lenses are usually quite good.
Magnification can be specified in three equivalent ways, descriptive, magnification and ratio.
"Life Size", "1x" and "1:1" all mean that the lens will cover an area equal to the size of the film or sensor. So for a full frame 35mm camera, that means you can fill the frame an area as small as 24mm x 36mm (15mm x 22.5mm for an APS-C camera)
"Half life size", "0.5x" and "1:2" all mean that the lens will cover an area twice as wide and high as that of the sensor. So for a full frame camera that means you can fill the frame with an area as small as 48mm x 72mm (30mm x 45mm for an APS-C camera)
"5x" or "5:1" means that the lens will cover an area 1/5th the linear size of the film or sensor. So for a full frame camera that means you can fill the frame with an object as small as 4.8mm x 7.2mm (3mm x 4.5mm for an APS-C camera).
Macro lenses typically come in 3 focal lengths, "normal" - 50mm, 90 or 100mm and telephoto - something like 180mm. Each has it's advantages and disadvantages. From the macro point of view, increasing focal length means increasing working distance. A larger working distance may mean that it's easier to get light onto the subject (since the camera is less in the way). It can also make working with live subjects (e.g. butterflies) easier. However longer focal lengths mean larger, heavier and more expensive lenses. Macro lenses can, of course, be used for non-macro work, and again the focal length may be a consideration. A 50mm macro lens can double as a "normal" lens on a full frame camera. A 100mm macro lens can double as a portrait lens and a 180mm macro lens can double as a short telephoto.
Macro Depth of Field
Depth of field depends on magnification, no matter how you get there, so the DOF of a 180mm macro lens at f8 and 1x magnification is exactly the same as that of a 50mm macro lens at f8 and 1x magnification. Depth of field gets smaller very quickly as magnification goes up and is symmetrical about the focus point. Here are some examples of the approximate DOF calculated for an APS-C DSLR. As you can see, it's pretty shallow.
1x - DOF @ f2.8 = +/- 0.1mm
1x - DOF @ f8.0 = +/- 0.3mm
1x - DOF@ f16 = +/- 0.6mm
0.5x - DOF @ f2.8 = +/- 0.3mm
0.5x - DOF @ f8.0 = +/- 0.9mm
0.5x - DOF @ f16 = +/- 1.8mm
5.0x - DOF @f16 = +/- 0.075mm
Macro Focusing
Since DOF is so small, it's usually a good idea to use manual focusing for 1x macro shots so you get the DOF exactly where you want it. Sometimes focusing is better done by moving the camera forwards and backwards rather than using the lens focusing collar and Just about always you will want the lens mounted on a tripod. A can be very useful for precise positioning of the camera left and right as well as focusing. It's tough moving the tripod exactly 3mm to the left! The Adorama focusing rail (shown on the left) allows precise movement both back and forth and left and right and is something the dedicated macro shooter might want to invest in.
Canon EOS Macro Lenses
Canon currently make 6 macro lenses for EOS cameras:
MP-E65mm f/2.8 1-5X Macro
EF 50/2.5 macro
EF-S 60/2.8 macro USM
EF 100/2.8 macro USM
EF 100/2.8L IS macro USM
EF 180L/3.5 macro USM
MP-E 65mm f2.8 1-5X Macro
The is a very specialized macro lens. It gives from 1x to 5x magnification. It's a "macro only" lens in that it's not designed (and can't be used) for non-macro work since it won't focus at non-macro distances. It's a manual focus lens and manual exposure control is required with many EOS bodies. It's a dedicated "macro only" lens designed for high magnification work. The optics uses a 3-group floating system, which moves three lens groups independently for focusing. On a full frame camera it will cover an area of 24x36mm at 1x and an area of only 4.8mm x 7.2mm at 5x. Note the working distance (space between the subject and the front of the lens) varies from about 4" at 1x to only about 1.5" at 5x.
EF 50mm f2.5 Macro
The is a "normal" macro lens which will focus from infinity to 1/2 life size at which point it will cover an area of 48mm x 72mm with a full frame camera (30mm x 45mm with an APS-C DSLR). To get to 1x magnification you have to attach the Canon Life Size converter, which is a combination of a matched multiplier and an extension tube. It effectively converts the lens into a 70mm macro which will focus to life size. The 50/2.6 macro doesn't have a USM focusing motor.
EF-S 60mm f2.8 Macro USM
The is designed for use only on APS-C DSLRs such as the Digital Rebel series and the EOS 20D/30D/40D. It has coverage for the APS-C sized sensor, but not full frame and it won't even mount on a 1.3x or full frame DSLR. If will give life size magnification (i.e. coverage of an area of 15mm x 22.5mm). The lens employs an inner focusing system in which the first lens group is fixed in position and the second through fourth lens groups move independently in a three-group floating system. The EF-S 60/2.8 has a working distance of 90mm (about 3.5") at 1:1 magnification.
EF 100mm f2.8 Macro USM
The is probably the most popular macro lens for use on full frame cameras. The 100/2.8 macro focuses to 1x and has a USM motor with full time manual focus. The 100/2.8 macro used internal focusing with three independently moving lens groups, meaning the lens length remains constant and aberrations are corrected for all focus distances. At 1x the working distance is 149mm (just under 6"). During focusing the front of the lens does not rotate making use of front-mounting accessories like polarizing filters and macro ring lites easy.
EF 100mm f2.8L IS Macro USM
The is a new 100mm macro lens from Canon, again with a ring USM motor and full time manual focus. This version is now an "L" series lens and is optically stabilized using Canon's new "Hybrid" IS system. This not only corrects for pitch (up/down rotation) and yaw (left/right rotation), but also for vertical and horizontal motion which becomes very important when the lens is close focused and working in the macro range. If you intend to do macro work without a tripod, this is THE lens to use and is the only lens from any manufacturer with an IS system specially designed for macro work.
EF 180mm f3.5L Macro USM
The is capable of close-ups up to 1X without any adapter and allows more working distance than the 100mm macro (about 12"). Three UD (Ultra-low Dispersion) glass lens elements correct chromatic aberrations and floating elements ensure sharp definition at all subject distance. A ring USM provides silent AF and full-time manual focusing. As the lens length does not change during focusing, accessories such as Macro Ring Light at the front end of the lens, can be easily used. Maximum magnification can be increased to either 1.4x or 2x by using the EF Canon 1.4x or EF 2x multipliers. This is the only Canon macro lens which is fully compatible with the Canon 1.4x and 2x multipliers, which turn it into a 252/4.5 (with the 1.4x) or a 360/7 (with the 2x).
Third Party Macro lenses
Third party macro lenses can be quite good and they are usually cheaper than the Canon equivalents. I usually try to stick with Canon lenses, but if their cost is too high or they don't have the lens you want, in this case a 3rd party lens can be a reasonable choice. They are all sharp lenses. Note that the Sigma 50.2.8 macro goes to 1x, while the Canon 50/2.5 macro only goes to 0.5x unless you also buy the life size extender.
One unique 3rd party macro lens is the new . It's the fastest macro lens (1x) available right now. Being a DiII lens it's only for crop sensor cameras (like the Canon EF-S series lenses), but it can do double duty as both a macro and fast portrait lens. It's very sharp too. At 1x it gives you a working distance of about 4" [See Full Review].
Which Macro lens to chose?
If you have an APS-C DSLR, I'd go for the . It gives a decent working distance, it's very sharp, it goes to 1x and it can double as a portrait lens and it's about 1/2 the size and weight of the EF 100/2.8 USM. It's also significantly cheaper. If you want something faster, look at the .
If you have a full frame DSLR I'd go for the . Again the working distance is good, the lens is very sharp, it goes to 1x and it can double as a portrait lens. The IS version makes handheld work much easier.
The MP-E 65/2.8 and EF 180/3.5L are very good, but expensive and specialist lenses and the 50/2.5 macro only goes to 0.5x without the life size extender (which doubles the cost).
But I can't afford a macro lens!
If a macro lens is outside your budget and you want to do macro work, using an extension tube or a high quality 2-element close-up diopter (which screws onto the front of your lens like a filter) is certainly an option. If you have a telephoto zoom like the , a 58mm Canon 500D closeup diopter can give you a good quality zoom that will go to about 0.7x and will provide you with a very good working distance. It won't be quite as good as a dedicated macro lens, especially in the corners of the image if you are shooting a flat subject, but it may be good enough. A will give you almost 1.2x, with somewhat less working distance though Canon don't recommend that combination. Canon recommend the (also available in 72mm and 52mm sizes) for use with lenses in the 70-300mm range and the 250D for lenses in the 35-135mm range. Another plus of these lens combinations with the 70-300IS is that they provides macro with image stabilization.
For more info on extension tubes and closeup diopters see http://www.bobatkins.com/photography/eosfaq/closeup2.htm