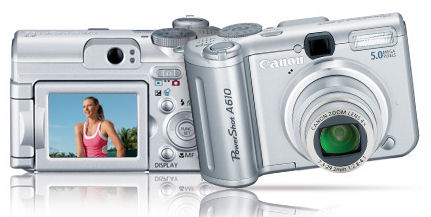 Canon Powershot A610 Review
The new Canon Powershot A610 (released August 2005) is the successor to the popular A95, which was itself the successor to the A80. The "A" designation in these names refers to the fact that they use AA batteries rather than proprietary Li-ion cells, as are used in many other Canon digicams (e.g. the "SD" series). This means batteries are always easy to find (though you'll probably want to buy a set of rechargeable NiMH cells). The A610 uses an SD memory card rather than the CF card used by the A80 and A95. Most small digicams seem to be making this switch since camera size is an issue and SD cards are smaller than CF cards. There's really no longer much of a difference in price. The other major changes from the A95 are that the lens is now a 4x zoom (35-140) rather than a 3x (38-114), the LCD has increased from 1.8" to 2" and operation has been speeded up by using a Digic II chip (the A95 has the original Digic chip)

Just about all of the specifications of the Canon Powershot A610 also apply directly to the Canon Powershot A620. It's essentially an identical camera, but with a 7.1MP sensor instead of a 5MP sensor. It has the same physical size, shape and weight, the same physcal sensor size (1/1.8" or 7.2 x 5.3 mm), the same firmware features, lens etc. The only slight differences might be in some of the timing issues (larger files may take fractionally longer to save) and in the noise performance (you might expect slightly more high ISO noise)
Part I - Specifications
The full technical specifications for the Powershot A610 can be found on the Canon Powershot A610 Specifications page
What's in the Box
The camera - Canon Powershot A610
A 16MB SD memory card
4 x AA alkaline batteries
A CD of software applications
Manuals and guides in multiple languages (English, French, Italian, German, Spanish)
A wrist strap
A USB cable
An audio/video cable
The box does not include any type of camera case or any rechargeable batteries or chargers. These are available from Canon as accessories (or from other sources).
Software
The following software is included on the supplied "Solutions" CD (Ver. 26.0)
For Macintosh
ImageBrowser 5.5
Photostitch 3.1
Arcsoft PhotoStudio 4.3
For Windows
Zoombrowser EX 5.5
PhotoRecord 2.2
PhotoStitch 3.1
Camera TWAIN driver 6.6
Camera WIA Driver 6.4
Arcsoft PhotoStudio 5.5
Apple QuickTime
PhotoStudio 4.3 is a basic image editor. It's certainly not PhotoShop, but it's enough to get you started. ImageBrowser/Zoombrowser is an image management program and is used when you import images from the camera via the USB connection. PhotoStitch is a panoramic stitching program which allows you to combine multiple images into a panoramic format.
Size and Weight
At 4.13" x 2.6" x 1.93" (104.8 x 66.0 x 49.1mm) and about 8oz in weight, the A610 will fit in a typical jacket pocket without much trouble. It's too big to fit in a shirt or pants pocked without quite a strugle and an unsightly bulge, so although it's "pocketable" it needs a decent sized pocket! It's large enough and well shaped enough (with the built in "grip") to enable one handed operation - as long as you're right handed! As mentioned above, no case is provided. The LCD screen can be protected by storing it "face in" to the camera. The lens is protected by an automatic diaphragm which closes to pretect the optics when the camera is powered off and the lens is retracted
Power
The Powershot A610 uses AA batteries. A set of 4 alkaline batteries are supplied with the camera, but if you intend to use the camera a lot the most economical route is to buy a set of high capacity NiMH batteries and a charger. Not only will they be cheaper in the long run, but each set will power the camera longer. Canon estimate 350 shots with alkaline batteries and 500 shots with 2300 mAh NiMH batteries when the LCD screen is on and the flash is used 50% of the time. With the LCD off these numbers increase to approximately 1200 and 1500 shots respectively. The advantage of using AA batteries is that you can buy them almost anywhere. While proprietary Li-ion cells are smaller, if you run out of power and don't have a spare, unlike AA cells, you're not going to find one in the nearest supermarket!
Sensor
The Powershot A610 uses a 1/1.8" 5MP sensor. The actual size of the sensor is specified by the 1/1.8" designation, which translates in real terms to around 7.2 x 5.3mm. This is the same (physical) sized sensor as used in top end digicams like the S80 and Powershot G6 and is larger than that found on less expensive cameras like the A510 and A520 which use a 1/2.5" sensor (approx. 5.8mm x 4.3mm). Larger sensors usually give higher image quality and lower noise compared to smaller sensors with the same pixel count.
Lens
The Powershot A610 has a 7.3-29.2mm f2.8-4.1 4x zoom lens, which gives a similar field of view to a 35-140 zoom on a full frame 35mm camera (not exactly the same since 35mm has a 3:2 aspect ratio and the A610 has a 4:3 aspect ratio). There's also a "digital zoom" feature available which can magnify the center portion of the image up to 4x, giving a combined optical/digital zoom range of 16x. Digital zoom is useful if you want to make prints directly from the camera, but if you use a PC you might as well crop and upsize in your image processing software. Zoom isn't continuous as is typical for digicams. There seem to be 9 zoom positions between the 35 and 140mm settings corresponding to 35, 41, 46, 52, 60, 71, 83, 104 and 140mm

Lens extended to the telephoto setting
The lens extends about 1cm going from the wide to telephoto setting. When the camera is turned off, the lens retracts fully into the body and a mechanical shutter closes in front of it. There is no lens cap. The ring around the lens can be removed and replaced by a threaded adpator which allows the use of screw in filters and the Canon wideangle and telephoto conversion lenses
Viewfinder - Optical and LCD
There is an optical viewfinder, which zooms to follow the lens zoom. Optical quality is OK (not great) and there's no diopter adjustment. It's coverage is maybe 80% of the actual image. Think of it as a simple approximate framing/aiming device. The rear LCD shows a 100% view of the captured image and so is much better for accurate framing. If you want to minimize power consumption you can turn the LCD off and just use the optical viewfinder. You can also use the optical viewfinder if you find it hard to see the LCD in direct bright sunlight.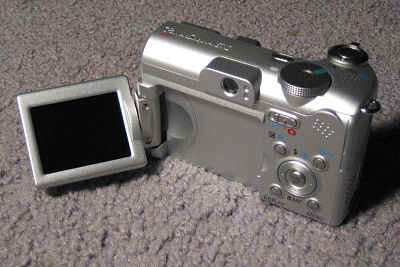 The LCD twists and swivels. It can be folded "face-in" to the camera for storage and protection, or it can be folded "face-out" for use. It can be swung out and faced forwards so you can take a self portrait and see yourself on the LCD. It can be swung out and faced down, so you can shoot with the camera over your head, or it can be swung out and faced up so you can shoot from ground level. Very versatile, very useful. There is an option to display a grid on the LCD screen to help with composition.
Shutter Speeds and Apertures
Canon specify shutter speeds from 15 seconds to 1/2500s. However it appears that shutter speeds longer than 1s are only available in certain modes. I could access them in full manual mode and in Shutter Priority mode, but in Aperture Priority and auto modes, 1 second was the longest exposure the camera seemed capable of. I couldn't find this documented in the manual, but it's possible I missed it. According to the manual, at wide apertures the fastest settable shutter speeds drop. At f2.8-3.2 with the lens at it's widest setting the fastest shutter speed is 1/1250, at f3.5-4 it's 1/1600 and at f4.5 it's 1/2000. At the full telephoto position at f4.1-4.5 it's 1/1250 and from f5-6.3 it's 1/1600. I've been told that the camera uses an iris type shutter and it can operate faster at smaller openings. If this is correct then it explains why maximum shutter speeds are lower at wider apertures.
Lens aperture can vary from f2.8 to f8 at the widest setting, though the manual comments that in full "auto" mode an aperture of f11 "may be possible under some shooting conditions". At full telephoto, apertures can range from f4.1 to f8, though again the manual comments that an aperture of f16 "may be possible under some shooting conditions". The shooting conditions where these small apertures may be used isn't described at all. I'd have to guess maybe in very bright light if you set the ISO to 400?
So although technically there is a shutter speed range from 15s to 1/2500s and an aperture range from f2.8 to f16, not all shutter speeds and not all aperture are accessible in all modes and all zoom settings. This can be a little confusing until you read the manual - and it's not crystal clear even when you have! You can pretty much depend on being able to shoot at speeds from 1s to 1/1250s and at apertures of wide open down to f8 in all modes though.
Shooting modes include one-shot, continuous shooting, a fixed 10 or 2 secind self timer and a self timer mode that you can set anywhere from 1 to 30 seconds.
Focus
I have no real way of quantifying AF performance and accuracy except to say I had no problems with it. Even at full zoom in normal indoor room light, AF was fast and positive with no hunting. As an audible clue, the camera beeps twice when it gets AF lock and the AF zone lights up in green, but if AF lock fail sit beeps once an the AF zone lights up in red.
You can select auto 9 zone "smart" AF, where the camera choses one of more zones for focus, or you can select the center zone. A neat twist is a 3rd mode where you can move a fixed AF zone to wherever you want it on the screen (as long as it's in the mid part of the screen which the multiple AF zones cover).
ISO settings
The A610 can be set to "auto ISO" or manually to ISO 50, 100, 200 and 400. Comparing shutter speed and aperture readings between an EOS 20D at ISO settings from 50 to 400, the ISO settings agreed to within 1/3 stop. In "Auto" mode you can't see what ISO setting was used either in record or playback modes. Even the EXIF data stored with the image indicates ISO as "auto", so the only way to figure out what ISO was chosen is to shoot the same scene at a fixed ISO and compare the shutter speed and aperture values chosen. The "auto" ISO mode seems to hang on to slow settings for all it's worth, even when it causes the shutter speed to drop below that at which the camera can be handheld without risking image blur due to shake. If you want to force the camera to use the fastest shutter speed you should manually set ISO 400, though this can only be done in the P, Av, TV and M modes (in all "fully auto" scene and programmed modes ISO is also set to "auto")
Shooting Modes
Primary shooting modes are set using a control dial (just like on the EOS 20D), not via menus and buttons. The A610 has the usual Canon "creative" modes - Program AE (the camera picks shutter speed and aperture), Shutter Priority (you set shutter speed, the camera sets aperture), Aperture Priority (you set aperture and the camera sets shutter speed, and Manual (you set both shutter speed and aperture).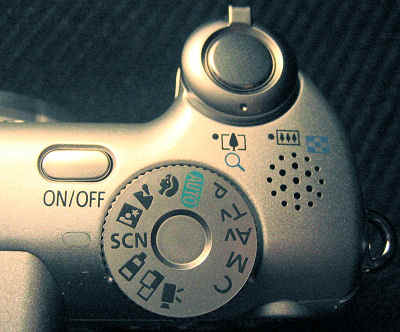 This view shows the on/off switch, control dial, shutter release, zoom control
(ring around the shutter release) and the speaker for audio playback
The control dial also has setting for full auto (the camera chooses everything form shutter speed and aperture to ISO and metering mode), portrait, landscape and night scenes. There are also settings for movies, stitching panoramas and the "My colors" feature (see below). In addition there is a "scene" mode which allows you to select (via an LCD menu) optimal settings for Indoor, Foliage, Snow, Beach, Fireworks, Underwater, Night Snapshot, and Kids and Pets.
Movie Modes
The Powershot A610 has multiple movie modes and resolutions. You can shoot at either 640x480 or 320x240 resolution and at either 30 or 15 frames/sec. With a fast SD memory card you can shoot continuously until the card is full (1GB maximum). At 30 fps you can record just over 8 minutes of 640X480 video on a 1GB card. There is also a high speed mode which will record at 60 frames per second at 320x240 resolution for a maximum of 60 seconds. Finally there is a "compact" mode which records at 160x120 resolution and 15 frames/second for a maximum of 3 minutes. This would be suitable to make small movies for emailing rather than something you'd want to actually watch. Sound is recorded along with the video. The video files are stored in .avi format.
Panorama Mode
In panorma mode you can take multiple shots and later stitch them together using the supplied Photo Stitch software. In this mode part of the previous shot is displayed on the LCD so you can adjust each shot for the correct amount and alignment of overlap with the previous image.
Color Effects
The A610 has user selectable "color effect" modes which include "Vivid" (higher contrast and saturation), "Neutral" (lower contrast and saturation), "Low Sharpening", "Sepia" and "Black and White". All of these can, of course also be achieved post exposure in an image editor, but again, if you intend to print directly from the camera then they may be useful.
"My Color" mode
The Powershot A610 has a number of built-in "special effects" or color modification modes. These include "Positive Film", which is meant to emulate the color and saturation of slide film, "Lighter Skin Tones", "Darker Skin Tones" and "Vivid Blue, Red or Green", which emphasize blue, red and green tones respectively.
There are also a set of less natural modes! In "Color Accent" you can select one color to be kept while all other colors are converted to B&W. In "Color Swap" you can change one color into another, and in "Custom Color" you can set the balance between red, blue, green and skin tones.

Playback
A slide-switch selects record or playback mode. In playback you can view either individual images or sets of 9. There's a zoom feature (which uses the same zoom control as that for the lens in record mode) which allows you to zoom in to check sharpness. The image alone can be displayed or data can be displayed along with an image including ISO setting, shutter speed, aperture, exposure compensation, flash exposure compensation, metering mode, white balance, time, data, file size and resolution. A histogram can also displayed.
The same data can be displayed in record mode after a shot is taken so you can check the histogram for exposure right after shooting.
Printing
You can print directly from the camera to any Canon CP, SELPHY, PIXMA Photo Printers or any PictBridge compatible printer via camera's USB cable. The camera is also DPOF (Digital Print Order format) capable. DPOF is a format that allows the user to select which images on the memory card are to be printed and how many prints of each image to make. The memory card can then be taken to a digital printing service or accessed through compatible desktop printers at home.
© Copyright Bob Atkins All Rights Reserved
www.bobatkins.com