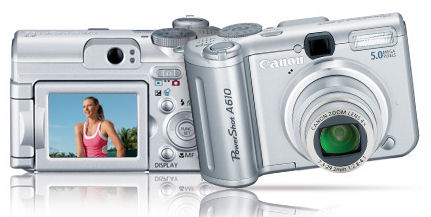 Canon Powershot A610 Review
[ Back to Part I - Specifications]
Timing
It's difficult to make exact measurements of timing, but the A610 is pretty fast. With some cameras you feel like you're waiting for them to wake up. The A610 isn't one of them. I'd estimate that the time from hitting the "on" button to taking the first shot is around 1.5 seconds. The shutter lag after prefocusing (1/2 depressing the shutter release) seems instant, though it's probably similar to most DSLRs at around 100ms. Autofocus is fast, maybe averaging around 0.5s. Canon claim to have reduced AF time by 60% and improved focusing ability by two full stops in low light conditions compared to the A95.
In continuous mode I measured a maximum frame rate of approximately 2.5 frames per second shooting for 8 frames in macro mode and at the highest quality and resolution JPEGs (large/fine). Canon's specs are 2.4 frames/sec. I'm not sure why I was getting better numbers - maybe the images were pretty simple without a lot of detail and so were smaller than typical JPEGs and stored faster?

Noise
The Powershot A610 has 5 ISO settings, Auto, 50, 100, 200 and 400. The auto setting isn't as useful as it might be in dim light because it seems very reluctant to use ISO 400 and so gives shutter speeds slower than might be easily handheld under some circumstances. Noise at ISO 50 is very low and even at ISO 100 is pretty good. There is a noticeable increase in noise at ISO 200 and even more at 400 (as expected). However even at ISO 400 I would say noise isn't excessive. For example in a 4x6 print of an ISO 400 image, noise isn't really a problem unless you look for it in areas of uniform tone. Pixel peepers - those looking at screen images at 100% magnification - may be bothered by it, but by digicam standards, it's not bad.
Below are 100% crops of images taken of a gray card.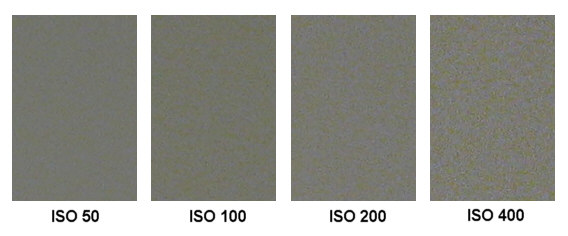 Chromatic aberration and "Purple Fringing"
Both CA and PF are most noticeable with dark lines against a bright background. Below is an image shot at ISO 50. Exposure was 1/400s at f4.1 (in auto mode) at full zoom (140mm equivalent focal length) using evaluative metering. The exposure seems spot on.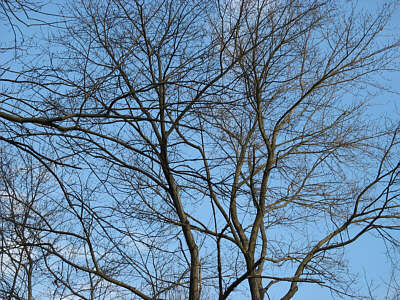 The following images are 100% crops from the original image from the four corners and the center of the image. As you can see, both purple fringing and chromatic aberration are very low, in fact none is really visible at all. Pretty good performance from a digicam lens.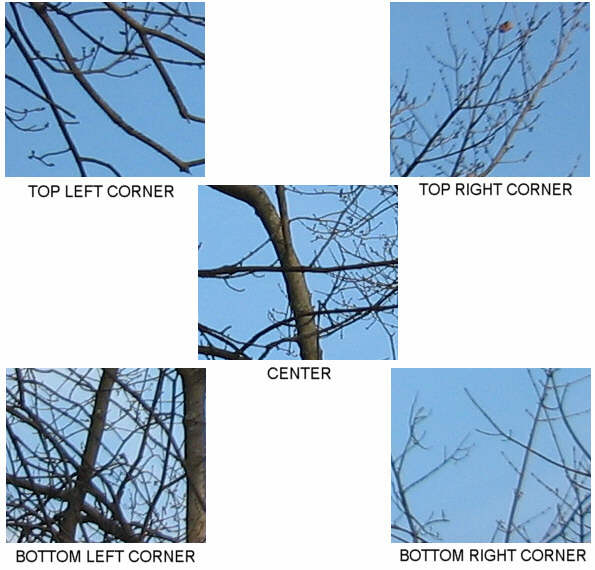 At the widest setting, chromatic aberration and purple fringing are still under good control. The images below were taken at the 35mm setting and f4. The upper left and right corners are shown here at 100% crop. There is a small amount of purple fringing, but you have to look for it.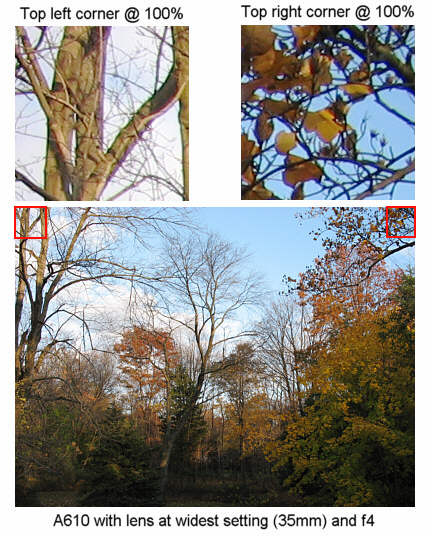 Image quality
I'd rate the overall image quality as being good to very good. Focus is accurate and the lens is sharp. It is a 5MP camera so you're probably not going to want to make poster sized images from it, but it certainly produces good 8x10 images.
In a totally unfair test I compared the $300 5MP digicam with an 8.3MP $2000 EOS 20D + EF 70-300/4-5.6IS. Well, you can guess which had the better image, but perhaps not by as much as you might think. These are all samples at 100% cropping size taken from the full sized images.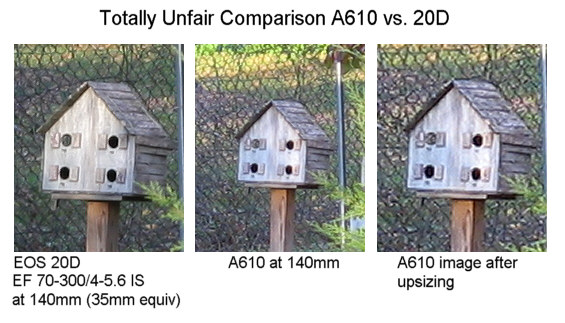 The A610 really doesn't come off too badly here. In a 4x6 or even a 5x7 print, you'd be hard pressed to tell the difference. At 8x10 it would be easier.. Pretty much what you'd expect, but it does show that if you're mostly making small prints, a 5MP digicam is really all you need. Note that there is a 7.1 MP version of the A610, called the Powershot A620. The only difference between the cameras is the sensor pixel count.
White Balance
The Powershot A610 has 8 setting for white balance, Auto, Daylight, Cloudy, Tungsten, Fluorescent, Fluorescent H, Underwater and Custom. The "Fluorescent" setting is for use with warm white and cool-white tubes, while the "Fluorescent H" setting is for daylight balanced fluorescent light. The "Underwater" setting is for use when the A610 is used with the available waterproof case (WP-DC90) and is designed to correct the blue cast often found in underwater images. There is no specific "Shady" setting as is found on some cameras, but "Cloudy" is similar in effect. The "Custom" setting allows white balance to be set on the basis of an image of a neutral toned object (typically a white or gray card).
It's often better to select the appropriate fixed setting than to depend on auto white balance. While auto does a decent job under most circumstances (particularly outdoors), the fixed setting can sometimes do better, especially when the subject isn't in sunlight.
The images shown below indicate the difference between the auto WB setting and the cloudy WB stetting for a cloudy day. The image on the left was shot using auto WB. It actually is probably closer to what I saw than the image on the right, which was shot using the cloudy setting. However most people would prefer the image on the right!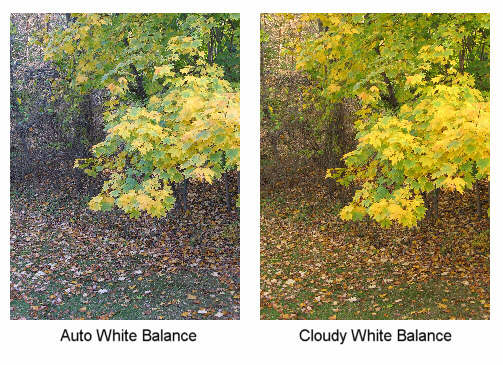 As I've found on other Canon Cameras, under tungsten illumination auto WB gives quite warm images. It's said that this is deliberate since people expect indoor shots to be warm in tone, not neutral. Whatever the reason here are the results: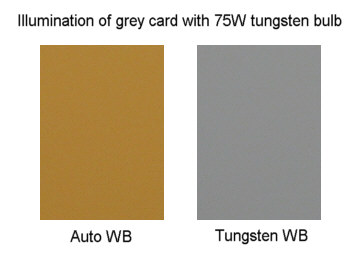 The shot using tungsten WB is very neutral, measuring 140, 142, 141 RGB values. Auto is very warm (RGB 171, 127, 54)
Below is a series of shots of a gray card made under typical Cool-White fluorescent tube (Phillips F15T8/HL Cool) illumination. As you can see both Auto and Fluorescent WB settings do a good job. Fluorescent-H doesn't do well since the lights were not daylight balanced.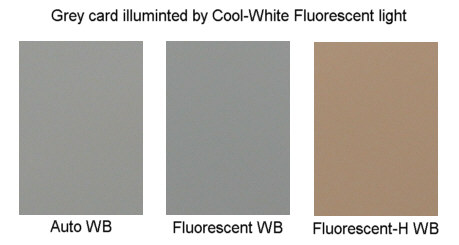 Distortion
Like just about every digicam on the market (and many DSLR wideangle zooms), the Powershot A610 shows visible barrel distortion at the widest lens setting (35mm) and essentially none at the telephoto end (140mm).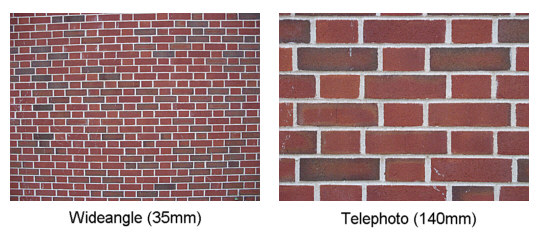 Whether distortion bothers you or not probably depends on your subjects and your workflow. If you print directly from the camera and shoot a lot of subjects with straight lines (buildings for example) then distortion will bother you. On the other hand if you typically don't shoot subjects with straight lines (people for example) and you tend to edit your images on the PC, then it may not. Simple barrel distortion is pretty easy to correct in many image editors. So distortion isn't a good thing and it would be better if it were lower, but it can be dealt with.
Macro
You can get really close with the A610. So close in fact that it's hard to take any shot without the shadow of the lens getting in the frame. The front of the lens is within 1cm at closest focus in macro mode at maximum magnification (lens zoomed to the wide setting). The two shots below were taken of a transparent scale on a light box because I couldn't get this close to a subject and still illuminate it from the top!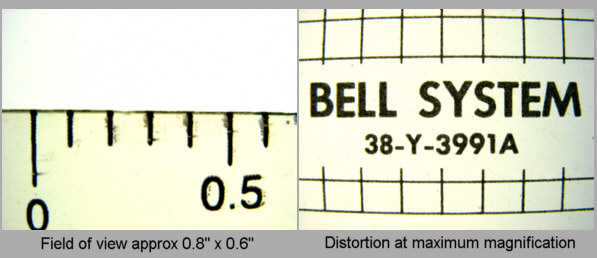 As you can see, the size of the field is about 0.8" x 0.6" at maximum magnification, which is pretty good. Not so good is that there is significant barrel distortion and on close inspection you can also see signs of chromatic aberration. If you don't get quite so close and don't photography rectangular grids, things look much better though. The image below is downsized (not cropped) from the original.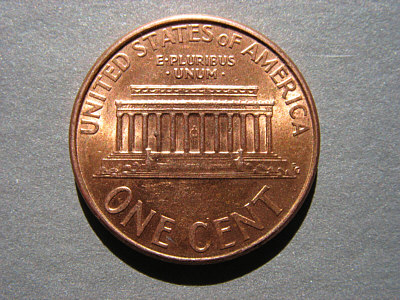 Flash
Like all built in flash systems on small digicams the flash power is moderate. Canon specs it as covering a range of from 1.5-13.8 ft./45cm - 4.2m at the wide setting (35mm equiv) and 1.5-9.8 ft./45cm - 3.0m at the Telephoto end (140mm).
At the widest setting (35mm) the flash does show some fall off in the corners when illuminating a flat surface. In actual use this isn't nearly as noticeable, since the main subject is usually in the center of the frame and things at the edges and corners are some distance behind - which would result in less illumination anyway.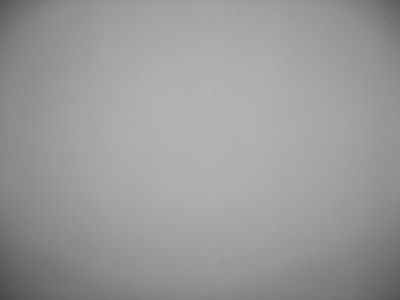 Flash illumination with the zoom at the wide (35mm) setting
Conclusions
Digicams have come a long way. The Powershot A610 has a better lens than the A95 it replaced and the price hasn't gone up (in fact in real terms is probably cheaper!). There's little that's missing that most amateur photographers could want in a digicam. It has manual, aperture priority, shutter priority and program modes, along with a host of "scene" modes for the inexperienced photographer. 5MP is enough to make good quality 8x10 prints, which is probably as large as most users will want and if you push it you might even squeeze an 11x14 out of it. If you want more pixels, the Canon Powershot A620 is essentially an identical camera, but with a 7.1 MP sensor. The A610 is powered by easily obtainable AA batteries and power drain seems low. I can't say how low, but I've been playing with it for a week, shooting test shots, using the flash, playing with the menus and reviewing the images and the original set of alkaline AA cells is still going strong
Could it be better? Sure. For example there's no RAW file mode, though most users of this class of camera probably wouldn't use it even if there was. It could come with a larger SD card than 16MB, but I guess that would increase the cost. It could come with some sort of case or cover. The optical viewfinder could be better, though most users will probably use the LCD screen and I suppose we should be grateful that there is an optical viewfinder at all, since quite a few digital cameras now depend only on the LCD to see what the camera is pointing at! It would also be nice if shutter speeds up to 15 seconds were available in all modes, not just Manual and Shutter priority. There's noticeable distortion at wideangle settings, but that's pretty typical for digicams. So several things could be better, but none of them are really serious shortcomings.
I'd say the A610 would be ideal for at least two types of user. The first is someone who wants to get started in digital, but who wants something more than a simple "auto everything" P&S. The A610 offers both fully auto modes and fully manual modes, with everything in between! You can certainly learn using the A610. The second is someone who wants a small, pocketable, backup camera for their DSLR. They will want control over ISO, exposure, focus and everything else they are used to with their DSLR, such as white balance, exposure compensation and flash exposure compensation. The A610 will give them that. It even has a histogram to check exposure and a twist and swivel LCD for unusual angles (something even a DSLR won't give you!).
I can't really find too many faults with the A610 and certainly not at its price point of under $300. If I didn't already have more digital cameras than I can use, I might even buy one myself!
If you want something similar but less expensive and you don't mind 3 or 4MP and a fixed LCD screen, checkout the A510 (3.2MP) and A520 (4MP) via the Amazon ads on the left.
Amazon has all the A series Powershots in stock and they offer free shipping and a 30-day return policy.
© Copyright Bob Atkins All Rights Reserved
www.bobatkins.com