Dimensions: 3.56 x 2.22 x 1.04 in. / 90.4 x 56.5 x 26.4mm
The PowerShot SD700 IS Digital ELPH camera will be available in April for an estimated selling price of $499.99 .
PowerShot SD630 Digital ELPH
The PowerShot SD630 Digital ELPH camera maintains the classic trim, thin, linear design aesthetic that is the line's hallmark. Despite a body thickness of less than an inch, the PowerShot SD630 Digital ELPH camera accommodates a retractable 3x optical zoom with an equivalent 35mm focal length of 35-105mm.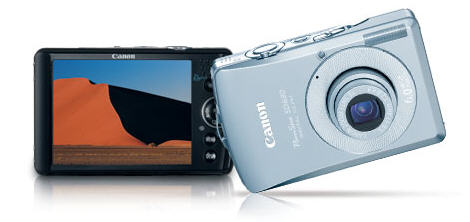 Dimensions: 3.56 x 2.24 x 0.80 in. / 90.3 x 56.8 x 20.2mm
The PowerShot SD630 Digital ELPH camera will be available in April for an estimated selling price of $399.99.
PowerShot SD600 Digital ELPH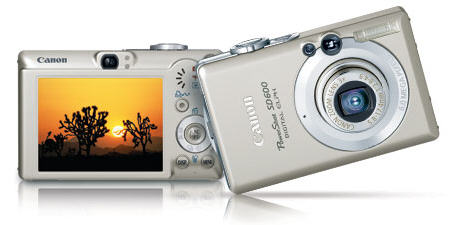 Dimensions: 3.39 x 2.11 x 0.85 in. / 86.0 x 53.5 x 21.7mm

The PowerShot SD600 Digital ELPH will be available in March for an estimated selling price of $349.99.
DIGIC II Image Processing Technology- Hi-Speed USB 2.0
True to the PowerShot tradition, the new Digital ELPH cameras have many of the latest advances in Canon technology including the proprietary DIGIC II imaging processor. The processor enhances picture definition, vibrancy, and quality, while helping increase the speed of the cameras' startup, autofocus, shutter response, playback, and image processing speed while reducing power consumption by 35 percent compared to the original DIGIC chip. Consumers benefit from accelerated image transfer speed (when used with a USB 2.0 compatible computer, printer, or other peripheral), thanks to the inclusion of a Hi-Speed USB 2.0 port. The USB 2.0 port is backwards compatible (at no increased speed) with computers featuring standard USB 1.1 connections.

New Features and Special Effects
All of the new models offer a new widescreen 16:9 ratio resolution setting that facilitates creating panoramic-style prints. Additionally, all new PowerShot models support 23 languages (now including Thai and Arabic). The new cameras have an improved direct printing function that permits greater flexibility in print settings, including a face brightener setting for backlit photos.
Canon also enhanced the 'My Colors' mode found in the new PowerShot line. Where previously, users could only enable 'My Colors' while shooting, the current iteration permits captured images to be retouched as well, without the need for special software applications or tools. Available My Color playback modes include Vivid Blue, Vivid Green, and Vivid Red; lighter and darker skin tones, as well as options for creating black & white, sepia, neutral and positive film effects. A color accent setting turns all colors but the one selected by the user to monochrome and the color swap mode enables users to alter specific colors in an image by sampling another color from the same image or any other image on the camera's memory card. So, 'My Colors' provides PowerShot users with an incredible range of creative photo effects that can be accessed directly in the camera with no need for post-processing in a computer.
Underwater Adventures ELPH-Style
For those who consider the ocean depths part of the Digital Elph camera line's "go anywhere" promise, Canon offers individual optional waterproof housing systems. With a depth rating of 40m/130 feet for the PowerShot SD700 IS Digital ELPH, the PowerShot SD630 Digital ELPH and the PowerShot SD600 Digital ELPH cameras, these models are a natural choice for underwater photo enthusiasts, SCUBA divers and even snorkelers.
Direct Print
Like all PowerShot digital cameras, these new Digital ELPHs work seamlessly with Canon's petite SELPHY Compact Photo Printers – an essential PowerShot accessory. Consumers simply connect their PowerShot digital camera to a SELPHY printer – such as the SELPHY CP510 and CP710 models. Press the lighted Print/Share button, and within seconds , images emerge. Presto! It is that simple. Canon's SELPHY Compact Photo Printers are PictBridge compatible. They work with PictBridge enabled digital cameras and offer excellent image quality and ease-of-use, especially when paired with a Canon digital camera. At 28 cents-per-print , printing photos directly from a digital camera is both easy and affordable.
© Copyright Bob Atkins All Rights Reserved
www.bobatkins.com