Canon Powershot SD200 Review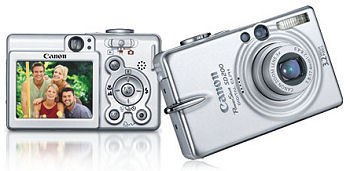 The main distinguishing feature of the Canon SD series of Powershot cameras is that they are small. They followed on from the Canon ELPH film cameras, themselves among the smallest 35mm cameras. However the current SD Powershots, while small in size, are pretty full featured - but I'll get to that later.
How small are they?
Well, the SD200, SD300, SD400 and SD450 are all about the same size, which is the size (but not thickness...) of a credit card. That means you can follow the instruction "Don't leave Home without it" and not necessarily take your Amex card...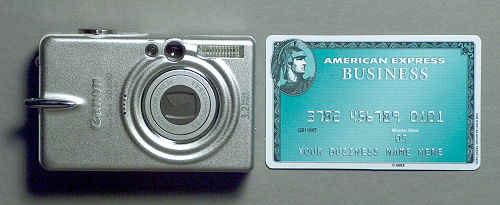 Specifically the SD200 and SD300 are 86 x 54 x 21 mm (3.4 x 2.1 x 0.8 in) and the SD400 and SD450 are within 1mm of those dimensions. This means that all these cameras will easily fit in a shirt or pants pocket. Some other Powershots are small (see image below), but you'd have a hard time cramming them into a shirt pocket!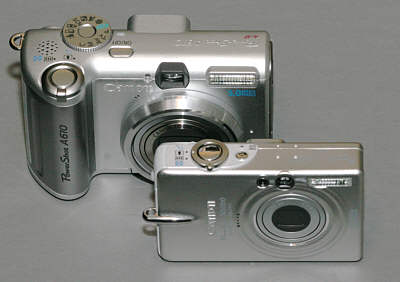 Canon Powershot A610 (rear); Canon Powershot SD200 (front)
They aren't the very smallest cameras around but we're talking differences of a few mm. The Pentax Optio S6 (83 x 52 x 20 mm) is smaller and the Powershot SD20 and SD30 are both 90 x 47 x 19 mm which wider, but shorter and thinner.
What's in the Box?
Canon Powershot SD200 camera
Li-ion Battery pack NB-4L
Battery Charger CB-2LV
16MB SD memory card
Wrist strap
Software CD
USB cable
Audio/Video cable
Manuals
Note that there is no case included (I'd recommend the PSC-90 case) and the 16MB card is good for only about 8 images at the highest quality, so I'd recommend also getting a larger SD card (at least 128MB, preferably 512MB).
The CD contains the following software:
For Macintosh: ImageBrowser 5.0, PhotoStitch 3.1
For Windows: ZoomBrowser EX 5.0, PhotoRecord 2.1, PhotoStitch 3.1, Camera TWAIN Driver 6.5, Camera WIA Driver 6.3, Apple QuickTime
Features
As I mentioned above, the SD200 is small in size, but not in features, which include:
3.2 Megapixel CCD sensor (2048 x 1536)
3x optical 35-105mm f/2.8-4.9 zoom
Optical viewfinder with zoom
Digic II processor for faster operation
Manual control of flash mode
Macro and Infinity focus modes
TTL AiAF 9-point autofocus system with focus-assist lamp
2.0" color LCD with 10x playback zoom
Exposure compensation: +/-2EV in 1/3-step increments
White Balance: Auto, 5 presets or Custom
2.4fps Continuous exposure mode
Selectable ISO settings from 50 to 400 plus auto
Voice memos (up to 60 secs) can be attached to images
Li-ion rechargeable battery and charger
Built-in microphone and speaker
Shutter speeds of 15 seconds to 1/1500 second
Evaluative and Spot metering
Movie mode w/sound at 30/15fps and 640x480/320x240 unlimited length
High speed movie mode at 60fps (320x240)
Tripod socket (aligned with lens)
AF assist light for focusing in the dark
Full specifications can be found on the Canon Powershot SD200 specifications page.
Controls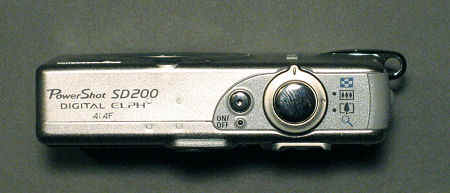 The top of the camera has 3 controls. An on/off button, the shutter release and the zoom control. The zoom control controls the lens in shooting mode and the playback zoom in playback mode.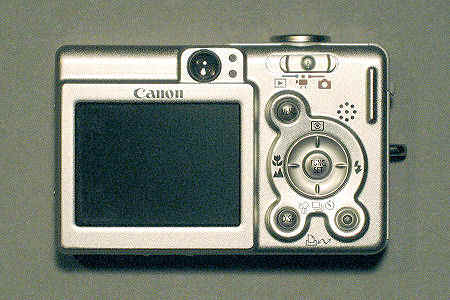 Most of the major controls are on the rear of the camera, along with the 2" color LCD. At the top is a 3-way slide switch which selects playback, movie mode or photo mode. There are 3 push buttons. One (upper left) brings up a menu mode on the LCD. One (lower left) controls the display (LCD on/off and the amount of shooting information displayed). The third button (lower right) is used when printing directly from the camera to a printer. There is also a 4-way rocker switch with a center button. This is used to select and navigate menus, focus modes, metering modes, flash modes and shooting modes.
Exposure
Exposure on the SD200 is automatic. The camera decides the shutter speed and aperture. What's more it doesn't tell you what values it's picked! Luckily, auto exposure is pretty good.If it thinks the shutter speed is low enough that there's risk of camera shake, it flashes an orange light (next to the optical viewfinder).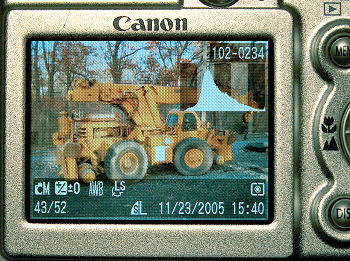 An on-screen histogram is available
While you can't directly set exposure, you can apply up to +/- 2 stops of exposure compensation in 1/3 stop steps, and you do get a histogram display, so you can fine tune exposure if you don't like the results of auto exposure. You can bias exposure towards faster shutter speeds and/or smaller apertures by manually selecting ISO 400, or you can bias it towards longer exposures and/or larger apertures by manually selecting ISO 50. In the so called "manual" mode, these settings are retained when the camera is turned on and off. In "manual" mode you can also set white balance and photo effects such as "sepia", "B&W", "vivid" or "neutral" colors and a "low sharpening" mode. It is also possible to manually select exposure times from 1s to 15s. In auto mode the longest possible exposure is 1s.
Printing
The SD200 (and all Canon Powershot cameras) are capable of direct connection to a compatible printer enabling prints to be made without the use of a PC. With compaticle Canon printers, it's as easy as conecting a cable and pushing a button. See my recent review of the Canon SEPLHY CP-510" printer for more information on direct printing. The SELPHY 510 is small and portable and for $95 would make a good addition to the SD200 as long as you don't want prints larger than 4" x 6".

[NEXT: Part II - Optical Performance and Conclusions]

© Copyright Bob Atkins All Rights Reserved
www.bobatkins.com