Canon EOS 20D DSLR Review
On August 19th 2004, Canon released information on the new EOS 20D and several new lenses.
[For information on the new EF-S lenses, see the
New EF-S Lens Preview Page]
The Canon EOS 20D is the replacement for the EOS 10D DSLR which was introduced in February of 2003 at the Photo Marketing Association (PMA) show. The Canon EOS 10D is now discontinued, i.e. it is no longer in production, though existing stock will still be sold.
Amazon and Adorama are now taking orders for - and shipping - the EOS 20D.
The major new features of the EOS 20D are as follows
• An 8.2MP sensor
• 9 AF zones
• 0.2s startup time
• DIGIC II processor
• An EF-S compatible lens mount
• 5fps shooting speed
• A 25 frame buffer
• E-TTL II flash compatibility
• 1/8000s shutter
The Canon EOS 20D retains the APS-C, 22.7mm x 15.1mm, sensor size used in the Canon EOS 300D (Digital Rebel) and Canon EOS 10D, giving an effective 1.6x focal length "multiplier" compared to a full frame 35mm camera. Of course it's not the same sensor since it contains an additional 1.9MP (6.3MP to 8.2MP). It looks like Canon intends to stick with the 1.6x sensor size for it's consumer and mid level bodies for a while. There also seems now to be a commitment to equip them with EF-S compatible lens mounts since two more EF-S lenses have been announced, making three in total. EF-S lenses cannot be mounted on film bodies, or digital bodies with the 1.3x or 1x sensors. They are designed only to give full frame coverage of the smaller sensor and protrude further into the camera than standard EF series lenses.
New Features on the Canon EOS 20D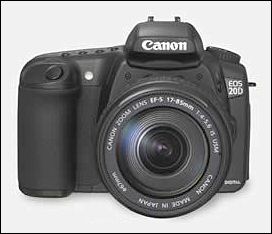 Of the new features I'd say that the most significant are the increased pixel count (6.3MP to 8.2MP), faster startup time, faster frame rate, larger memory buffer and the EF-S lens mount. The lens mount change is important because Canon have also announced two new EF-S lenses to go along with the EF-S 18-55/3.5-5.6 zoom supplied with the Digital Rebel.
First is a EF-S 17-85/f4-5.6 IS (Image Stabilized) lens. This is pretty much the analog of the EF 28-135/3.5-5.6IS for a full frame camera. However the more exciting lens to me is, I think, the EF-S 10-22/3.5-4.5 wideangle zoom, equivalent to a 16-35 zoom on a full frame 35mm camera. Getting a true wide-angle lens for small sensor (1.6x) cameras has always been an issue, and this lens now solves the problem for EOS 20D (and EOS Digital Rebel) shooters. There is also a micro USM version of the EF-S 18-55/3.5-5.6. This is optically the same as the non-USM version which sells only with the Digital Rebel (EOS 300D) kit and the EOS 20D kit, though it costs about $60 more.
The startup time has been reduced from about 1.5s to 0.2s, a significant improvement. I know I've missed a few shots while my 10D "woke up", so this is a welcome change. The increased frame rate of 5fps is nice, as is the larger memory buffer, and this will be a significant improvement for action shooters. So far, with the type of work I do, I haven't really found the 3fps and 9 frame buffer of the EOS 10D too limiting, but I know some people have.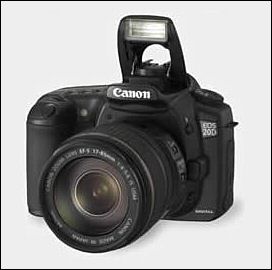 2 more AF zones are good for those who use them, but I personally mostly use the center AF zone, so 9 vs. 7 AF points isn't a big deal for me. I don't remember the last time I shot at 1/4000, so the new top speed of 1/8000 isn't a big deal for me either. E-TTL II flash is good, though I'm not sure that E-TTL II is all that much of an improvement over E-TTL. The flash on the EOS 20D pops up higher than that on the EOS 10D. This may give less shadowing when using large lenses and might slightly reduce red eye when using the built in flash. The flash position is now similar to that found on the EOS Digital Rebel.
Black and White on the EOS 20D
With the 20D Canon have introduced what a lot of beginners ask about. "Can you shoot Black and White?". Well you always could shoot black and white images with any digital camera - you just had to do the color to black and white conversion in PhotoShop (which is pretty simple). With the 20D you can shoot in a "black and white" mode, which shows the results directly on the camera LCD screen. You can simulate the use of color filters (red, orange, yellow, green), as well as sepia toning.

I'd imagine any serious B&W shooter will still shoot in color and do conversions in PhotoShop (or another image editor), since in that way you have total control and can simulate more filters and effects. However for the beginner, for direct printing from the camera, or for someone who just wants to see what a shot might look like in B&W in real time, this new shooting mode could be useful
EOS 20D pixel size and noise levels
Before the camera was available for testing there was some concern over the potential increased noise due to the use of smaller pixels. Noise is roughly a function of pixel area.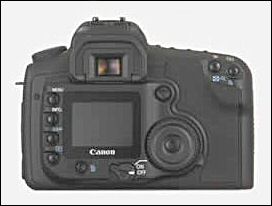 In the Canon EOS 10D the pixels have an area of about 55 sq. microns, while in the 20D that is reduced to 42 sq. microns in order to fit the extra 1.9MP onto the sensor. I think some of the concern comes from experiences with 8MP digicams (e.g. the Sony F828) which do show a lot of noise at higher ISO settings. However the pixel area in such cameras is only about 7.3 sq. microns, so you can see that there's a huge difference in pixel area between the 20D and F828 (42 vs. 7 sq. microns) - a factor of 600%, but a relatively small difference between the EOS 20D and EOS 10D (42 vs. 55 sq. microns) - a factor of about 25%. In fact with the 20D it seems that an improved sensor, electronics and processor have compensated for any possible amount of increased noise due to pixel size.
Canon claim that due to improvements in the sensor and signal processing the noise level in the EOS 20D is actually lower than in the EOS 10D, in fact they claim that ISO 1600 noise in the EOS 20D is actually no worse than noise at ISO 400 in the EOS 10D.
Independent tests on production cameras seem to show that noise at lower ISO settings the EOS 20D has noise levels similar the 10D (both very low), but at higher ISO settings (ISO 800 to ISO 3200), the noise levels of the 20D are indeed lower than those of the 10D, maybe by about 1 stop. So it looks like Canon's claims are qualitatively correct, noise levels in the EOS 20D are equal to or lower than those of the 10D, despite the smaller pixels, and if you shoot at high ISO often, this will be a useful improvement.
Just for reference, the table below shows the relative size of some digital camera sensor pixels:
| | | |
| --- | --- | --- |
| Camera | Pixel size (microns) | Pixel Area (sq. microns) |
| Canon EOS D60/10D | 7.4 | 55 |
| Canon EOS 1D | 10.8 | 117 |
| Canon EOS 1D Mk II | 8.2 | 67 |
| Canon EOS 1Ds | 8.8 | 77 |
| Sony DSC F828 | 2.7 | 7.3 |
| Canon EOS 20D | 6.5 | 42 |
EOS 20D Resolution
If you print at 240 dpi, the 10D 6.3MP sensor can yield prints which are 12.8" x 8.5", while the 20D 8.2MP sensor will yield prints which are 14.6" x 9.7", so it's a small, but worthwhile difference. In terms of raw sensor resolution, the 10D 6.3MP sensor should have a theoretical limit of about 65 lp/mm, while the 20D 8.2MP sensor should have a theoretical limit around 75 lp/mm, about a 15% increase.
Actual testing with resolution targets does indeed show the expected resolution increase, close to the 15% which theory predicts. However that shouldn't be interpreted as being a "night and day" difference in sharpness and detail. In fact the difference is pretty subtle. You can see it in large prints if you look for it, but the difference in, say, 8x10 prints would be pretty hard to see.
EOS 20D Control Layout
The Canon EOS 20D has essentially the same control layout as the Canon EOS 10D, but there are some minor differences. Maybe the most significant is that above the rear control dial and "set" button is a 8 way "joystick". This replaces the direction switching "arrow" button which the 10D uses to move around the playback display on the 20D it also controls the selection of focus point(s). Otherwise a EOS 10D user should feel quite at home with the EOS 20D
Conclusions
Overall the Canon EOS 20D appears to be an incremental improvement on the Canon EOS 10D. Maybe not a quantum leap, but a logical and significant development of an excellent camera. In some ways it can be seen as a "mini" version of the EOS 1D mark II, with the same pixel count but a smaller sensor. Of course it doesn't have all the features of the 1D mark II, but then it's priced at $1500, not $4500, so that's not unreasonable!

Image quality is slightly better than the 10D. There's a touch more resolution and a touch less noise, so the improvement is definitely there. Whether just that on it's own that would be enough justification to switch from a 10D to a 20D is debatable. However some of the other features, such as the faster response, larger buffer, faster frame rate, EF-S compatible lens mount, E-TTL II compatibility and slightly improved autofocus (with 2 extra AF zones) also come into the equation, adding to the incentive to upgrade.

Would I buy one? Yes, absolutely. Will I trade my EOS 10D for one? Probably. I'm not going to stand in line and wait to be first on my block to get one. The EOS 10D is a remarkable camera and I'm very happy with it. The advantages of the 20D are significant, but not earth-shattering. The slightly higher resolution is nice, though the resolution of the 10D is very good and it makes fine 11x14 prints. The lower noise above ISO 400 is very useful, though I'd say most of my work is done at ISO settings lower than 800. The ability to use the EF-S 10-20/3.5-4.5 USM lens is good - if you can afford the $800 for the lens! I like the larger buffer, though again, I don't very often fill the 9 frame buffer on the 10D. Is the faster response time (0.2s to turn on vs. 1.5s) important - for me yes. I've missed more than one shot waiting for my 10D to wake up. I guess it's more that I WANT an EOS 20D than I NEED and EOS 20D but I'll admit that Canon have certainly tempted me, and I don't resist temptation well - especially with the holiday season fast approaching. Maybe Santa will bring one???

Further reading:
Where to buy the Canon EOS 20D
I'm sure you'll start seeing ads for the EOS 20D at amazingly low prices, but beware. There's no free lunch and the "rock bottom bargain price" outfits are best avoided as described in my article here titled Caveat Emptor - let the buyer beware. I'd recommend dealing with reputable stores and been very happy buying through Amazon recently.
AMAZON - Amazon is now shipping the EOS 20D. You can order from Amazon and get free shipping. They also have a very liberal 30 day return policy in case you find a problem or just don't like the camera.
Note that the prices in these ads may not be current. Over the last few days for example, the actual price Amazon have been charging for the 20D + 18-55 kit has varied from $1499.99 to $1599.99 - with a few stops in between! It seems the price can shift around hour by hour as well as day by day. Click on the links to find the current price on the Amazon website.
ADORAMA, one of the reputable NYC stores is also shipping the EOS 20D and EOS 20D kit (with 18-55 USM) - but you don't get free shipping and their return policy only gives you 14 days to decide whether to keep the camera.
© Copyright Bob Atkins All Rights Reserved
www.bobatkins.com