The first, and to me possibly the most interesting, of the new EF-S lenses is the EF-S 10-22/3.5-4.5 USM. 10mm is the widest lens available for a small sensor DSLR. Sigma make a 12-24/4.5-5.6 EX DG (with full frame coverage) and Nikon have an AFS 12-24 mm f/4 G ED IF DX (with coverage for their 1.5x sensor). Of course the angle of view with a 10mm lens on a small sensor body will be the same as a 16mm lens on a full frame 35mm camera, so 10 mm is wide, but not "super wide", since 14mm lenses are available for full frame cameras, and there's even a 12mm lens with full frame coverage made by Voightlander for Leica rangefinder (non-SLR) cameras.

The EF-S 10-22/3.5-4.5 USM isn't a "cheap and nasty" consumer lens. It has three aspheric elements as well as one super-UD glass element. It also has a ring USM with full time manual focus and a distance scale. The street price should be around $800. Not cheap by any standard. The Sigma 12-24 sells for around $670, and Nikon users get to pay $1000 for their 12-24 lens.

I was a little disappointed that the EF-S 10-22/3.5-4.5 USM was so expensive. I'd hoped that maybe Canon could have made a lens like this for $300 or so, but I guess it's not easy making a lens of such a short focal length, and a 2.2x zoom at that. Canon seem to have gone for the "upscale" market with this lens, rather than the "low end" market at which the original EF-S 18-55 was targeted. Personally I'd have taken a small hit in performance for a large drop in price - but that's just me! At $800, if you buy one you have to hope that Canon will stick with the 1.6x sensor size for a while, since this lens isn't going to fit on any film body, or even any of the "pro" EOS 1 digital models.

It's interesting to note that despite the use of multiple aspherics and super UD glass, this lens doesn't get an "L" designation or a red ring! If it were an EF lens, it would probably be designated "L". Class discrimination? No "L" for EF-S lenses? Who knows. Not that it matters. It's how well it works, not what's written on it that counts. Only time (and testing) will tell on that score.

If you want a REAL wide lens you don't have a lot of choices. The Canon EF-S 10-22/3.5-4.5 is it! At 10mm, it gives the same field of view on an EOS 20D (or Digital Rebel) that a 16mm lens does on a full frame 35mm camera.
EF-S 17-85mm f/4-5.6 IS USM
The second most interesting lens is the EF-S 17-85mm f/4-5.6 IS USM. Again Canon have targeted this lens to the higher end of the market with both image stabilization (IS) and a ring type USM motor with full time manual focus (FTM). The street price expected to be around $600. The EF-S 17-85mm f/4-5.6 IS USM on a 20D or Digital Rebel has almost exactly the same coverage as the EF 28-135/3.5-5.6 IS USM has on a 35mm body - though the EF 28-135 sells for only $400. Since the EF-S lens has to go quite a lot shorter and uses and aspheric element, it's not surprising the price is higher. Interestingly it's almost exactly the same size as the EF 28-135, being just 5% shorter in length and 12% lighter in weight. Though the lens is set to sell for $600, Canon indicated in their 20D press release that if sold with a 20D body the combined price would be $2000. Since the 20D body should sell for $1500, this means you're getting the lens for $500. As of December 2005 the EF-S 17-85/3.5-5.6 IS USM sells for around $560.

Looks like a very useful lens and image stabilization is certainly improves pictures shot handheld at slow shutter speeds. The EF 28-135 IS USM has long been one of my most used lenses, both on film bodies and on my 10D (where it give the same range as a 45-216mm lens would on a full frame body). If you bought the EF-S 10-22/3.5-4.5 USM, it might make more sense to pair it with the EF28-135 IS USM than the EF-S 17-85mm f/4-5.6 IS USM. You'd lose the range from 22 to 28mm (35 to 45mm full frame equivalent), but you'd gain the range from 85-135mm (135-216mm full frame equivalent) - and save between $100 and $200. In my opinion the gain on the long end is worth the small wideangle gap (which you could fill with a nice, small, light, fast EF 24/2.8 if it really bothered you!)
EF-S 18-55/3.5-5.6 USM
The third and probably least interesting - but also least expensive!- lens is the EF-S 18-55/3.5-5.6 USM. This seems to be the same as the lens sold with the Digital Rebel as part of a kit, but it now has a micro-USM motor (not a ring USM). I can't say I've ever been a huge fan of most micro-USM motor lenses. Typically they don't have full time manual focus (the 50/1.4 is an exception), and they never seem all that much faster or quieter than the micro-motor lenses. The bigger difference with the original version of this lens is that it's now sold without a camera attached! You can't buy the original EF-S 18-55 without a Rebel body. The price is $170 for the USM lens. The "standard" (non-USM) version effectively cost $100 since that was the difference between the "body only" and "kit" prices. Since Canon don't mention any optical changes, it's reasonable to assume that the lens will perform identically to the non-USM version, which you can see on my EF-S 18-55/3.5-5.6 lens review page.
The EOS 20D + 18-55 kit is $100 more than the price of the body alone. The store ads don't say that the USM lens is included in the kit, though if you look carefully at the pictures they show, it's the USM version lens on the camera! This is a little confusing to say the least. My guess is that the kit lens isn't the USM version and if you carefully read the Canon press release you'll see thay say that the "standard" version of the 18-55 is included in the EOS 20D "kit". So it looks like the illustrations that most of the stores are using is wrong, in that they are showing the EOS 20D with the 18-55 USM lens, but in fact they're selling the EOS 20D with the standard 18-55 lens.
It therefore appears that if you want the standard version of the 18-55/3.5-5.6, you have to buy it with the EOS 20D (or Digital Rebel) as part of a kit. If you want the USM version, you have to buy the camera and lens separately. At least that's how it looks at the moment.
Lens Specifications
The following table summarizes the available information on these three new lenses
Full frame 35mm equivalent
AF motor
Aspheric Elements
Weight (oz)
Length
Price $
Filter
EF-S 10-22mm f3.5-5.6
16-35
Ring USM w/FTM
Yes
13.6
3.5"
$799
77mm
EF-S 17-85mm f4-5.6 IS
28-135
Ring USM w/FTM
Yes
15.5
3.6"
$599
67mm
EF-S 18-55mm f3.5-5.6
29-88
Micro
USM
No (?)
6
2.5"
$169
58mm
NOTE: These lenses can ONLY be mounted on the Canon EOS Digital Rebel (EOS 300D) and the Canon EOS 20D. They will NOT fit the Canon D30/D60/10D, 1D, 1D Mk II or 1Ds or on any Canon EOS film body.
Canon Press Release
The following information was taken from the Canon Press Release:
LAKE SUCCESS, N.Y. Aug. 19, 2004 - Canon broadens its EF-S-type lens offerings to include three new wide-angle zoom lenses. The EF-S 10-22mm f/3.5-4.5 USM, EF-S 17-85mm f/4-5.6 IS USM and EF-S 18-55mm f/3.5-5.6 USM zoom lenses will be available this fall for estimated street prices of $799, $599 and $169, respectively.
Particularly among advanced amateur and professional photographers, there has been a growing need for affordable zoom lenses that support true wide-angle and ultra-wide-angle photography. Canon initially responded to this market demand in August of 2003, when it announced the EF-S 18-55mm f/3.5-5.6 zoom lens. This lens was launched in conjunction with the EOS" Digital Rebel", which has subsequently become the most popular digital SLR to date in terms of units sold, according to NPD Market Research. Now, to provide EOS Digital Rebel camera and EOS 20D camera users with a truly comprehensive lens system, Canon has expanded its EF-S lens offerings with 3 new models.

By reducing the distance from the rear of the lens to the focal plane and reducing the size of the image circle to match the size of the APS-C imaging sensor used in digital SLRs such as the EOS 20D camera and Digital Rebel camera, Canon's EF-S lenses reduce the size, weight and cost of wide-angle lenses for these cameras while at the same time producing high image quality with superb resolution and contrast at all focal lengths.

"With the expansion of our EF-S lens offerings, we continue Canon's tradition of providing professional photographers and amateur enthusiasts with the most innovative, peak performance lenses available," said Yukiaki Hashimoto, senior vice president and general manager of the consumer imaging group at Canon U.S.A., Inc., a subsidiary of Canon Inc. (NYSE: CAJ). "These new wide angle zoom lenses provide phenomenal flexibility, remarkable results and are invaluable additions to the camera bags of travel, nature and other 'on the go' photographers."

EF-S 10-22mm f/3.5-4.5 USM Zoom Lens
This exciting new zoom lens provides ultra wide-angle coverage to the EOS 20D camera and Digital Rebel camera shooter. Equivalent to a 16-35mm zoom for a 35mm film camera, it offers excellent performance and optics designed from the ground-up for digital SLR use. Excluding fisheye lenses, the EF-S 10-22mm f/3.5-4.5 USM lens has the shortest minimum focal length ever offered for interchangeable lens digital SLRs with APS-C image sensors.

Photographers will achieve consistently excellent image quality throughout the zoom range of this lens because of its 3 Aspherical elements and 1 Super-UD element in a 13-element optical formula. A ring-type ultrasonic focusing motor (USM) provides fast and silent AF along with full-time manual focus. Minimum focusing distance is 9.5 inches for breathtaking close-ups. The EF-S 10-22mm f/3.5-4.5 USM lens is relatively light and compact at 3.5 inches in length and a weight of 13.6 oz. The new lens accepts 77mm filters and can be fitted with an optional bayonet-mount lens hood.

EF-S 17-85mm f/4-5.6 IS USM Zoom Lens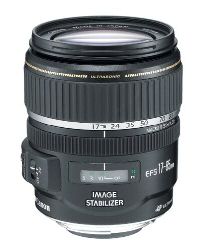 This new EF-S lens brings true wide-angle to telephoto coverage to EOS 20D camera and Digital Rebel camera photographers. It features Canon's Image Stabilization system, allowing safe hand-held photography at shutter speeds up to three steps slower than otherwise possible. And of course, it's optically optimized for digital SLRs. A ring-type USM delivers fast and silent auto focus, as well as full-time manual focus when in the AF mode.

The EF-S 17-85mm f/4-5.6 IS USM lens provides a 5x zoom ratio and an angle of view equivalent to a 27-136mm lens on a 35mm camera. The new lens also uses a glass-molded aspherical lens element with aspherical surfaces on both sides for superb image quality throughout the entire zoom range and it features a closest focusing distance of 12 inches at all focal lengths. The EF-S 17-85mm IS lens is 5% shorter and 12% lighter than the EF 28-135mm IS lens and accepts 67mm filters.

EF-S 18-55mm f/3.5-5.6 USM Zoom Lens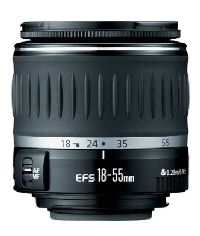 This is the USM version of the popular EF-S 18-55mm f/3.5-5.6 zoom lens that is available in kit form with the EOS 20D camera and Digital Rebel camera. Both lenses have an angle of view equivalent to a 29-88mm lens on a 35mm camera. Weighing in at just 6 oz. and measuring only 2.5 inches in length, the EF-S 18-55mm f/3.5-5.6 USM produces exceptional image quality in an ultra-compact package. The new lens accepts 58mm filters and features Canon's exclusive Micro USM II focusing motor technology for swift and silent AF.


Where to buy the new Canon EF-S lenses
Amazon.com are pretty good. Their prices are low and on some items they even offer free shipping and a 30-day return policy. Check out the page on their website to see if they are currently offering these on the lens you're interested in.

© Copyright Bob Atkins All Rights Reserved

www.bobatkins.com