Canon EF-S 10-22/3.5-4.5 USM Lens Review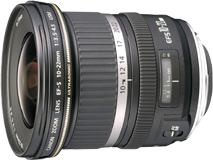 Introduction
The Canon EF-S 10-22/3.5-4.5 USM is Canon's widest lens for Digital SLRs. It has the same field of view on a DSLR with a 1.6x sensor as a 16-35 zoom has on a full frame 35mm camera. The construction of this lens is excellent with no "plastic" feel to it. Focus is very fast using Canon's ring-type USM motor, which also allows full time manual focusing without having to switch from "autofocus" to "manual" mode. The lens does not change length when zoomed and the filter mount does not rotate, facilitating the use of a polarizer.
The Canon EF-S 10-22/3.5-4.5 USM does not come with either a case or lens hood. An optional lens hood [EW-83E] is available (though by current accounts is hard to find right now). Canon list lens case LP1319 as being suitable for the EF-S 10-22/3.5-4.5. At the time of writing (November 2005) the Canon EF-S 10-22/3.5-4.5 USM is selling for a little over $700 at major discount outlets.
The Canon EF-S 10-22/3.5-4.5 USM uses 3 aspheric elements and 1 Super UD element. The aspherics are designed to minimize monochromatic aberrations (such as spherical aberration), while the Super UD element helps to minimize chromatic aberration. Although the EF-S 10-22/3.5-4.5 doesn't carry the "L" designation, the use of multiple aspheric elements and UD glass is characteristic of EF "L" series lenses and has lead more than one photographer to wonder whether this lens would have had an "L" designation if it had not been in the EF-S series. By comparison the full frame equivalent EF16-35mm f/2.8L USM uses 3 aspherics and 2 regular UD elements and the EF 17-40/4L uses 3 aspherics and 1 super UD element, just like the EF-S 10-22/3.5-4.5. No EF-S lenses have the "L" designation to date. The optical design of the EF-S 10-22/3.5-4.5 is shown below.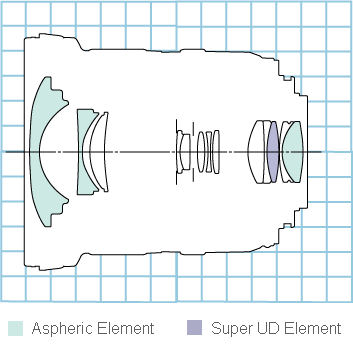 Canon EF-S 10-22/3.5-4.5 USM
EF-S lenses, of course, are designed for use only with APS-C (1.6x) sensor Canon DSLRs and will currently only physically mount on the Digital Rebel, Digital Rebel XT and EOS 20D. The EF-S design allows the rear element to be closer to the sensor then with EF lenses, improving image quality, especially at the shortest focal lengths. The larger mirror used on full frame and 1.3x sensor DSLRs would hit this rear element if the lens could somehow be mounted on them. Due to the smaller frame coverage of the EF-S lens design, EF-S lenses can be smaller and lighter than equivalent full frame designs - though unfortunately this doesn't seem to extend to making them cheaper too! While some people are concerned about buying lenses which won't mount on full frame cameras, in reality many users will probably never own a full frame DSLR. It seems Canon intend to keep the 1.6x sensor size for the Digital Rebel line and I think it's very unlikely that we will see a camera in the EOS 10D, 20D series with a full frame sensor for at least 3-4 years, maybe longer. If you have $3000+ to spend on a camera body, then you can buy an EOS 5D today of course and maybe you wouldn't want an EF-S lens, but for the majority of users I think EF-S lenses will be useful and usable for a long time.
Canon EF-S 10-22/3.4-4.5 USM Specifications
| | |
| --- | --- |
| First Released | November 2004 |
| Horizontal Angle of view | 97° 10' - 54° 30' |
| Vertical Angle of View | 74° 10' - 37° 50' |
| Diagonal angle of view | 107° 30' - 63° 30' |
| Lens Construction (groups) | 10 |
| Lens Construction (elements) | 13 [3 aspheric elements - 1 Super UD element] |
| No. of Diaphragm Blades | 6 |
| Minimum Aperture | 22-27 (1/3-stop increments 22-29) |
| Closest Focusing Distance | 0.24m [9.5"] at all focal lengths |
| Maximum Magnification | 0.17x at 22mm setting |
| Filter Diameter | 77mm (thin polarizer required for 10mm use) |
| Maximum Diameter x Length | 83.5mm x 89.8mm [3.3" x 3.5"] |
| Weight | 385g [13.5oz] |
For a superwide zoom the EF-S 10-22/3.5-4.5 is pretty small and light. For example it's 90g (3.2oz) lighter than the EF 17-40/4L and 215g (7.6oz) lighter than the EF 16-35/2.8L, as well as being smaller than both of them.
[NEXT: Part II - Focusing, Aperture, Vignetting and Distortion]
© Copyright Bob Atkins All Rights Reserved
www.bobatkins.com