Canon EOS Digital Rebel XT Preview (EOS 350D)
Note: I've now posted my initital impressions of the Digital Rebel XT based on hands on experience. See the Digital Rebel XT Hands-on Review
February 17th 2005 - Canon have rleased the Canon EOS Digital Rebel XT. In Europe (and much of the rest of the world) the same camera will be known as the EOS 350D. The "Rebel" name is only used in North America.
Front view of Digital Rebel XT in Black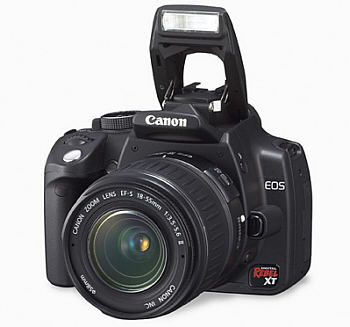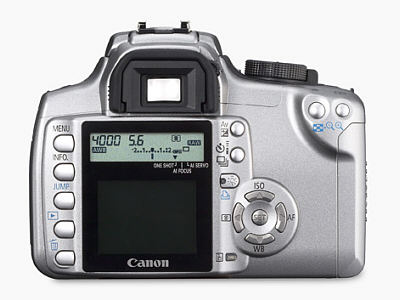 Rear view of Digital Rebel XT in Silver
The main features of the new Canon EOS Digital Rebel XT (EOS 350D) are as follows:
An 8MP sensor. Note this is not the same sensor as is used in the EOS 20D, though it seems to be very similar.
Sensor size 22.2 x 14.8 mm versus 22.5 x15.0 mm for the EOS 20D
The Canon EOS Digital Rebel XT will be available in a black or silver finish
Metering mode is now manually selectable
Autofocus mode is now manually selectable
7 focusing points (20D has 9)
9 custom functions (the EOS 20D has 18) These include: programming options for the SET button/Cross keys; control over long exposure noise reduction; flash sync speed in AV mode; AF start from the shutter button or AE lock button; AF assist beam; mirror lockup; E-TTL II metering patterns, and shutter curtain sync.
Frame rate is 3fps for up to 14 frames (JPEG)
Startup time is 0.2 seconds
Shutter speeds are from 30-1/4000s and sync is 1/200
The Digital Rebel XT has a USB 2.0 interface
The Digital Rebel XT is 10% lighter and 25% smaller (in volume) than the current EOS Digital Rebel
It has E-TTL II flash
Writing to the CF card is 3.5x faster
Simultaneous RAW and large JPEG writing
The Digital Rebel XT has mirror lockup and 2nd curtain sync flash
It has a Black and White shooting mode similar to the one on the Canon EOS 20D
It has a new precision matte focusing screen
The flash sits higher to reduce red-eye and has a GN of 13
Flash compensation is +/- 2 stops in either 1/2 or 1/3 stop increments
Exposure compensation and bracketing can be done in 1/2 or 1/3 stop increments
ISO range is 100-1600 (same as the current Digital Rebel)
A new grip (BG-E3) takes 6xAA cells or two NB-2LH Li-Ion batteries
Up to 600 shots per battery charge
CF cards and Microdrives (type I and Type II) can be used. It appears that cards over 2GB will automatically be formatted using FAT32 in the camera to access their full capacity (FAT16 only supports up to 2GB).
As with the current Digital Rebel, the LCD displaying shooting info is located on the back of the camera, above the color LCD display rather than on the top of the camera as in the EOS 20D
The Digital Rebel XT uses the Canon NB-2LH battery pack, which doesn't seem to be compatible with the BP-511/BP-512 batteries used in the original Digital Rebel, EOS D30, D60, 10D and 20D. The Canon NB-2LH rechargeable Lithium Ion battery is compatible with the following: Canon PowerShot S30, S40, S45, S50, and S60 digital cameras; Elura 40MC, 50, 60, 65, and 70 camcorders; and Optura 30, 40, 400, and 500 camcorders. It's rated at 7.4v and 720mAh. The BP-511/512 are rated at 1100mAh
The estimated street price of the Canon EOS Digital Rebel XT is $899 for the body or $999 with the 18-55 kit lens. The kit lens is optically identical the the one sold with the original Digital Rebel (see EF-S 18-55 review). US photographers should consider themselves lucky as the UK list (RRP) price for the Canon EOS Digital Rebel XT (350D) body is £749.99 (which is around $1400).
The original Digital Rebel kit (including the 18-55 lens) will now be sold for $799, a $200 saving over the cost of the similar Digital Rebel XT kit. Canon didn't comment on how long the original Rebel kit would be available.
There is also a new lens, an EF-S 60mm f/2.8 Macro USM which sounds interesting. With the 1.6x cropping factor it would give the same field of view as a 96mm lens on a full frame 35mm DSLR, so it's an analog of the popular 100mm macro lens. Of course in macro work depth of field is a major concern. The whole subject of depth of field in digital cameras with sub-35mm frame sizes is covered in the Depth of Field and Digital article on this website. Full details of the Canon EF-S 60/2.8 Macro USM can be found on the EF-S 60mm f2.8 Macro USM page.
So it looks like Canon have put back a lot of the features they left out of the original digital rebel (and which the Russian firmware hack re-enabled). The Canon EOS Digital Rebel XT seems to be a significant upgrade of the Digital Rebel, not only in terms of sensor resolution, but also in terms of camera features. It lacks the rear control dial of the 20D, there's no PC socket mentioned (yet), it has 7 point AF vs. 9 point and the frame rate is lower and the buffer smaller than the EOS 20D.
As usual some people will be torn between spending $900 on a Digital Rebel XT or spending an extra $400-$500 on an EOS 20D. Obviously the 20D is a better and more capable camera, but whether it's worth paying $400-$500 more is very much a personal decision for the photographer. You can buy a nice lens (maybe a couple) for $500. On the other had, if past experience is a guide, image quality on the Digital Rebel XT will probably be very close indeed to that of the EOS 20D. In an additional twist, and just to make life more difficult (!) purchasers also have the option of saving $200 by buying the original Digital Rebel (300D). For anyone wanting a fully automatic P&S type DSLR this may still be a valid option, though the greater degree of control and higher pixel count of the Digital Rebel XT is probably worth the extra $200 to most serious photographers. I've written a pretty full comparison of the Digital Rebel XT and the EOS 20D which may help you to decide. See the link below.
Canon have some full size sample images from the EOS Digital Rebel XT available on their website. They're big files (5-6MB), so be prepared to wait if you're on a slow dialup connection. See link below.
LINKS
Where to Buy
My recommendation is AMAZON.COM. They're trustworthy, have good customer service and they are now shipping the EOS Digital Rebel XT. The first shipments went out on March 14th to those customers who ordered earliest. They offer free shipping and a 30-day return policy. It usually takes a while after shipping starts before all backorders are filled and new cameras are available from stock, so if you want one soon, placing a order now is probably a good idea. I'd go for the one in black with the kit lens, but that's just me!
| | | | |
| --- | --- | --- | --- |
| Silver Body | Silver Kit | Black Body | Black Kit |
| | | | |
[Visit the HOME PAGE to see what else is new on the site]
© Copyright Bob Atkins All Rights Reserved
www.bobatkins.com