Canon Powershot A610, A620 and A410 preview
Somewhat overshadowed by the EOS 5D and new EOS lenses, back in August Canon also announced a number of new Powershot digicams. These are just now starting to be available so I thought I'd take a look at a few of them.
Some time ago I reviewed the Canon Powershot A80 and I was impressed by it's image quality and versatility. The current successor to the 4MP A80 (August 2003 - $399) via the 5 MP A95 (August 2004 - $370) is the 5MP Powershot A610 (August 2005 - $299). A couple of digital generation has resulted in a number of significant changes - more features and a lower price too!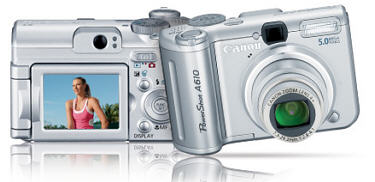 The Powershot A610 has a 5MP 1/1.8" sensor (7.18 x 5.32 mm), which is currently the largest sensor used in consumer digicams. There are other cameras with more pixels (in fact the very similar A620 has 7MP), but they generally use a sensor of the same physical size. The lens has improved from the 38-114 of the A80 and A95 to a 35-140 in the A610. The list price has dropped from the $399 of the A80 to $299 for the A610. In addition the A610 now has mutiple resolution movie modes (with sound), up to 640x480 at 30fps and a larger LCD (2" vs. 1.5") which folds out, tilts and swivels. There is a range of exposure modes including program auto, shutter priority, aperture priority and manual for photographers who want maximum control, to pre-programmed image modes such as Portrait, Landscape, Night Scene, and Special Scene (Foliage, Snow, Beach, Fireworks, Underwater, Indoor, Kids & Pets, Night Snapshot) for those who want to "point and shoot".
All the "A" series cameras use readily obtainable AA batteries (alkaline or rechargable NiCd or NiMH) and the A610 is rated for around 500 shots using high capacity NiMH batteries or around 350 shots with alkaline batteries.
If 5MP isn't enough for, the otherwise virtually identical Powershot A620 has a 7MP sensor and costs $100 more ($399). The Canon "A" series cameras have been best sellers since they were intoduced and it's not surprising since the offer just about the best "bang for the buck" around. If I wanted a small P&S to backup my DSLR and I didn't want something so small I'd be scared of losing it, the A610/620 would be high on my list of cameras to look at.
If you want something simple at a bargain basement price, the Powershot A410 has a 3MP sensor, a 41-131mm zoom and lists for $149.99. It has a physically smaller sensor (ca. 4.5 x 3.5mm), only "auto" modes and is limited to ISO 200 maximum, but for under $150 its still a good deal for someone who just wants a simple P&S digital.

Here's a copy of the Canpon Press Release:
LAKE SUCCESS, N.Y., Aug. 22, 2005 — Whether it is Mom capturing memories poolside, Dad running back and forth on the soccer field taking photos of Junior's big goal, or Grandma capturing memories of her grandchildren's recent visit, Canon's new compact PowerShot A620, A610 and A410 digital cameras provide both novice and entry-level photographers with a comfortable introduction to the fun and freedom of digital photography.
"For three years now, Canon has remained America's number one choice1 for digital cameras with the A70 model in 2003, the A75 model in 2004 and now the A510 digital camera in 2005," said Yukiaki Hashimoto, senior vice president and general manager of the consumer imaging group at Canon U.S.A., Inc. "We are building upon the success of our A-series line by expanding our offerings. Our new PowerShot A620 and A610 digital cameras really pack professional-level features into consumer cameras, while the entry-level PowerShot A410 model is designed to meet first-time digital camera buyers' needs."



Powerful Features in Pocket-Sized Designs
The PowerShot A620 and A610 digital cameras feature a sleek new body design and powerful new features that lead the PowerShot A-Series line, without sacrificing the compact size, basic camera design and sensible control layout that have made other A-series digital cameras so popular. What's more, the new cameras feature some of the most advanced specifications in their class, including:

7.1 and 5.0 megapixel CCDs respectively

4x optical zoom lens with a focal length of 7.3 — 29.2 mm (35mm film equivalent: 35 — 140 mm) and a maximum aperture of f/2.8-4.1

Canon's exclusive high-performance DIGIC II image processor

A full range of manual and 20 Shooting Modes including 8 Special Scene Modes plus a 2.0-inch vari-angle LCD screen

Full compatibility with wide-angle, telephoto and macro supplementary lenses

Thanks to DIGIC II and a brighter AF Assist beam, the PowerShot A620 and A610 digital cameras have reduced AF time by an impressive 60% and improved focusing ability by two full stops in low light conditions compared to their predecessor, thus enabling Dad to get the best quality picture as his child blows out his/her birthday candles. DIGIC II also makes the most of the cameras' superb all-glass Canon optics and high resolution CCD sensors to deliver exceptional image quality with vibrant yet natural color, low noise and fine detail.

The PowerShot A620 and A610 digital cameras are equipped with a 9-point AiAF "Smart" autofocus system and 20 shooting modes. The standard Shooting Modes are Full Auto, Program, Shutter-priority, Aperture-priority, Manual, and Custom with additional modes including Portrait, Landscape, Night Scene, My Colors, Special Scene (including Night Snapshot, Kids and Pets, Indoor, Foliage, Snow, Beach, Fireworks and Underwater2), Stitch Assist and Movie. Both models are capable of recording 30 fps VGA movies with sound for up to 1GB per clip and 60fps QVGA fast frame rate movies for up to 60 seconds a piece, so families can capture their memories in motion.

Whether it is raising your camera above your head to get a shot of your child at her first dance recital or dropping your camera below your knees to watch your baby crawl for the first time, the large 2.0-inch vari-angle LCD screen, up from 1.8-inches in previous models, increases the ability to get those hard to view, but essential shots. There's even a new, optional horizontal and vertical Grid Line function on the LCD screen that lets users compose their photos more accurately than before.

Feature Rich at An Affordable Price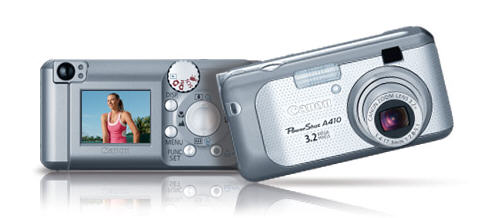 Much like the PowerShot A400 digital camera, its predecessor model, the PowerShot A410 digital camera is geared towards the entry-level photographer. The PowerShot A410 digital camera is functional as well as intuitive for a beginning photographer, including a 3.2 megapixel CCD image sensor, 3.2x optical zoom lens with a focal length of 5.4-17.3mm (35mm film equivalent: 41-131mm), smooth continuous shooting up to 2.5 fps for the entire capacity of the SD or MMC memory card and a 1.5-inch LCD screen. The PowerShot A410 digital camera comes equipped with eight Special Scene modes, including Portrait, Night Snapshot, Kids & Pets, Indoor, Foliage, Snow, Beach and Fireworks and five Photo Effect modes, including Vivid, Neutral, Low Sharpening, Sepia, and Black & White. What's more, the PowerShot A410 digital camera is capable of recording VGA movies, so 10-year old Sue can capture movies of her friends during sleepovers.

AA Battery Powered
Named for their use of AA batteries, Canon's A-series digital cameras offer easy-to-use, high quality features to consumers looking to capture, save and share meaningful memories, personal milestones and family functions.

The PowerShot A620 and A610 digital cameras use four AA batteries, while providing more shots (up to 500 with LCD screen on, based on CIPA standards when using rechargeable NiMH batteries) than previous models, thanks to reductions in power consumption made possible by improvements in key components and circuit design. The PowerShot A410 digital camera uses only two AA batteries, yet captures up to 400 shots according to CIPA standards with the LCD screen on when using rechargeable NiMH batteries.

DIGIC II Image Processing Technology- Hi-Speed USB 2.0
True to the PowerShot tradition, the new PowerShot A-series cameras have many of the latest advances in Canon technology including the proprietary DIGIC II imaging processor. The processor enhances picture definition, vibrancy and quality, while helping increase the speed of the cameras' startup, autofocus, shutter response, playback and image processing speed and reducing power consumption by 35% compared to the original DIGIC chip. Image transfer speed is accelerated (when used with a USB 2.0 compatible computer, printer or other peripheral), thanks to the inclusion of a Hi-Speed USB 2.0 port. The USB 2.0 port is backwards compatible (at no increased speed) with computers featuring standard USB 1.1 connections3.

Print Photos in Seconds
Like all PowerShot digital cameras, Canon's new A-series cameras work seamlessly with Canon's petite SELPHY Compact Photo Printers — an essential PowerShot accessory. Consumers simply connect their PowerShot digital camera to a SELPHY printer — such as the new SELPHY CP510, CP710 and CP600 models — press the lighted Print/Share button, and within 58 seconds4, images emerge. Presto! It's that simple. Canon's SELPHY Compact Photo Printers are PictBridge compatible. They work with PictBridge-enabled digital cameras and offer excellent image quality and ease-of-use, especially when paired with a Canon digital camera. At 28 cents-per-print5, printing photos directly from a digital camera is both easy and affordable.

Pricing & Availability
The PowerShot A620 and A610 Kits will include a full set of Canon's powerful yet easy-to-use digital camera software, featuring the latest versions of ZoomBrowser EX, ImageBrowser, PhotoStitch and PhotoRecord, as well as ArcSoft PhotoStudio. Supplied accessories include Interface Cable IFC-400PCU, AV Cable AVC-DC300, Wrist Strap WS-200, four AA-size alkaline batteries, and a multimedia card MMC-32M (A620 model) and MMC-16M (A610 model). Optional accessories include NiMH Rechargeable Battery Kit NB4-200, Battery and Charger kit CBK4-200, AC Adapter Kit ACK600, Soft Compact Case PSC-60, Waterproof Case WP-DC90, High Power Flash HF-DC1, Conversion Lens Adapter LA-DC58F and the choice of wide-angle, telephoto and macro supplementary lenses. (These are the same supplementary lenses used by Canon's high-end PowerShot G6 digital camera.)

The PowerShot A410 Kit includes the same software bundle as the A620/A610 cameras, plus Interface Cable IFC-400PCU, Wrist Strap WS-800, two AA alkaline batteries, and a multimedia card MMC-16M. Optional accessories include NiMH Rechargeable Battery Kit NB4-200, Battery and Charger kit CBK4-200, AC Adapter Kit ACK800, Soft Compact Case PSC-80 and High Power Flash HF-DC1.
The Canon PowerShot A620, A610 and A410 Digital cameras will be available in September for estimated selling prices of $399.996, $299.996 and $149.996, respectively.
All referenced product names, and other marks, are trademarks of their respective owners.
Notes
Specifications are subject to change with notice.
1 According to The NPD Group, Canon's PowerShot A75 digital camera was the number one selling U.S digital camera in 2004 . The NPD Group certified the PowerShot A70 as the number one selling U.S digital camera in 2003 . The NPD Group also certifies the A510 model as the number one selling model year to date 2005.
2 Optional underwater housing available
3 The PowerShot A410 Digital Camera supports only Full-Speed USB 2.0, which has the same data transfer speed as USB 1.1.
4 Print speed based on average output speed achieved during product testing with DIGIC II processor embedded Canon PowerShot digital cameras. Other products' print speed may vary. Printer functions are sensitive to temperature and humidity.
5 Based on Canon KP-108IP paper and ink pack manufacturers suggested retail price as of 6/15/05 and as compared to competitors' similar products.
6 Pricing is subject to change without notice at any time. All prices are set by individual dealers and may vary.
© Copyright Bob Atkins All Rights Reserved
www.bobatkins.com