Canon EF-S 17-85/4-5.6 IS USM Review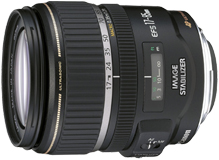 Summary: A good lens with a very effective Image Stabilization system. Perhaps the best "one lens" choice for the Digital Rebel XT and EOS 20D/30D.

The Canon EF-S 17-85/3.5-5.6 IS USM is designed for use on the Canon EOS Digital Rebel, Digital Rebel XT, EOS 20D and EOS 30D Digital SLRs. It's a general purpose lens with a field of view coverage equal to that which would be given by a 27-136mm zoom on a full frame 35mm camera, so it's pretty much an analog of the well respected EF 28-135/3.5-5.6 IS USM. It covers the focal lengths most commonly used by the majority of photographers.

The EF-S 17-85/4-5.6 IS has a ring USM motor with full time manual focusing and 2nd generation Image Stabilization (IS) technology. That means it gives up to 3 extra stops of "handholdability" (the EF 28-135 IS has 1st generation IS which can provide up to 2 stops of added stability). As shown in the construction diagram below, the EF-S 17-85/4-5.6 IS USM has 17 elements in 12 groups and it has one aspheric element with two aspheric surfaces for better control of aberrations.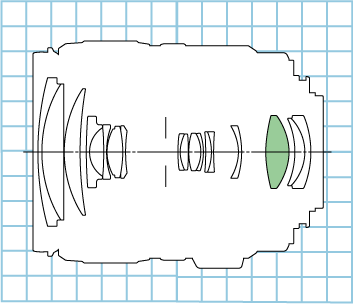 Canon EF-S 17-85/4-5.6 IS USM Construction
The element shown in green has two aspherical surfaces
EF-S 17-85/4-5.6 IS USM Specifications
Focal Length
17 - 85mm (27.2 - 136mm full frame equivalent)
Maximum Aperture
f4-5.6
Minimum aperture
f22-32
Construction
17 elements in 12 groups (2 aspheric surfaces)
Diaphragm
6 blades, circular design
Diagonal Angle of View
78° 30' - 18° 25'
Focus Adjustment
Internal focusing
Close Focus Distance
0.35m - 1.15 ft (at all focal lengths)
Maximum Magnification
0.2x (at 85mm)
Focusing System
Ring type USM with Full Time Manual focus.
Front element does not rotate
Image Stabilization (IS)
2nd generation, with up to 3 stops of extra "handholdability" (1/15s @ 85mm, 1/3s @ 17mm)
Filter Size
67mm
Weight
16.8 oz. (475g)
Diameter x Length
3.1" x 3.6" (78.5 x 92mm)
Aperture
Here's a small table showing how the maximum and minimum aperture varies with focal length:
| | | | | | | |
| --- | --- | --- | --- | --- | --- | --- |
| Focal Length | 17mm | 24mm | 35mm | 50mm | 70mm | 85mm |
| Aperture Range | f4.0 - f22 | f4.5 - f25 | f5.0 - f29 | f5.6 - f32 | f5.6 - f32 | f5.6 - f32 |
Construction
The construction of the EF-S 17-85/4-5.6IS USM is good and typical of Canon's mid-price consumer lenses. It has a metal lens mount and has a semi-matte black finish. The zoom and focus rings are patterned for better grip and the barrel has switches on the left side for IS on/off and AF/MF.. Zoom extension is smooth and well damped and there is no evidence of any "zoom creep" when the lens is pointed up or down. There is no "play" in the extended zoom barrel. Manual focus via the Full Time Manual focus mechanism is smooth with no play or backlash. The lens has a window with a distance scale, but as is common with zooms, there is no depth of field scale. The distance scale is marked in both feet (2, 3, 5, 10 and 50ft) and meters (0.6, 1, 1.5, 3 and 10m)
Zoom positions of 17, 24, 35, 50, 70 and 85mm are marked. The front of the lens is equipped with a bayonet type fitting for the accessory "petal style" lens hood (model EW73B).
NEXT - Part II - Focusing, Vignetting and Distortion
© Copyright Bob Atkins All Rights Reserved
www.bobatkins.com