Tamron SP AF17-35/2.8-4 Di LD Aspherical (IF) Review
Performance
The test shots here were taken of a logarithmic spacing test target and show the performance of the lens near the Nyquist resolution limit of an EOS 20D at 200% viewing. Under these conditions, the higher contrast and the stronger the moiré patterns, the higher the MTF lens at the Nyquist limit (which is around 70 lp/mm) and the better the overall performance will be. The moiré patterns and "blocky" nature of these greatly enlarged images is a consequence of the digital sensor, not the lens under test.
First, looking at the center of the frame: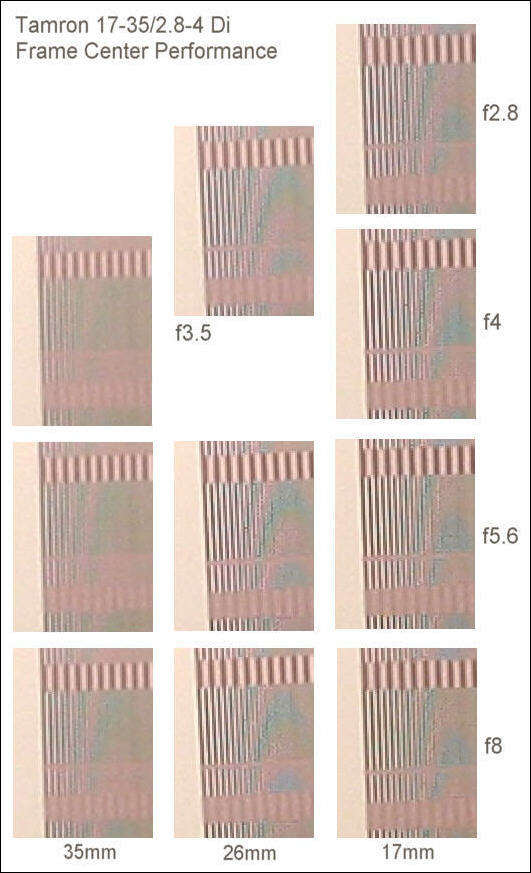 These image show a couple of things. First, performance at 17mm is good even wide open at f2.8, and this good performance is maintained at 26mm (about 1/2 way along the zoom range), where the lens is f3.5 when wide open. At 35mm you can see a little softening when the lens is wide open at f4. Performance improves at f5.6 and again at f8.
My conclusion here is that the lens performs well even wide open at 17 and 26mm, but at 35mm it's not quite as sharp and stopping down a little will give you extra sharpness
There are a couple of real world images in part IV of this article which might put performance in perspective. It shows that even wide open at 35mm, performance isn't bad.
Now let's look at the edge of the frame. Note again that these shots were taken using an EOS 20D, so the edge of the frame is 11mm from the center. This lens has full frame coverage, so on a full frame camera (with a 36mm wide frame), these shots would be 60% of the way to the edge of the frame.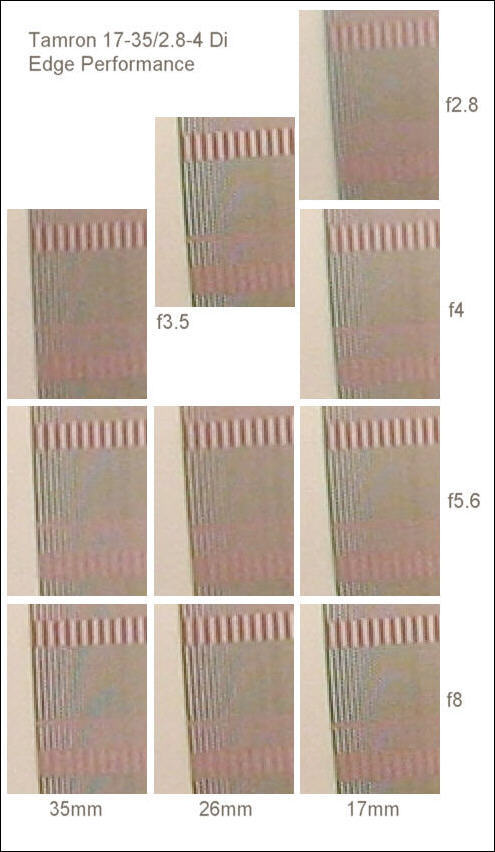 These images show that edge performance is a little down from center performance, as expected. The best performance seems to be at mid range. At the ends of the range (17mm and 35mm) stopping down improves performance. Though chromatic aberration isn't easily seen on these images, it could be detected on high contrast features. It wasn't excessive, but it was there.
Again, refer to the real world images in part IV of this article for a better perspective on how the lens performs in the real world.
• [Part III - Flare and Distortion]
© Copyright Bob Atkins All Rights Reserved
www.bobatkins.com