Tamron SP AF28-300/3.5-6.3 XR Di LD Aspherical (IF) Macro Review
Aperture and Focal Length
It's evident that Tamron struggled quite hard to get to 300mm and f6.3 with such a small and light zoom lens. My measurements show that the true maximum focal length is about 5% less than a Canon 300/4L. I've previously measured the EF 300/4L at 295mm, which suggests that the maximum focal length of the Tamron 28-300 is closer to 280mm than 300mm. Normal industry tolerance on focal length is +/- 5%, so at 280mm it's close (actually about 6% short). I also noticed that the indicated shutter speed (EOS 20D, Av, evaluative metering) with the Tamron lens set to 300mm and f6.3 was always 1/3 stop slower than with either the Canon 300/4L or the Canon 75-300 IS at 300mm set to f6.3. This suggests that the effective wide open speed of the Tamron 28-300 at 300mm may be closer to f7.1
I should point out that falling slightly short of specifications isn't all that unusual, especially for zoom lenses. For example Popular Photography found that a well known camera manufacturer's 75-300/4-5.6 zoom was actually 282mm and f6.0 wide open and zoomed out fully. Shortfalls in either aperture or focal length are certainly not desirable, but they are common.
Focusing
In general AF was quite good. In bright light there was little "hunting" and AF lock was generally positive. The lens isn't silent but focus noise is certainly acceptable. Focus speed was similar to the Canon 75-300IS.
However in low light situations at 300mm AF can get a bit "iffy". For example at a light level needing 1s at f6.3 and ISO 100 (EV5), AF with a Canon EF300/4L was fast and positive. With a Canon 75-300IS it was slower and a lot less positive, sometimes failing to get AF lock. With the Tamron SP AF28-300/3.5-6.3 XR Di LD Aspherical (IF) Macro there were times when I couldn't get a focus lock at all, particularly when starting from a point well away from focus. At higher light levels (e.g. EV8, or 1/8s at f6.3 and ISO 100), AF was fine.
At shorter focal lengths (e.g. 75mm), AF was OK even at the lower (EV5) light levels, though there was sometimes a little more "hunting" than the Canon 75-300 zoom showed.
Image Samples
In the next section of this review I've compared images from the Tamron SP AF28-300/3.5-6.3 XR Di LD Aspherical (IF) Macro with those from the Canon EF 300/4L, the Canon EF75-300/4-5.6 IS, the Canon EF28-105/3.5-4.5 and the Canon EF50/1.8. Again, I chose these lenses because they were available to me at the time of testing, and because they represent lenses that might be considered as alternatives to the 28-300 (at least they are in the same price range). All testing was done with the lenses mounted on a Canon EOS 20D body. All test images were saved as High Quality JPEGs with the camera set to parameter set 2 (sharpening, contrast, saturation all set to "0"). The camera was mounted on a Bogen 3051 tripod with an Arc-Swiss B1 ball head. Mirror lockup was used for all shots.
The EOS 20D is an APS-C format camera which means a frame size of approximately 15x22mm. The Tamron SP AF28-300/3.5-6.3 XR Di LD Aspherical (IF) Macro has full frame 35mm coverage. It would be expected that performance at the edges of the full 24x36mm frame would be worse than those seen at the edges of a 15x22mm frame, but center performance would be unchanged.
NOTE:
All these crops are shown at 200% in order to accentuate any problems and better show differences. Remember that a 200% crop is like looking at a section of a very large print. Just how large depends on your monitor resolution and size. For example if you're using a monitor which gives you a 12" wide image (typical 17" monitor) and you're viewing at 1024 x 768 pixels, a 200% crop represents a section of what would be an 82" x 54" image! So if the images look a little "fuzzy", that's the reason why! At normal print sizes (say 8x10), many (in fact most) of these crops would look pretty sharp.

300mm
Comparing the Tamron 28-300/3/5-5.6 with the Canon 75-300/4-5.6 IS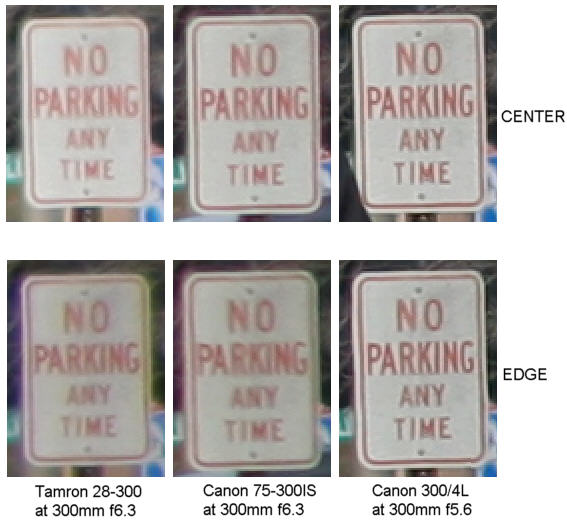 Well, there's no contest here for the best images. Those from the Canon EF300/4L are clearly superior, with excellent edge and center sharpness and no chromatic aberration. Of course that's just what you'd expect from an $800 prime lens. Of the two zooms, the Canon 75-300 is slightly better both in the center and at the edge. Both zooms display chromatic aberration, the Tamron 28-300 showing slightly more than the Canon 75-300. You may also notice that the image from the Tamron 28-300 is slightly smaller than that from either Canon lens. By my calculations it looks like the Tamron is around 5% shorter in focal length as I mentioned earlier in this review.
200mm
Comparing the Tamron 28-300/3/5-5.6 with the Canon 75-300/4-5.6 IS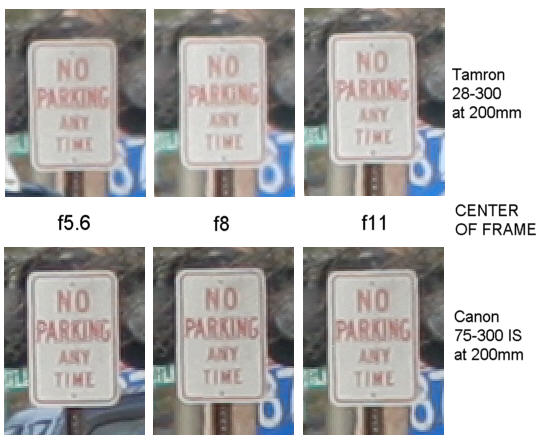 Both lenses show pretty consistent performance from f5.6 to f11 in the center of the frame. Neither gains much by stopping down. The 75-300 IS has better contrast and resolution.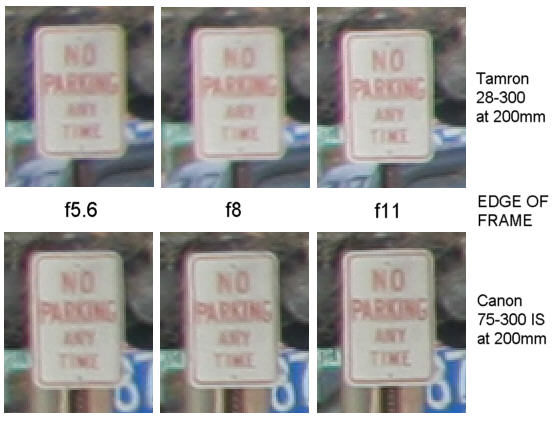 Both lenses show a falloff in performance at the edge of the frame at 200mm. Stopping down from f5.6 to f11 results in slightly better images. Both lenses show some chromatic aberration. I'd say the 75-300IS has the better edge performance.
100mm
Comparing the Tamron 28-300/3/5-5.6 with the Canon 75-300/4-5.6 IS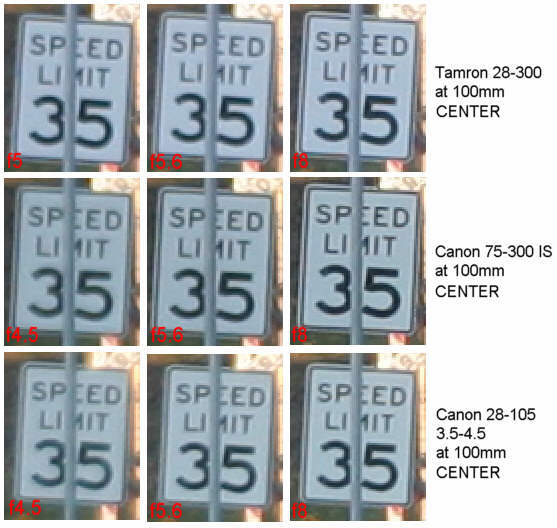 At 100m and looking at the center of the image, the 75-300IS is sharpest at f8, followed by the 28-300 and the 28-105. At f5.6 things are pretty similar. Wide open, the 28-105 ( f4.5) loses some contrast and sharpness, while the 28-300 (f5) holds contrast and sharpness well.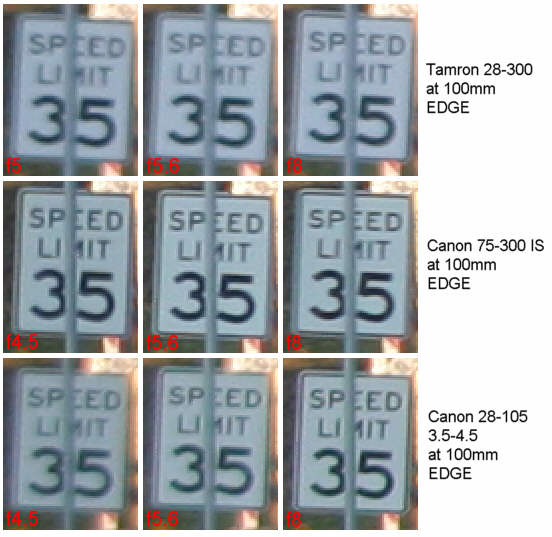 At 100mm and looking at the edge of the frame it's clear that the Canon 75-300IS is the sharper lens at all tested apertures. The Tamron 28-300 and Canon 28-105 are pretty similar at f5.6, but I'd give the 28-105 the edge at f8. The 28-105 does show a little more chromatic aberration than the 28-300 though.
Overall I'd say that the best performer at 100mm is the Canon 75-300 IS, with the 28-300 and 28-105 being pretty similar at equal apertures.
NEXT: Part III - 50mm, 28mm, Distortion, Macro and Conclusions
© Copyright Bob Atkins All Rights Reserved
www.bobatkins.com