Tamron SP AF28-75/2.8 XR Di LD Aspherical (IF) Macro
Flare
These images represent an extreme flare test since they were taken with the full sun just in the upper left corner of the frame. They are 25% crops from the center of the image. They were all shot at f5.6 without a lens hood (though that wouldn't make any difference anyway with the sun actually in the frame).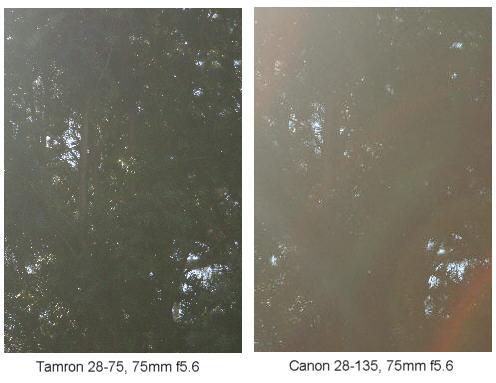 The images above show that it's pretty clear here that the Tamron SP AF28-75/2.8 displays a lot less flare than the Canon 28-135 IS at 75mm and f5.6. So Tamron's claims of lower flare in Di lenses isn't just "adspeak"!
The above shots at 50mm still show the Tamron SP AF28-75/2.8 has lower flare than the Canon 28-135 and also lower flare than the Canon 50/1.8 prime. I'd have guessed the prime would have been better, but I would have been wrong!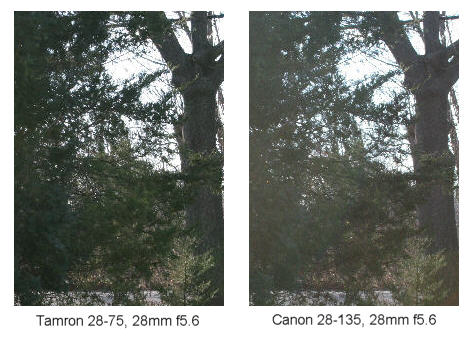 At 28mm, the Tamron SP AF28-75/2.8 is still superior, though the Canon 28-135 isn't quite so far behind this time. All in all the Tamron SP AF28-75/2.8 has very good flare resistance.
Chromatic Aberration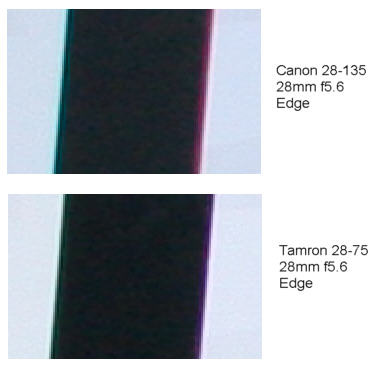 It's pretty clear from the above figure that at 28mm the Tamron lens shows significantly less chromatic aberration than the Canon. The use of LD glass is obviously working here.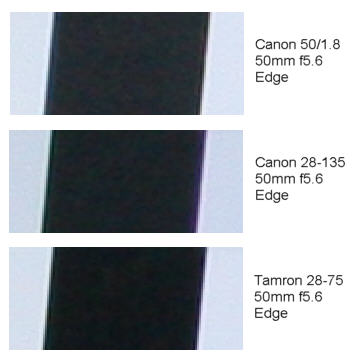 At 50mm both the Canon 50/1.8 prime and Tamron 28-75 show very low levels of chromatic aberration. The Canon 28-135 zoom still shows a trace, but it's certainly better than it was at 28mm.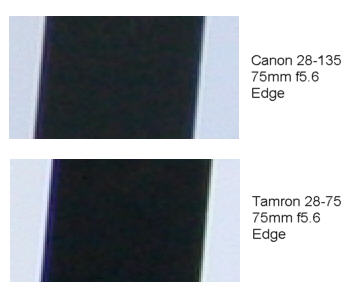 At 75mm both the Tamron 28-75 and Canon 28-135 show very low levels of chromatic aberration. I can maybe see just a touch more in the Tamron lens, but both would rate as "good".
Distortion
Distortion was very low at 75 and 50mm. At 28mm some barrel distortion could be seen as shown below: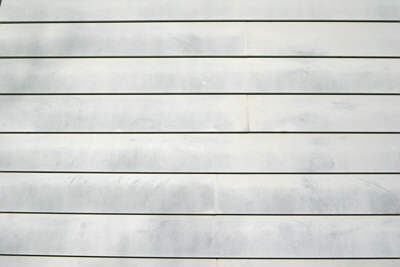 The bowing of the lines at the top and bottom of the frame is due to barrel distortion. The slight slant of the lines is due to me not having the sensor plane exactly parallel to the target! The distortion isn't severe and is pretty easily corrected digitally, but it could be of concern to some architectural photographers. A digitally corrected version is shown below: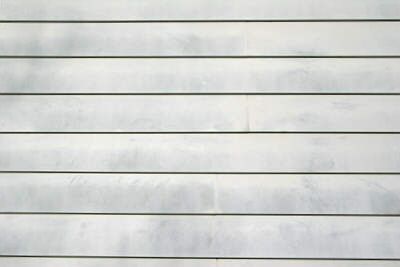 Macro
The Tamron SP AF28-75/2.8 XR Di LD Aspherical (IF) Macro can focus down to 0.33m, which gives a maximum magnification of 1:3.9 at closest focus and 75mm. As I mentioned earlier, this is really more "close focus" then macro since I don't think it's actually fully corrected for close focus use in the way that true macro lenses are. Testing bears out this theory. Below is the full frame shot at maximum magnification:
As you can see, distortion is very low. Looking at sharpness it seems to peak in the center at about f16 (in contrast to "normal" focus distances where it peaks between f4 and f8) . Chromatic aberration (which doesn't change as the lens is stopped down) is also evident as can be seen from the 100% crops below. This obviously lowers edge sharpness.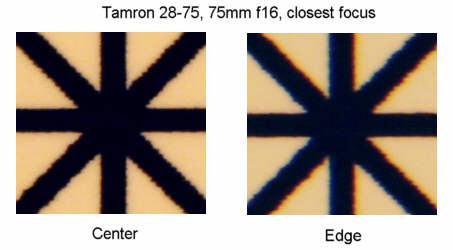 So while close focusing is a useful option, the Tamron SP AF28-75/2.8 XR Di LD Aspherical (IF) Macro isn't a substitute for a true macro lens.

The usefulness of an f2.8 close focus lens is illustrated in the next pair of images: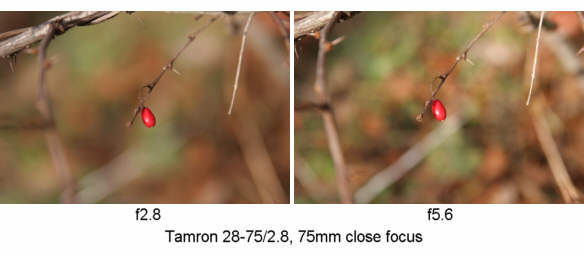 As you can see, the background is significantly more blurred, and therefore less distracting, in the shot taken at f2.8. This difference in background blur is maximized when shooting at 75mm and at close distances.
NEXT: Real World images and Conclusions
© Copyright Bob Atkins All Rights Reserved
www.bobatkins.com