Lens Testing. A guide to testing camera lenses
Part 1 - An Introduction to Lens Testing and Evaluation
A question that seems to be coming up more and more frequently on web photo forums is how to test a lens. Lens testing is seen as a way to "make sure you got a good one". This is a fairly recent phenomenon which correlates well with the rise of digital SLRs. The reason for this is probably that users can now take a shot and examine it in exquisite (or perhaps excruciating) detail a few seconds later. However digital cameas also make lens testing much easier and quicker than it was when images had to be shot on film.
The problem with lens testing is that if you look at anything closely enough you will find faults, so more an more people are reporting what they see as lens faults, which makes more and more other people nervous about whether their lens has any faults! It's a kind of viral spread of uncertainty.
There's no doubt that there are faulty camera lenses out there, even brand new lenses made by major camera and lens manufacturers and taken straight out of the box. There aren't many and there certainly aren't as many as you might expect if you read the popular web photo forums, but they do exist. Lens testing has to be done right or the results can be misleading. Bad lens testing techniques are worse than no lens testing at all. So how do you test your lens to make sure you don't have one of them?
Most people don't want to do extensive scientific lens testing of camera optics, such as can be done using a program like Imatest. Imatest is an excellent suite of software tools designed to test lenses and analyze an image for all kinds of defects, from vignetting and distortion to chromatic aberration and resolution. However it's fairly complex and it's not free (though a trial version is available). Unless you are seriously interested in lens testing or you are writing professional lens reviews, Imatest may be more than you need and want.
So what can you do in the way of lens testing that's simple, easy to do and easy to understand? Well first I'd suggest that you just go out and test your lens by taking some pictures. Then make prints. You're going to eventually make prints of the images you like, so it only makes sense to judge the lens on the basis of prints. It's very hard for most to judge image quality based on looking at a monitor screen. If you view an image at 100% it probably won't look good. That's because with a typical monitor and a 10MB image file you'd be looking at something representing a small section of a print that's around 24" x 36". That's a big print. A bigger print than many people ever make in their whole life! If you normally make 4x6 or 8x12 prints, make 4x6 or 8x12 prints. You don't need to print the whole image. You can just make a small print of a section of the image. For example if you just print a 4x6 print of 1/4 of the image, the print will be representative of the quality you'd see in an 8x12 print.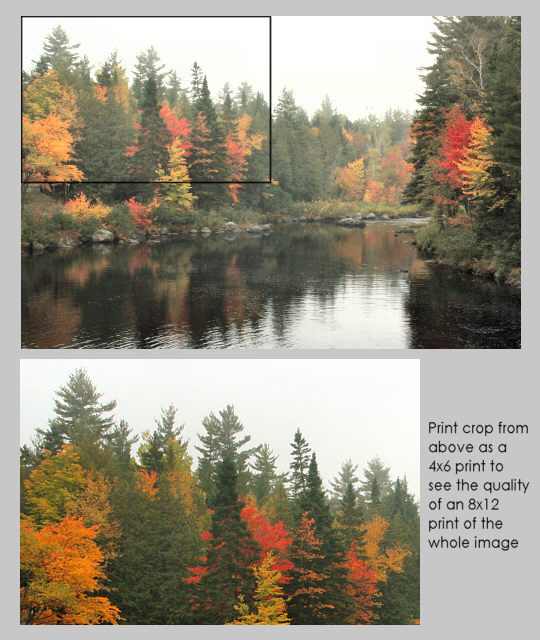 Of course you may want to do some more quantitative lens testing if you have any doubts about lens/image quality, and that's what I'll deal with next. Below are links to new series of articles which describe lens testing that you can do quite easily without buying any software, lens test charts or needing a degree in optics or computer science.
Testing and Evaluation Articles