Canon EOS 35D / EOS 30D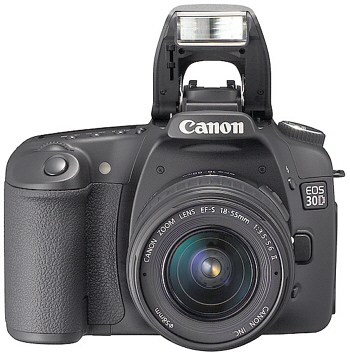 It's the Canon EOS 30D after all. Pretty much all the prediction I made turned out to be accurate except for one. The sensor in the EOS 30D is the same 8.2MP sensor found in the EOS 20D. For a full description, pictures and specifications of the new EOS 30D see the Canon EOS 30D Page
---
---
A new Canon DSLR with a 10+MP 1.6x sensor is widely being predicted to appear on or around February 20th/21st. Currently the odds-on favorite name is either the Canon EOS 35D or the Canon EOS 30D. EOS 35D was the favorite, but over the last few days the EOS 30D has been gaining ground and may now be slightly in the lead!
A number of images have been circulating around the web, but I think perhaps the most credible is the one shown above. You can't tell much from an external view of course and, as you'd expect, it looks a lot like an EOS 20D so it's hard to say if it's real or not. It has the EOS 35D name on it, but of course if it is a fake, that means nothing. Changing the name to EOS 35D or EOS 30D is easy! If it's not a true image of the 35D / 30D it's 99% certain that the true 35D /30D will look a LOT like it! I've speculated elsewhere on what I think the specifications of the EOS 30D / EOS 35D will be and here's the short version of the specification that I expect to see.
The EOS 35D / EOS 30D will be positioned somewhere between the EOS 20D and EOS 5D in terms of features (that much shouldn't be a surprise!) and it will compete more closely with the new Nikon D200 than the EOS 20D did. Though the Nikon D200 was announced late last year, it's still very hard to get one and most places have them on backorder. If a new Canon DSLR ships in quantity soon after announcement it could well eat significantly into Nikon's D200 sales.
Best Guess at Specifications of the EOS 35D / EOS 30D
[Here's my scorecard added after the actual annoucement!]
Sensor Format - 1.6x, 15mmx22.5mm, same as EOS 20D, smaller than EOS 5D, similar to Nikon D200 - CORRECT
Pixels - Between 10MP and 10.5MP, more than EOS 20D, same as Nikon D200, less then EOS 5D - WRONG!
LCD - 2.5", same as EOS 5D and Nikon D200, bigger than EOS 20D - CORRECT
Sync speed - 1/250s, same as 20D and Nikon D200, faster than EOS 5D - CORRECT
Continuous shooting - 5fps, same as 20D and Nikon D200, faster than EOS 5D - CORRECT
AF - 9 AF points, but performance upgraded from EOS 20D - CORRECT
Custom Styles - similar to EOS 5D - CORRECT
Noise performance - similar to EOS 20D and EOS 5D in practice - CORRECT
ISO settings - 100 to 3200 same as 20D. Step size unknown - CORRECT
Flash - built in, similar to EOS 20D - CORRECT
Weather sealing - no, similar to EOS 20D and EOS 5D - CORRECT
Buffer Size - larger than EOS 20D - CORRECT
Price - around $1500, more than EOS 20D, less than EOS 5D and Nikon D200 - CLOSE
Availability - late March 2006 - CORRECT
[That's 12 right, 1 wrong and 1 close (I predicted $1500, it's $1400). Not bad. I'll try to do better next time!]

Note that these are best guesses. Any or all of them could well be wrong - I have no inside information. Until Canon make their announcement(s) on Feb 20/21 nobody will know for sure. It's likely (based on past history) that there may be unofficial "leaks" of more information before then, but they should all be regarded as nothing more than speculation - even if they eventually turn out to have been accurate!

As of 02/13/06 there haven't been any credible "leaks" of more information. It wouldn't surprise me if something showed up this week though. I'll be looking, and if it does, I'll report it here. The Spanish Canon website (http://www.canon.es/) has a splash screen that says that Canon will be intoducing 70 new products on February 21st, but of course gives no hint as to what they are. I'd assume digicams, printers, multifunction machines (printer/scanner/fax), flatbed scanners, accessories (inks, papers etc.), video camcorders, binoculars, lenses and probably at least one DSLR. Actually Canon USA did announce three new digital projectors today, so that probably just leaves 67 other new products to come...

....and on Feb 14th, the Canon Spain website removed the pre-announcent of their February 21st announcement! I don't think this means much other than Canon Japan probably didn't want any pre-announcement publicity. Having been burned by leaks in the past they're probably trying to keep a tighter grip on things this time around. So far they're not doing badly at that and there have been no real "official" leaks of any future product specs.

...and as of Feb 18th, there was recently a "placeholder" set of flash pages on a "Showtime by Canon" website (now it's a blank page of course), which purported to list a number of new Canon products including the EOS 30D (not 35D) plus an EF-S 17-55 lens (no other details given, but it my guess is probably a higher end f2.8 lens) and the long rumored 85/1.2L II (presumably upgraded to provide distance info for E-TTL II). The site seems genuine since it was linked to from an official Canon page a week or so ago (and of course that link has gone too!), but it's hard to tell if the placeholder info was real or just a "mock up" of what the real content will be.

This page was last updated

© Copyright Bob Atkins All Rights Reserved
www.bobatkins.com