Canon EOS 5D

The Canon EOS 5D - Looks a lot like a EOS 20D, but note no popup flash
Canon have finally given a lot of photographers what they've been asking for - well, almost. The Canon EOS 5D is a full frame digital SLR at a cost of less then half that of the only other currently available full frame DSLR, the Canon EOS 1Ds MkII and positioned between the EOS 20D and the "1" series DSLRs Of course it's still expensive, $3300, but that's a lot better than $8000!
Note that though the "list" price is $3300, the Canon EOS 5D is available for under $3000 through Amazon.com.
While it's still the case that "prosumer" bodies like the EOS 20D are at the upper end of the price range that most photographers are willing to pay, I've no doubt that full frame DSLRs will eventually be available for a price that mere mortals can afford - perhaps $1500? However for the forseeable future it looks like the EOS 5D will be both "king of the hill" and the "bargain basement deal" when it comes to full frame DSLRs and the EOS 20D will be the choice for those who can't afford $3300 for the 5D.
The lower price of the EOS 5D compared to the 1Ds MkII probably comes from increasing yield as sensor manufacturing technology matures, along with a reduction of the 1Ds feature set, such as lowering the frame rate, cutting down on the 1-series weatherproof sealing, eliminating the built-in flash (which actually improves water resistance), dropping the pixel count from 16MP to 12.8MP, lowering the number of AF points and simplifying the electronics.
This now gives serious photographers a choice between the $8000 full frame 16.7MP EOS 1Ds MkII, the $3300 full frame 12.8MP EOS 5D and the $1350 8.2MP APS-C frame EOS 20D.
Here's a brief list of the most interesting features features of the new Canon EOS 5D:
Full frame (35.8 x 23.9mm) CMOS sensor
12.8 MP
Maximum resolution 4,368 x 2,912 pixels
Maximum frame rate 3fps
Buffer 60 frames (JPEG), 17 frames (RAW)
9 Autofocus zones
Spot metering (3.5%)
ISO 100-1600 is 1/3 stops, plus ISO 50 and 3200
Street price of $3300
No built in flash
Not fully weather sealed
See also: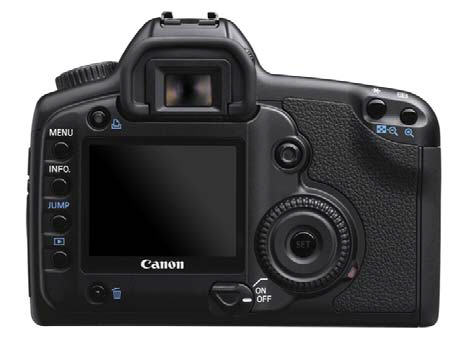 Looks a lot like an EOS 20D, but notice the larger LCD active area and the "print" button

Here's a copy of the Canon Press Release:
Amstelveen, The Netherlands, 22 August, 2005 - Canon, a leader in photographic and imaging technology, announces the 12.8 Megapixel EOS 5D, creating a new D-SLR category combining a full frame CMOS sensor with a lightweight, compact magnesium alloy body. Weighing just 810 grams, it features a second generation 35.8 x 23.9 mm CMOS sensor, 3 frame per second, 60 Large JPEG frame burst and 0.2 second start up time operation.
"The discreet full frame EOS 5D is the camera many photojournalists and agencies have been asking us for," said Mogens Jensen, Head of Canon Consumer Imaging Europe. "It will be an indispensable piece of equipment for a wide range of professionals – from contemporary wedding to reportage photographers."
Marking five years since Canon's first CMOS image sensor appeared in the EOS D30, the release represents Canon's fifth new CMOS sensor to be released since April 2004. "CMOS sensors are a critical technology advantage driving Canon's rapid digital SLR development," remarked Jensen.
Equivalent in size to a frame of 35mm film, the camera's 35.8 x 23.9 mm CMOS sensor gives photographers a full angle of view without magnification or cropping effect. It provides tighter control over depth of field and improves image quality by capturing more light with its large pixels.
Key features
Super responsive, the EOS 5D is driven by the same DIGIC II processor found in Canon's EOS-1D professional range cameras.
Protected with a rugged yet lightweight magnesium alloy exterior, the camera also features new Picture Style pre-sets, a new hi-resolution 2.5" LCD monitor, 9-point auto focus with 6 invisible Assist AF points to improve tracking performance, compatibility with Wireless File Transmitter WFT-E1, custom mode for fast recall of user defined camera set-ups, USB 2.0 Hi-Speed interface for fast downloads and 1/8000 – 30 second shutter speed with X-sync at 1/200s.
The CMOS advantage
With five years of in-house CMOS development since the original EOS D30, Canon's latest CMOS sensor features 12.8 Megapixels, and the same second-generation on-chip noise reduction circuitry used on the EOS-1Ds Mark II. This effectively suppresses random noise and eliminates fixed-pattern noise for extremely clean, hi-fidelity images. Wide 100-1600 ISO speed range is extendable to L:50 and H:3200. Large 8.2 micron pixels allow the capture of a superior dynamic range, enabling the reproduction of subtle tonal gradations in shadow, midtone and highlight areas.
Improved in-camera control
New Picture Style pre-sets simplify in-camera control over image quality. Delivering more immediately usable JPEG images straight out of the camera without need for post-production, Picture Style pre-sets can be likened to different film types – each one offering a different colour response. Within each easily selectable pre-set, photographers have control over sharpness, contrast, colour tone and saturation.
The pre-sets include:
Standard – for crisp, vivid images that don't require post-processing; Portrait – optimises colour tone and saturation and weakens sharpening to achieve attractive skin tones; Landscape – for deep greens and blues with stronger sharpening to give a crisp edge to mountain, tree and building outlines); Neutral – ideal for post-processing; Faithful – adjusts colour to match the subject colour when shot under a colour temperature of 5200K; Monochrome – for black and white shooting with a range of filter effects (yellow, orange, red and green) and toning effects (sepia, blue, purple and green) Additionally, 3 user-defined entries allow the possibility to create additional variations on the in-camera styles or install additional custom Picture Style files. Additional custom Picture Style files may be downloaded from Canon's web site.
Picture Style replaces internal image processing previously controlled by setting processing parameters and colour matrix. Picture Style is also supported by the supplied Digital Photo Professional and RAW Image Task software.
New LCD monitor
For improved image review and menu readability, the EOS 5D is fitted with a new large-size high-resolution 2.5" 230K pixel poly-silicon TFT LCD monitor. The improved screen retains brightness and visibility throughout a wide 170° angle of view, both vertically and horizontally, making it easy to view images when the camera is mounted in a fixed position.
Auto focus
A newly developed 9-point auto focus system features 6 additional invisible Assist AF points located inside the spot-metering circle. These points come into effect when the camera is switched to AI SERVO AF with the centre focus point selected and are automatically used to improve the camera's subject tracking performance.
Ergonomics and control
The 'Premium EOS' design features a magnesium alloy exterior with rubberized grip surfaces. The discreet and lightweight compact body measures just 152 x 113 x 75 mm and weighs only 810 g making it two thirds the volume and weight of the EOS-1Ds Mark II.
In a handy new feature, current camera settings can be stored and assigned to the C (camera settings) position on the Mode Dial. This allows photographers to switch quickly between two completely different camera set-ups without having to switch bodies – ideal for photographers who need to rapidly switch their cameras from an indoor to outdoor shooting condition, for example. Exposure mode, ISO speed, AF mode, drive mode, Picture Style, white balance and custom functions are all stored in the custom setting. There are 21 custom functions with 57 user-definable settings to enable photographers to configure the camera for their preferred way of working.
Connectivity
With the optional Wireless File Transmitter WFT-E1, photographers can work cable-free as full-frame image files can be transferred automatically through a wireless LAN to a computer in seconds .
A USB 2.0 Hi-Speed interface allows rapid transfer of images from camera to computer, ideal for shooting straight-to-hard-drive with the camera tethered to a computer in a studio environment, thus providing full screen previews of images as they are shot. The EOS 5D also has a Video out interface to allow playback and review on a TV monitor, and is PictBridge compliant to support direct printing to any compatible photo printer without the need for a computer. It takes both CompactFlash Type I and Type II cards, including cards of 2 Gb capacity and larger.
Compatibility and accessories
The EOS 5D offers complete compatibility with all Canon EF lenses , providing photographers with access to a vast range of lenses with focal lengths from 14 to 600 mm.
The camera's launch coincides with the release of the high performance EF 24-105mm f/4L IS USM a lightweight Image Stabilizer lens. Completing Canon's f/4L-series zoom lens range, the new lens complements the EF17-40mm f/4L USM and EF70-200mm f/4L USM lenses. An ideal match for the lightweight EOS 5D, these lenses are designed for professional photographers requiring high quality lightweight lenses with a fixed aperture throughout the zoom range.
Also compatible with EX series Speedlites and other EOS accessories, the camera provides photographers with a highly adaptable and flexible camera system. Canon's E-TTL II flash metering ensures accurate flash exposures by taking into account such factors as lens distance information, ambient light readings and the detection of reflective objects in order to calculate flash output.
The BG-E4 is a new battery grip designed especially for the EOS 5D. Constructed with the same magnesium alloy as the camera's exterior, it has a solid and comfortable hold. The grip can accommodate two BP-511A/514/512/511 battery packs or six AA batteries . The Battery Grip BG-E4 features a shutter release button, AE/FE lock button, AF point selector and main dial to enable comfortable use of the camera when held vertically.
The camera's focussing screens are interchangeable: in addition to the "Standard Precision Matte" (Ee-A) focussing screen supplied with the camera, "Precision Matte with Grid" (Ee-D) and Super Precision Matte (Ee-S) screens are available.
The EOS 5D supports the optional Data Verification Kit DVK-E2 v2.2, which verifies the authenticity of images taken with the camera.
New software
The EOS 5D is supplied with the EOS Digital Solution Disk v11, which includes a new version of Canon's Digital Photo Professional (DPP) RAW processing software – now at version 2.0. DPP now supports RAW images shot on all EOS digital cameras from the EOS D30 onwards, and includes support for Picture Styles. Improvements and additions are aimed at improving functionality and workflow efficiency for professionals, and include: easy image selection with three levels of check marks; real-time adjustment of sharpness; improved image correction (Copy Stamp); enhanced image transfer function –single image transfer to PhotoShop is possible; extended colour space support, now including Apple RGB and ColorMatch RGB; and improved usability of the CMYK simulation function.
Also provided is on the EOS Digital Solution Disk v11 is ZoomBrowser EX (PC) and ImageBrowser (MAC) v5.5 for managing images, EOS Capture v1.5 for remote shooting, PhotoStitch v3.1, PhotoRecord v2.2 (PC) and RAW ImageTask v2.2. The EOS 5D is compatible with CANON iMAGE GATEWAY , which provides a 100 MB online photo album.
Comprehensive range
This new category camera adds to Canon's already comprehensive D-SLR range. In terms of speed and resolution, Canon has the leading performance camera in every D-SLR segment, all launched since April last year:
EOS-1Ds Mark II – 16.7 Megapixel full frame 35 mm sensor - 4 fps
EOS-1D Mark II N – 8.2 Megapixel APS-H size sensor - 8.5 fps
EOS 5D – 12.8 Megapixel full frame sensor - 3 fps
EOS 20D – 8.2 Megapixel APS-C size sensor - 5 fps
EOS 350D Digital – 8.0 Megapixel APS-C size sensor - 3fps
Canon EOS 5D Specifications
IMAGE SENSOR
Type
35.8 x 23.9mm CMOS
Effective Pixels
Approx. 12.8M
Total Pixels
Approx. 13.3M
Aspect Ratio
3:2
Colour Filter Type
Primary Colour
VIEWFINDER
Viewfinder
Pentaprism
Coverage (Vertical/Horizontal)
Approx. 96%
Magnification
0.71x [note 1]
Eyepoint
20mm
Low-Pass Filter
Built in/Fixed
Dioptre Correction
-3 to +1 dpt
Focusing Screen
Interchangeable (3 types). Standard Focusing Screen Precision Matte Ee-A
Mirror
Quick-return half mirror (Transmission: reflection ratio of 40:60, no mirror cut-off with EF600mm f4 or shorter)
Viewfinder Information
AF information (AF points, focus confirmation light), exposure information (shutter speed, aperture value, AE lock, exposure level, partial metering
circle, exposure warning), flash information (flash
ready, high-speed sync, FE lock, flash exposure compensation), white balance correction, maximum burst, CF card information
IMAGE PROCESSOR
Type
DIGIC II
LENS
Lens Mount
EF (excludes EF-S lenses)
Focal Length
1.0x Multiplication with EF lens fitted
FOCUSING
Type
TTL-CT-SIR with a CMOS sensor
AF System/Points
9-point AF (plus 6 invisible Assist AF points)
Depth of Field Preview
YES
AF Working Range
EV -0.5 -18 (at 20°C & ISO 100)
AF Modes
One Shot, AI Servo, AI Focus
AF Point Selection
Automatic selection, Manual selection
Selected AF Point Display
Superimposed in viewfinder and indicated on top LCD panel
Predictive AF
YES
AF Lock
Locked when shutter button is pressed half way in One Shot AF mode
AF Assist Beam
Emitted by an optional dedicated Speedlite
Manual Focus
Selected on lens
LCD MONITOR
Monitor
2.5" TFT, approx. 230k pixel
Coverage
Approx. 100% (for JPEG images)
Brightness
Adjustable to one of five levels
FLASH
Modes
E-TTL II Auto Flash, Metered Manual
HotShoe/PC Terminal
YES/YES
X-sync
1/200 sec
Metering Modes
TTL full aperture metering with 35 zone SPC
Flash Exposure Compensation
+/-2 EV in 1/3-stop increments with
Flash Exposure Bracketing
YES
Flash Exposure Lock
YES
Second Curtain Synchronisation
YES
External Flash
E-TTL II with EX series Speedlites, wireless multi-flash support
EXPOSURE CONTROL
Metering modes
(1) Evaluative metering (linked to any AF point)
(2) Partial metering (approx. 8% of viewfinder at centre)
(3) Spot metering: Center spot metering (approx. 3.5% viewfinder at center)
(4) Center weighted average metering
Metering Range
EV 1-20 (at 20°C with 50mm f1.4 lens ISO 100)
AE Lock
Auto: Operates in 1-shot AF mode with evaluative metering when focus is achieved
Manual: By AE lock button except in Full Auto modeModes
Exposure Compensation
+/-2 EV in 1/3 or 1/2 stop increments (can be combined with AEB)
ISO Speed Equivalent
100-1600 (in 1/3-stop increments) ISO can be expanded to L: 50 or H: 3200 (selected in Custom Function)
AEB

+/-2 EV in 1/3-stop increments 1/2-stop increments selectable with C.Fn-06
SHOOTING
Modes
Auto, Program AE, Shutter priority AE, Aperture priority AE, Manual, Custom
Photo Effects

Monochrome (selected from the "Picture Style" menu) with options for Filters and Toning Effects
Drive Modes
Single/Continuous
Continuous Shooting

3 fps (speed maintained for up to 60 images (JPEG)/17 images (RAW)) [note 2]
SHUTTER
Type
Electronically controlled focal-plane shutter
Speed
30 - 1/8,000 sec (1/3 stop increments), Bulb
Shutter Release
Soft touch electromagnetic release
RECORDING PIXELS/ COMPRESSION
Image Size
(LF) 4368 x 2912, (LN) 4368 x 2912,
(MF) 3168 x 2112, (MN) 3168 x 2112,
(SF) 2496 x 1664, (SN) 2496 x 1664,
(RAW) 4368 x 2912
Compression
Fine, Normal, RAW (Canon RAW 2nd edition)
WHITE BALANCE
Type
Auto white balance with the imaging sensor
Settings
Auto, Daylight, Shade, Cloudy, Tungsten, White
Fluorescent light, Flash, Custom, Colour Temperature setting.White balance compensation: (1) Blue/Amber +/-9 (2) Magenta/Green +/-9
Personal White Balance
NO
WB Bracketing

+/-3 stops in full stop increments, 3 bracketed images per shutter release. Selectable Blue/Amber bias or Magenta/Green bias
FILE FORMAT
Still Image Format
JPEG (Exif 2.21 [Exif Print] compliant)/Design rule for Camera File system (2.0), Digital Print Order Format [DPOF] Version 1.1 compliant
RAW+JPEG Simultaneous
Recording
YES
Folders
Folder creation & selection is possible
File Numbering
(1) Consecutive numbering
(2) Auto reset
(3) Manual reset
Processing Parameters
6 Preset 'Picture Styles' with 3 User defined settings
COLOUR MATRIX
Type
Two types of colour space, sRGB and Adobe RGB
DIRECT PRINT SOFTWARE
Canon Printers
Canon Compact Photo Printers and PIXMA Printers supporting PictBridge
Browsing & Printing
ZoomBrowser EX/ImageBrowser
Drivers
TWAIN (Windows 98/2000), WIA (Windows Me/XP)
Image Manipulation
Digital Photo Professional (Windows 2000/XP)
PictBridge
YES
Other
PhotoStitch, Remote Capture
OTHER FEATURES
Water/Dust Resistance
NO
Sound Memo
NO
Intelligent Orientation Sensor
YES
Custom Functions
21 Custom Functions with 57 settings
Histogram
Brightness: YES
RGB: YES
LCD Panel (EL) Illumination
YES
Playback Zoom
1.5x - 10x
Power Saving
Power turns off after 1, 2, 4, 8, 15 or 30 mins
Display Formats
(1) Single image with information
(2) Single image
(3) 9 image index
(4) Magnified view
Image Erase Protection
Erase protection of one image at a time
Image Erase
Single image, All
Self Timer
Approx. 10 sec
Firmware Update
Update possible by the user.
Menu Languages

English, German, French, Dutch, Danish, Finnish, Italian, Norwegian, Swedish, Spanish, Simplified Chinese, Japanese, Russian Traditional Chinese, Korean
Menu Categories

(1) Shooting Menu
(2) Playback Menu
(3) Setup Menu
PHYSICAL SPECIFICATIONS
Body Materials
Magnesium Alloy/Plastic
Dimensions (W x H x D)
152mm x 113mm x 75mm
Weight (body only)
Approx. 810g
Operating Environment
0 ­ 40°C, 85% or less humidity
INTERFACE
Computer
USB 2.0 Hi-Speed (Mini-B, PTP)
Other
Video output (PAL/NTSC)
MEMORY CARD
Type
CompactFlash Type I/II (Microdrive compatible) [note 3]
POWER SOURCE
Batteries
Rechargeable Li-ion Battery BP-511/BP-511A or BP-512/BP-514 (BP-511A battery supplied), 1xCR2016 for date & settings
Battery Life
Approx. 800 (at 20°C), Approx. 400 (at 0°C) [note 4]
Battery Check
Automatic
A/C Power Supply
Optional, Power adapter ACK-E2
ACCESSORIES
Lenses

All EF lenses (excludes EF-S lenses)
Flash

Canon Speedlites (220EX, 380EX, 420EX, 430EX, 550EX, 580EX, Macro-Ring-Lite, MR-14EX, Macro Twin Lite MT-24EX, Speedlite Transmitter ST-E2)
Battery Grip


BG-E4
Remote Controller/Switch

Remote control with N3 type contact
Chargers

CA-PS400, Battery charger CB-5L, Battery charger CG-570, Car Battery Cable Kit CR-560, BP-511A
Power Supply & Battery

AC Adapter Kit ACK-E2, Compact power adapter
SUPPORTED OPERATING SYSTEMS
PC
Windows 98SE/2000/Me/XP
Macintosh
OS X v10.2 to 10.4
Notes:
[1] With 50mm lens at infinity, -1 dpt
[2] Depending on memory card speed/capacity
[3] Compatible with all memory card capacities, including cards of 2GB and more
[4] Based on the CIPA Standard and using the batteries and memory card format supplied with the camera, except where indicated
See also:
Where to buy?
I've been buying photo gear through Amazon.com for the last couple of years. Their prices are as low as, sometimes lower than, the photo discount stores, plus they often offer free shipping and on many items they have a generous 30 day return policy. I've found their customer service dept to be helpful too.

© Copyright Bob Atkins All Rights Reserved
www.bobatkins.com