So what's next from Canon? A 22MP Canon EOS 1Ds Mk III perhaps, A digital Rebel XTi (EOS 370D) or EOS 400D maybe?
This page was last modified on

October 16th 2006: Photokina season is well and truely over and the only new DLSR from Canon was indeed the EOS 400D (Digital Rebel XTi). Anticipated replacement of the EOS 30D and EOS 1D models did not happen. Right now my best guess is that we will see new Canon DSLRs announced in Feb/March to coincide with the PMA show. I'd anticipate a replacement for the EOS 30D (with a higher pixel count) and it's certainly possible we will see new 1D developments. It's worth noting that 2007 will the the 70th birthday of Canon (1937) and the 20th birthday of the EOS system (1987), so they may be planning something special!

In the meantime (Starting October 15th 2006) there are excellent rebates from Canon - up to $600 off an EOS 5D, $200 off an EOS 30D and $100 off selected lenses. At under $1000 after rebate, the EOS 30D looks pretty good. If it is replaced, the new model won't be available until March/April of 2007 and I suspect that it will probably sell for a price around $1400.

Update August 24th: Well the 24th is here and we have new products confirmed. The first is the EOS 400D (not 370D), which will also, in the US, be called the Rebel XTi as predicted (See full 400D details). It's pretty much the camera I was expecting (copying features from the 30D such as a larger LCD, picture styles and an RGB histogram) but with one or two surprises. First is the ultrasonic dust removal feature which has appeared for the first time in any canon camera. I'm not too surprised it first shows up on a Rebel though, as novice users tend to be more concerned about dust than those of us who have been dealing with it for a few years! It's a good selling feature and should be pretty useful. The $800 selling price is what I expected too, so it undercuts both its Sony and Nikon rivals.
The second surprise (or not) is the 10 MP sensor. Obviously it makes sense to compete with the D80 and Sony A100, but given Canon's decision to keep an 8MP in the 30D (on the grounds of image noise), there was some doubt as to whether they would have a suitable low-noise 10MP sensor ready for the new Digital Rebel. Well they have. It will be interesting to see what the noise performance is at ISO 1600 (the maximum ISO setting on the 400D). If it's good it probably points to at least a 10MP sensor in the EOS 40D which I expect to see next spring.
But what about the EOS 1Ds Mk III and the promised "legend"? Well, the "legend" promised for the 24th could, I suppose, have been a reference to the new EF 50/1.2L USM lens. The old FD version had a very good reputation. What about the 1Ds Mk III? Well Photokina is still a month away (Sept 26th?) and CAnon probably don't want to blow all their PR in one shot. They may attract more attention by an announcement closer to the time of the show. There's no rush since there's really no competition in the FF DSLR market. The 400D announcement was more urgent since they'd probably like to stop people choosing the 10MP Nikon or Sony alternatives to the 400D. So I'm still expecting more from Canon before the big show! Another clue is that in a business press release today Canon talked about having developed a new Digic III image processor. The 400D and the new Powershots all use the existing Digic II, so where are they using the Digic III? My guess would be in a new 1D series camera, yet to be announced.
Canon did also announce three new Powershot cameras, a 10MP A640, and 8MP A630 ( both with a 4x optical zoom) and an image stabilized 7.1MP A710IS with a 6x optical zoom. You can read more about them here
I don't know if I'm reading too much into this, but if you see the image below with the "X" and wonder what the "X" might stand for, in Japan, the Digital Rebel XTi, a.k.a. The EOS 400D, will be called the Canon EOS Kiss Digital X. Reuters report that Canon plans to make about 180,000 units per month.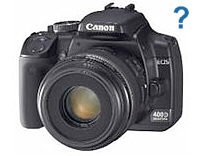 Update August 23nd
:The
Canon China website
released details of a 10.1 MP Canon EOS 400D with a 9 point AF system, integrated dust removal, 3fps, ISO 100-1600 and 9 point AF, as well as two new lenses, an EF 70-200/4L IS and an EF 50/1.2L. The pages are now gone, but I have a copy of a machine translation on the new
EOS 400D
web page.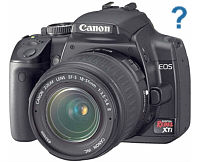 Update August 22nd
:The French photo magazine
Chasseur d'Image
is speculating on a 10MP Digital Rebel XTi (370D), but it's just speculation. They have speculated and been wrong several times in the past. I'd agree on the model and the larger LCD, but I'm still not convinced it will be 10 MP. Maybe, maybe not. I'm sure Canon would like it to be 10MP after both the Nikon D80 and Sony Alpha came out at 10MP, but whether they planned far enough ahead to predict that and put a 10MP sensor in the XT upgrade I don't know. We'll probably find out in a few days either way.
Update August 21st
: This image appeared briefly on the Czech Canon website (http://www.canon.cz/index.html) but was quickly removed. Nothing but a large "X" and a red digit countdown timer to August 24th, the date of the big announcement! What does it mean? I've no idea. A Canon 1Dx? A Canon EOS X? Nothing at all, "X" just being a mystery? Whatever it is, I'm not loosing sleep over it...
Update August 20th
: There are a couple of sites rehashing information from a Chinese website, claiming it suggest an EOS 370D with a 10MP sensor, 21 point AF and a 7fps frame rate. Well that's not what the Chinese page says (
see a very poor translation here
). That was their prediction for the EOS 30D last February, not the 370D, and they were wrong about it anyway! The fact that the page is dated January 17th 2006 seems to have slipped by many people too. How these rumors get started and why people repeat them, I'll never understand but this one is so bogus on so many counts it's amazing people are repeating it and citing it as "evidence". They did get the 30D name right (10D...20D...?) but that's not too impressive. They do predict a "370D" name, and that may also be right.
My guess is that a Canon EOS 370D is likely this fall and that it will probably have a larger LCD and Canon's "Picture Modes", but otherwise it will fairly closely resemble the existing 350D. I still think the next major Canon consumer/prosumer DSLR update is most likely to be an EOS 40D with a 10+MP sensor next February, but the view through my crystal ball on that one is still pretty sketchy. We'll know something in 4 days (on the 24th), but Canon may not reveal all their new fall offerings on that day. Photokina doesn't start until September 26th so they have at least another month.
Update August 17th : A few websites have been advertising a Magic Lantern Guide for a "CANON EOS REBEL XTi (EOS 370D)". The Magic Lantern series of books and guides are quite well known and cover most major cameras including all the Canon EOS DSLRs. Availability is given as February 2007 and the ISBN number is given as 1600590993. Some of these web pages have been pulled and now only exist as Google cached pages, so perhaps a few people have been getting a little ahead of themselves with the announcements!
What does this mean? Well, as I said earlier (further down the page), it's probably reasonable to expect a Rebel XT face-lift this fall. Probably nothing major (i.e. no new sensor), so a small upgrade would be consistent with an small name change, e.g. from XT to XTi and 350D to 370D. So I'd say a Canon EOS Digital Rebel XTi (EOS 370D) wouldn't be a big surprise this fall, in fact it's something I'd expect.
Update August 14th : Canon so far seem to have kept their new products under wraps. No significant leaks of information or particularly believable "candid" shots of supposed new models. Only 10 more days to the first announcements though. I'm still expecting to see a 22MP 1Ds Mk III. Those anticipating an update of the EOS 5D should note that the 300 Euro (200 UK Pound) rebate offered by Canon Europe was extended from its original ending date of June 30th to October 31st. To me that suggests the 5D won't be getting a face-lift and since it's less than a year old, I wouldn't really have expected one yet.
Update August 2nd - CameraWest (www.camerawest.com) are currently advertising that they are adding names to their waiting list for the 22MP Canon 1Ds. I can't say if they're just guessing along with the rest of us or if they know something that they shouldn't be talking about. They also say they taking names for the Leica M8 and Leica haven't officially given any date for release of their digital rangefinder.
...now back to the original article...
August has become the traditional summer month for speculating about what (if anything) Canon will release for the fall. In the last few years Canon have chosen the end of August or September to reveal many of their latest DSLR offerings. For example:
September 24th 2002 - Canon EOS 1Ds announced
August 20th 2003 - Canon EOS Rebel announced
August 19th 2004 - Canon EOS 20D announced
September 21st 2004 - Canon EOS 1Ds Mk II announced
August 22nd 2005 - Canon EOS 5D announced
August 22nd 2005 - Canon EOS 1D MkII N announced
From this you might expect that something will be announce around the end of August 2006, and it now seems like you'd be right. Canon have been running a flash based banner advertisement on an Israeli website (in Hebrew...) which says something like ""This year August will be different - August 24th 2006 - Every legend has a beginning". So it seems that Canon think they have something important to announce and that they will do it on August 24th.
In case you can read Hebrew, here's a static copy of the frames in the ad.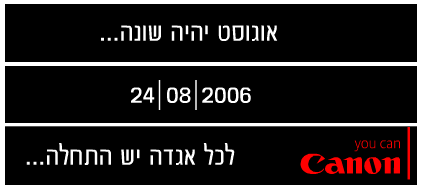 But what is this legend of which they speak? That's the $64,000 question right now.
Based on the EOS 20D to EOS 30D upgrade earlier in the year, it seemed logical to assume that Canon would give the Digital Rebel XT (350D) a similar face-lift, keeping the same sensor but adding a larger LCD screen and some software features like Picture Modes - but that would hardly be the birth of a legend, even in the eyes of Canon's marketing division!
Recently Sony announce a $900 DSLR with a 10MP sensor and image stabilization built into the camera body. Then Nikon announced that on August 9th they would make an announcement, but leaked that the announcement would be a 10 MP DSLR called the D80 and the prevailing opinion is that it's a replacement for the D70s an will sell for around $900 too.
So it now looks like there will be two 10.2 MP DSLRs (one with image stabilization) available for well under $1000 in the fall. If Canon anticipated this, an essentially unchanged 8MP EOS 350D (Rebel XT) isn't going to set the camera wold on fire. On the other hand if they did anticipate this and have developed a higher pixel count sensor (10MP?) what would a 10MP Digital Rebel at, say $800, do to sales of the 8.2 MP EOS 30D? And if it had very limited software, how would it fare in competition with the Sony Alpha A-100 and the Nikon D80? Quite a dilemma for Canon.
Could Canon also update the D30 and add a higher pixel count sensor? Anything is possible, but the 30D has been out for less than 6 months, so that does seem a little unlikely. In February Canon were saying that they were sticking to 8.2MP because cramming more (smaller) pixels onto the sensor chip would result in higher noise at high ISO settings and Canon didn't think that would be acceptable. I think they were right, since test have shown that both the Nikon D200 and Sony Alpha A-100 (both 10MP) do indeed show higher noise than the EOS 20D or 30D, especially the Sony Alpha A-100. It's probably safe to assume the Nikon D80 will follow suit.
So what's coming? Right now I don't know! What would be "a legend"?
It could be a new version of Canon's flagship DSLR the Canon 1Ds Mk II, either as a Canon 1Ds MkII N, or more likely a Canon 1Ds Mk III The last update was in September 2004, which is almost 2 years ago. Though it's still the pixel champion and one of the only full frame DSLRs available (the EOS 5D is the other) Canon aren't ones to sit on their laurels, so an update could certainly be possible. If they used the same pixel density that they currently have in the EOS 20D and 30D, a full frame sensor would have 21 MP and noise performance at least as good as the 20D/30D. That could certainly qualify as "the birth of a legend" if you were a copywriter prone to hyperbole (as most of them are!).
I've seen some suggestion of a "1Ds MkII N" on other websites, some of which even quote the use of "EOS 1Ds Mk II N" on websites like Canon's http://web.canon.jp/technology/canon_tech/explanation/multi_zone.html. However my analysis of these pages suggests that it's normally a typo for EOS 1D Mk II N. For example the Canon page is taking about the 21 zone metering/45 point AF system, which is indeed on both the 1D Mk II N and 1Ds Mk II. An extra "s" is an easy typo to make and in all cases wher I've seen a "1Ds Mk II N" listed in a specification sheet, the "1D MK II N" has been missing from the list. I'm not saying there is or will be no 1Ds Mk II N, just that the cited evidence so far is very thin and most probably nothing more than a typographical error.
The other camera that just won't die on the rumor mill is the mythical EOS 3D. I think the reason the rumor won't die is because it's something that a lot of people want, but I don't know that it's technically possible right now. Canon have been heavily discounting (via a $300 rebate) the EOS 5D, bringing the cost into the $2500 region, and large rebates have in the past indicated the end of a production run or a camera, but the 5D is only a year old, so a replacement is possible, though as usual I have to say that anything is possible. Such a camera would also probably qualify for "legend" status. I've seen a suggestion of an EOS 3F, a DSLR with a Foveon (3 color) sensor but to me it seems pretty unlikely and an alternate EOS 3D with a 1.3x sensor and ECF (eye controlled focus). I suppose a 3D with ECF is possible, though Canon have never used it on their high end cameras (EOS-1 series), nor really considering it a "professional" feature because it's not 100% reliable - something required for all EOS-1 series bodies.
How about a full frame version of the EOS 1D Mk II N? 1.3x is OK, but full frame might be better if Canon could keep the frame rate at 8fps, or even maybe go up to 10fps. With current electronics that might be possible if the sensor had 10-12MP. A legend? Maybe...I guess...
Though not likely to be regarded as anyone as a "legend" a bottom end EOS 3000D selling for under $500 is also a possibility. Canon don't have a DSLR positioned at the very low price end of the market and there are probably a significant number of "1st timers" who would go for a camera for $500 but hesitate to spend $750 or more for a Digital Rebel XT. Even if such a camera is introduced though, it can't be the "legend" that Canon suggest is coming.
The final possibility is that Canon are smarter than any of us and that they have come up with a disruptive technology that will change digital camera design. That could certainly be the birth of a legend if you're an advertising copywriter. One possibility is the use of an OLED EVF display in a DSLR camera with a live image preview and that has no mirror or optical viewfinder. Such a camera could be smaller, lighter, lower power consuming and cheaper than a conventional optical DSLR and might find its way into a "Rebel" series body first. Olympus have the E-330 with live LCD preview, but the image quality (especially at higher ISO settings) leaves something to be desired.
Canon certainly have the technology to do something interesting with sensor design. They have a number of interesting patents in the field with some novel ideas, from higher dynamic range to new ways of dealing with color separation to higher ISO/lower noise designs. Of course building a prototype in a lab is very different from making a robust, reliable device on a mass production basis at an affordable cost.
At this point (if I were a betting man), my money would be on an EOS 1Ds Mk III with something like a 22 MP sensor (+/- a few pixels) as Canon's new "legend". I'd also expect to see something of a tweak to the EOS Digital Rebel XT, but no major sensor upgrade.
These are just guesses of course and there's no only about 3 weeks to go to find out for sure, I'll be keeping my ear to the ground and, of course, looking for information leaks, and if I discover anything I'll certainly report it. However, 3 weeks isn't that long to wait...at least not for the birth of a legend!
This page will be updated as, when and if new information becomes available. It was last modified on