Canon News and Rumors
• EOS 20D (body only) $1329.94
• EOS 20D with 18-55 lens - $1399.94
• Digital Rebel XT (body only) - $899.99 - now $859.94
• Digital Rebel XT w/EF-S 18-55 lens - $999.99 - now $949.94

• Hitachi 4GB Microdrive - on sale for only $164.99 - now $144.99 after rebate
Articles from 2004
December
• [12/29/04] - Issue #10 of the Canon CPS newsletter is out. There's an article (well, more of a brochure really) on the 580EX speedlite, part 6 for a series on color management, some winners from the Wildlife Photographer of the Year awards and more. Worth a look.
• [12/19/04] - There's a fun (dumb?) little web game from Canon on their European website. You "shoot" moving animal images. It's download intensive, so a broadband connection will help. If you only have dialup don't worry, it's not so much fun that you need to feel left out, and you can play it anyway with a little patience!
• [12/21/04] - Canon have two new firmware updates, one for the 1D mark II (ver 1.1.0) and one for the 1Ds mark II (ver 1.0.3).

See the BeBit page for details of all Canon EOS and Powershot firmware updates.
• [12/19/04] - Adobe have posted a beta version of Camera RAW 2.4 for PhotoShop CS which now includes full support for the Canon EOS 1Ds mark II, Canon EOS 20D, Canon PowerShot S70 and Canon PowerShot G6 as well as a fix for earlier problems with the Canon EOS 1D mark II.
• [12/07/04] - There's a firmware update for the EOS 20D available. The new version is 1.1.0 and it superceeds 1.0.5. You can download it from the Canon Japan website. It adds 3 new languages (Russian, Korean, and Traditional Chinese) and fixes the phenomenon of horizontal line noise appearing in images taken at high ISO settings while using the internal flash.
• [12/04/04] - If you haven't seen it, checkout the Canon CPS Europe Newsletter Page They have 9 issues online with a lot of good articles related to Canon equipment as well as profiles of professional Canon shooters.
[Return to Top] or [Return to Home Page]
November
• [11/29/04] - I think I've found a small error in the EXIF data that the EOS 20D (firmware 1.0.5) writes as a file header. It seems to include data (X and Y resolution) that suggest the pixel size is 8.8 microns, rather than the correct value of 6.42 microns. This doesn't really affect anything important, but some programs which read EXIF data (e.g. jhead.exe) use this information to calculate the physical sensor size, which is in turn used to calculate the "lens multiplier", so they then report the wrong value for the "35mm equivalent lens" focal length. I've let Canon know about this and I'll let you know if they get back to me with any comments.
• [11/25/04] - Canon have posted some software updates on their website. They can be accesed from http://consumer.usa.canon.com/ir/controller?act=DownloadIndexAct. The updates are EOS Capture 1.2, EOS Viewer Utility (EVU) 1.2.1 and Digital Photo Professional (DPP) 1.5. I believe that you need to have have previous versions of DPP and EVU installed in order to install the updates.
• [11/24/04] - I've posted my hands-on review of the EOS 20D. My EOS 10D is now for sale.

This may not be new news, but if you don't already know it, it's news to you...Adobe have an offer for Canon owners who received a copy of PhotoShop Elements II with their Canon equipment (e.g. EOS 20D) allowing them to upgrade to the full version of PhotoShop CS for $299. They also have a similar offer for Nikon owners too.
• [11/23/04] - Another Amazon price update. As of right now (1:40pm eastern time on November 23rd) Amazon have lowered their price on the EOS 20D body by $50, down to $1449.99. As you can tell, Amazon prices bounce around on a day to day basis, but this is the first time I've seem the body discounted.
• [11/20/04] - Well, you missed it. The Amazon price on the EOS 20D + 18-55 lens is back up to $1549.99! However, you get the lens for $50 and with the other free stuff they throw in it's still a good deal.
I now have an EOS 20D in my hands (yes, I ordered it from Amazon!) and I'll be writing a full review which should (I hope) be ready and on the site in a week or so. My initial impression is favorable. Faster startup is quite obvious and initial tests show higher resolution and less noise, as expected. Focus seems spot on and exposure and color balance seem accurate. Stay tuned for more quantitative tests and image samples.
• [11/16/04] As of noon today, the Amazon price on the EOS 20D + 18-55 kit lens is back down to $1499.94, with free shipping and a 30-day return policy, PLUS a free 64MB CF card (or $24.99 off any other eligible CF card).
• [11/11/04] The price of the EOS 20D + 18-55 kit has been bouncing around a little at Amazon.com (see the ad above, at the top of this page) It was $1599.99 for a long while, then few days ago it was $1499.99, then it was $1529.99 for a while then it went back to $1599.99 where it seems to be today. Whether these are pricing errors or they're playing with prices to see how sales are affected I don't know. Worth keeping an eye on though. The price on the EOS 20D body seems to have been stable at $1499.99, which is the same as all the other major retailers. Amazon is pretty much shipping directly from stock so supply seems to have caught up with demand. By the way, don't always believe the price that Amazon post in the ad above. As I write this it currently reads $1599.99, but I just checked on their website and in fact the price once you have it in the shopping cart is $1519.87 if you buy through their Circuit City affiliation link. For some reason the body only is still $1499.99 from everyone, so at $1519.87 you're getting the lens for under $20!
• [11/07/04] An interesting article on Astrophotography can be found on the Canon Japan website here: http://web.canon.jp/Imaging/astro/index-e.html. It's not new, but I only just found it!

• In case you're not aware, the EF-S 10-22/3.5-4.5 USM is now shipping and customers who put in early orders now have one in their hands! First reports are of excellent optical and mechanical quality, sharp wide open and fairly low distortion (there's some barrel distortion at 10mm, but I think that's pretty much to be expected for any superwide zoom). There is reported to be some chromatic aberration in the corners, especially at the wide end, but again, that's not unexpected. If and when I get my hands on one, I'll post a review here.
• [11/01/04] Canon officially announced the US availability of the black version of the Digital Rebel, which shouldn't come as much of a surprise since it's been showing up on a number of retail sites recently. You can read the Canon Press Release, but it doesn't say much except that it's a "limited" edition, and other than being black it's the same Digital Rebel as before. "List" price is unchanged at $999 with the 18-55 kit lens. What with rebates (see below) and "limited editions", Canon seem to be pulling out all the stops as far as selling as many Digital Rebels as they can for the Xmas season. I'll leave it up to you to speculate as to whether this means a new Rebel may appear at PMA next year.
[Return to Top] or [Return to Home Page]
October
• [10/15/04] I've posted a page detailing and explaining the new Canon Rebates which came into effect today.
• [10/12/04] Looks like the rumor of rebates that I reported back in September is true. Though there's been no official announcement yet, it appears that Canon will be offering the following rebates for products purchased between October 15th 2004 and January 31st 2005. I'm sure the rebate forms will be widely available after October 15th. Unfortunately, the only DSLR included is the Digital Rebel, no price breaks on the 20D. No EF-S lens rebates either :-( However if you buy A Digital Rebel and two eligable lenses, you can get $300 off a Digital Rebel plus between $90 and $300 off the lenses - which makes for an pretty good deal!

Remember that ordering from AMAZON or ADORAMA via these links will help support this website, so if you're intending to buy, please shop via links on this site. Remember the rebates won't start until Friday though. As soon as I get official confirmation of the rebate scheme, I'll post a page with full details and links.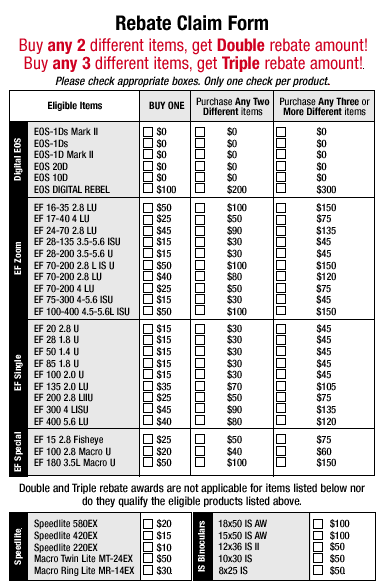 • [10/07/04] Note the title of this page has been changed from "Canon Rumors" to "Canon News and Rumors" to reflect the fact that this page will now carry Canon news items.
• [10/07/04] The EOS 20D update firmware v1.0.4 had a bug in it causing some cameras to lockup when it was installed (and requiring the camera to be sent back to Canon for service). This bug has now been fixed in firmware update v1.0.5. For full details on this issue and a download of the v1.0.5 firmware, see http://web.canon.jp/Imaging/eos20d/eos20d_firmware-e.html. The actual camera firmware is identical to v1.0.4, so if your camera came with firmware v1.0.4 there is no need to update it.
• [10/04/04] In a recent interview, a Canon executive confirmed that there are no current plans for a mid-level pro DSLR ("digital EOS-3"), and that for the forseeable future they are happy with CMOS sensors and three different sensor sizes (1x, 1.3x and 1.6x). For an interpretation of a Japanese to English machine translation of the original text, see Canon's Digital Plans
[Return to Top] or [Return to Home Page]
Late September
• A Digital Rebel Rebate? - It seems that in Japan Canon are offering a 5000 yen ($45) rebate on the Digital Rebel, and that in Australia Canon are offering a AU$200 ($140) rebate on the Digital Rebel Kit. Does this mean that we'll see a rebate offered in the US? Does this mean that an upgrade is in the works? A definate "Maybe" to both. The Christmas shopping season is fast approaching - which could be a reason to further encourage sales with a rebate - but the Digital Rebel is also now over a year old, and the PMA in late February could to the place to announce an upgrade, and if that's true Canon would probably like to sell as many existing Digital Rebels as possible. I'm not trying to start a "new Digital Rebel" rumor here, but quite obviously at some point there will be one. When is anyone's guess. It could just as easily be next August as next March.
• Well, just goes to show that you can't trust the French (see below :-) As I suspected the name of the new camera is indeed the EOS 1Ds Mark II, and it does have more pixels then the Kodak. CdI were a little optimistic with 21MP as the 1Ds Mark II is "only" 16.7 MP. There's a brief preview of the 1Ds Mark II here on the Canon EOS 1Ds Mark II Preview Page
Mid September
• I can't 100% vouch for this, but a source tells me that the replacement for the Canon EOS 1Ds will indeed be announced at Photokina. The same source tells me that after the announcement, Kodak will no longer be the DSLR pixel leader.

Chasseur d'Image have also voiced their opinion that the new camera will be released on September 27th and will have a 21MP sensor. They call it the EOS 2D, though I suspect that Canon are more likely to keep some sort of "EOS-1" designation for their top of the line camera.
Early September (2)
• Update on the 17-40/4L - It seems that the death of the EF 17-40/4L (see below) was greatly exagerated! It reappeared on the Canon website, first in the drop-down list of lenses, then on the main ultra wide-angle zoom page. There's no clue as to why it disappeared from the pages a few days ago. I'm sure some will see a hiden meaning - Canon do have a bit of a history of "accidental" web page leaks concerning future product plans - but I'm just glad to see it's back, at least for now!
• It looks like Canon will start shipping the EOS 20D to dealers around the week starting September 13th. This means that if you got you order in early, you may get your EOS 20D sometime during the week starting September 23rd. Don't expect to be able to walk into a store and buy one for at least a few months though. It's pretty certain that demand will outstrip the supply for quite a while.
• A rumor has just surfaced that the EF 17-40/4L lens has been discontinued by Canon. Apparently this has been confirmed to some who have called the 800 consumer information number (1-800-OK-CANON)- but not all (see below). It is also no longer listed on the Canon USA website. This is quite surprising if true. I can only guess it might be a prelude to a similar lens to be announce at Photokina at the end of the month. It was only introduced in May of 2003 and so it it really has been discontinued, it must set some sort of record as the shortest lived "L" series lens, just 16 months.

I can't confirm this rumor and the Canon consumer service reps have been known to be wrong in the past. I did call their 800 number and spoke with a service rep. He said that he had had no official notification that the lens had been discontinued, but that when an item dissapears from the website, that's usually what it means. I'm just reporting that the rumor is in circulation and appears to have at least some basis. However note that the lens is still shown on a number of other Canon websites, including Canon Germany and Canon Japan. If I get any more definitive information, I'll post it here in an update.
Early September
• Well, not much new except for a few more reports suggesting a 1Ds Mark II will appear at Photokina. Are they reliable? Maybe, there are a few fairly reputable sources giving hints of a 1Ds Mark II. It does seem that Canon may be keeping this one (assuming it exists) under tighter wraps than they did with the 20D. I'd be very surprised to see any "accidental" web posting of details this time.

There are some very unsubstantiated rumors of a mid level DSLR ("EOS-3D") floating around, but my guess is that they are mostly wishful thinking and that Canon aren't going to kill 20D or 1D Mark II sales by bring something in between them. My money is still on a 1Ds mark II.
[Return to Top] or [Return to Home Page]
Late August - So what's next?
• Well, we now know the 20D rumors, the EF-S lens rumors and the 580EX rumors were true. The only thing that somewhat surprised me was the August 19/20 date of the announcement. Last year the 300D, this year the 20D. I'm guessing rumors will be flying around August 20th next year!
• So what's next? Photokina is in a month. Have Canon abandoned new products there? I doubt it. Nothing new at the Olympics or the US Open - I'm sure they have something in the wings, but what I'm not sure about. It does make sense that a 1Ds Mk II might appear. The 1Ds is the "top of the line" Canon DSLR, but it doesn't have E-TTL II flash. It's also "out pixelled" by the Kodak DSLR. So what might we see? Well, maybe a 1Ds Mk II with E-TTL II, a 14+ MP sensor, DIGIC II processor with a higher frame rate and larger buffer, USB 2.0 and firewire interface, maybe a wireless interface. It all sounds logical to me. Whether it will happen at or before Photokina is anyone's guess.

What about the mythical "EOS 3D", priced and featured between the 20D and 1D Mark II at maybe $2500? Well, it's tough to see what Canon could do here and not hurt sales of the 1D Mk II. The 20D already almost is a "low cost" version of the 1D Mk II. It's hard to see what Canon could leave off the Mk II or add to the 20D and make a viable $2500 camera. Canon could give it a 1.3x sensor, but where are they going to find $2000 worth of savings compared to the 1D Mk II.
August 19th - it's official
• Today, August 19th 2004, Canon released details of the new EOS 20D, two new EF-S lenses and a 580EX speedlite. Please see the Canon EOS 20D Preview page for more details.
---
Still Early August...
Here it is!! The EOS 20D - see preview
Fresh from Canon's own website, here's a sneak peek at the new EOS 20D, with the new EFS 17-85/4-5.6 IS lens.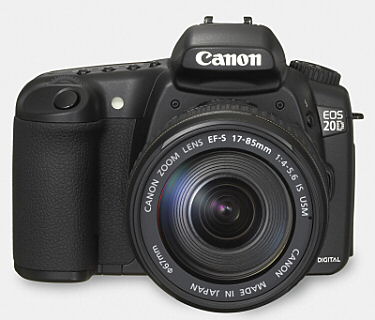 Canon's website posted an announcement earlier today, but then removed it and access to the PR image pages has now been disabled. Someone at Canon screwed up and presumably the posting was an error, but the cat now seems to be out of the bag! Check back here for more information as it breaks. Now looks likely there will be an official announcement by the end of the week.
While I can't confirm the following data, it looks very likely to be true:
8.2 MegaPixels
DIGIC II
1:1.6x Crop
9 Point focusing
1/8000s Max Shutter speed
5fps Continuous speed
25 frame buffer
EF-s support
E-TTL II support
0.2sec startup time
50g lighter than 10D
Price US$1600 RRP
Here's the new 10-22/3.5-4.5 lens which is also on the way.
In addition, it looks like the G6 rumor (see below) is now confirmed, and there appear to be S70, A400 and A95 digicams scheduled for release soon.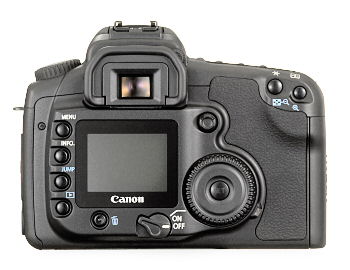 Here's a shot of the rear of the 20D. Note the extra button above the rear dial. This looks like it might be the 4-way joystick that people have been talking about.
08/14/04 - Not much going on. The Olympics have started, but so far I'm not hearing anything about new Canon DSLRs or lenses being spotted there. Maybe they're waiting for the track and field events to start!! On the "20D" front, the only new rumors that may have credibility are that there may be 9 AF zones and that a new Digic II chip will reduce startup time from the current 1 or 2 seconds down to 0.2s (200 milliseconds), which would be nice. There's also talk of a 4 way "joystick" button in the center of the rear command dial. I don't have much of an opinion on whether that's likely or not, but it doesn't sound like a big deal either way.
Read enough? If so you can take a look at the 20D preview, or take a look at what else is new on the site.

Though I'm sure most readers of this page are lusting after new DSLR info, there's also news of new Powershot G6 on it's way. A French retail website posted details, then quickly removed them. If you can believe what it said, the new G6 will be finished in silver and will have a 7.1MP sensor (3072 x 2304 ), a 4x zoom (35-140/2.0-3.0 equivalent), a tilt/swivel LCD, will take CF memory cards and will support both JPEG and RAW. All of this sounds quite reasonable, so I'd give this rumor a pretty high probability rating.
Though I'm sure few of us will be able to afford it, the rumors of a 1Ds Mark II seem to be gaining strength. No real solid leads on what improvements there will be, but in increase in pixel count (from 11MP) seems likley. Whether it will go to 14MP to compete head to head (if only in pixel count) with the Kodak DCS or whether it will go a little higher (16MP?) is still speculative. This is one I might expect to see showing up at the Olympics (see below).
I'm hearing things from sports and advertising sources that Canon may be releasing a new Ad campaign at the end of August to coincide with the US Open tennis championship. Canon have had a relationship with Andre Agassi since around 1990 and he's been their "spokesman" for the Rebel line of cameras. There may be some new Rebel announcements made when the campaign starts up, but I think they're most likely to be related to film bodies rather than digital.
There are rumors of new EF-S lenses in the pipeline. The most credible seem to be predictions of a 10-22 and an 18-85 zoom. It's clear that if Canon are sticking with the 1.6x sensor and EF-S mount, a true wideangle lens is needed. Nikon have one, Sigma have one, so Canon need one too. 10-22 sounds about right, though 10-20 or 12-24 would also be reasonable. The 18-85 makes some sense as it then goes "one up" on Nikon who have an 18-70 zoom. Also, 18-85 is equivalent to 28-135 on a full frame camera, which lends some credibility to the suggestion that an EF-S 18-85 might also have IS (it would be an analog of the EF28-135 IS, a very popular lens).
The Olympics. Will Canon make announcements of new equipment at the Olympics which will start up later in August? I think it's possible, but such events have usually been the venue for announcing new high end Pro level gear, not consumer products. If there's an EOS-1Ds upgrade in the works, or a new super-telephoto zoom, I wouldn't be surprised to see them appear in Athens later this month, but I would be surprised to see a new Digital Rebel or a 10D replacement show up.
There have been some suggestions of an August 20th release date for a new Canon DSLR. I think these may be based on the fact that the original press release for the Digital Rebel was August 20th 2003. However you have to remember that there was no Photokina in 2003, the show is every other year (2002, 2004, 2006), so there was no reason for Canon to wait in 2003. Unless Canon have some other "show stopper" up their sleeve, my guess is that they'd wait until just before Photokina (Sept 29th) to make any major announcements. Of course I could be wrong...
The rumor mill is now churning out some credible reports that my suspicions (see below) may be right. The likelihood of an 8MP sensor has gone up from maybe 50/50 to "quite likely", I'd say there's now a 80% probability that sensor in the new DSLR will be 8MP and have a 1.6x crop factor. Makes perfect sense to me.
Early August
So now it's August and the rumors seem to have stabilized a bit (or at least there don't seem to be any credible new ones!). If we are to believe what currently seems to be the strongest rumor - A Canon EOS 20D selling for $1600 with an EF-S lens - it suggests two things. First it suggests that the new model WILL have a 1.6x sensor, not 1.3x, because of the required compatibility with EF-S lenses. Second, at a $1600 price it seems likely that Canon might have upped the pixel count, otherwise a price higher than the 10D would be hard to justify - even if the $1600 includes an EF-S lens. Now new sensors are costly to develop and it makes sense for Canon to use the minimum number of different sensors in their DSLR lineup, so development costs of making an 8MP 1.6x sensor would require an investment by Canon. However, an 8MP sensor would give them a competitive advantage over Nikon (and the other 6MP DSLRs) in the "prosumer" DSLR market and it would also give Canon an easy upgrade path for the 300D sometime next year.

While the results from going from 6MP to 8MP are small (10% resolution increase, maybe a slight noise increase at higher ISO settings unless newer technology compensates), the marketing advantages would be significant. The public tends to buy based on MP numbers, so it's going to be easier to sell and 8MP body than a 6MP body, plus it gives a greater incentive for 10D owners to "upgrade".

So I'm revising my probability estimates and suggesting that there's at least a 50/50 chance of an 8MP 1.6x sensor in any new model. Maybe the odds are better than that, but I'm being conservative here!

BTW the price on the 300D with the 18-55 EFS lens is now under $900
and on the body only is under $800. With no replacement likely for at least 6-12 months, it's a pretty good buy. You might be able to pick up a used 10D late this year for $1000-$1100, but it won't have a warranty and it won't take EF-S lenses. Looks like the replacement is going to run $1500-$1600, so for the near future the Digital Rebel is still going to be a strong seller.

[Return to Top] or [Return to Home Page]
Late July
Well the rumor mill is now getting pretty fired up. All sorts of claims appearing and even a few badly done PhotoShoped images of "new cameras" which are obviously bogus! Taking it all in and making my best educated guess, here's my prediction:
An upgraded 10D replacement will be announced in September - probability 90%
and assuming this is correct then:

Model number 20D - probability 60%
It will have a 1.6x sensor - probability 90%
It will be 6MP - Probability 80%
...or it will be 8MP - Probability 20%
It will have E-TTL II - probability 100%
Price will be at or around the $1500 level - probability 80%
It will hit the streets by November - probability 80%
It will have an EF-S compatible lens mount - probability 100%
There will be new EF-S lens(es) - probability 75%
It will be available as "body only" and as a "kit" with a new EFS lens - probability 70%
These predictions will be revised on a daily basis as and when new information appears and based on my assessment of the credibility of the information and its source.

A common question is "should I buy a 10D, or wait for the new model". Well, it depends if you want to take pictures. My guess is that you won't get your hands on whatever DSLR Canon announce (assuming they announce one) before November, which is currently over 3 months away. You can now get a new 10D for $1300 from reputable dealers so you could shoot with it for 3 months and probably sell it for at least $1000 if and when you decided to "trade up". So it all depends how anxious you are to get into digital.

[Return to Top] or [Return to Home Page]
July 2004
Just an update to say that right now there don't seem to be any solid new rumors about new Canon gear. There are the usual rumbling that short supply and/or slightly falling prices of the 10D or 300D means an upgrade is in the works. All products fall in price after a while and the 10D and 300D have always had occasional supply problems. I'm sure an upgrade for both is in the works, but when that will be I don't know. I did chat with a Canon rep earlier this month, but there were no clues or hints as to when and what we might see as new products. I don't see anything appearing before the fall. My guess is that maybe we'll see a modest upgrade of the 10D (and/or Digital Rebel (300D) - though that's less likely). Certainly any new model will have E-TTL II flash technology. I doubt that we'll see an increase in physical sensor size in any 10D upgrade (still 1.6x). A reasonably reliable source is suggesting something may be announced just prior to Photokina (which is Sept 28th - Oct 3rd 2004), with shipping starting in time for the Xmas shopping season (Oct-Nov), and that timing would certainly make economic sense.

I don't know about the long rumored "digital EOS-3". The 1D mark II looks a lot like what you might expect a "digital EOS-3" to look like - though there's clearly still room for an intermediate priced camera between the 10D ($1500) and 1DII ($4500). Whether Canon could hit a price point of around $2500 with the 8MP 1.3x sensor I don't know. Those sensors are still not cheap or easy to make in high yield. We're just going to have to wait and see. If I hear any rumors that are more than just wild speculation, I'll report them here.

There have been reports of problems with the AF system of the 1D markII coming from England where the 1D mark II has only recently become available. It's the usual "slightly off perfect focus problem again. Not sure if this is similar to the "10D focus problem" issue, where 90% of the complaints were unfounded or if it's a real problem with recent units produced for the European market. No real word from Canon on this, though they don't make a habit of publicly announcing problems.

[Return to Top] or [Return to Home Page]
February 2004
There have also been rumors for quite a while that Canon have other new DSLRs planned. One would be a digital version of the EOS-3, priced between the current 10D and new 1D mark II, say around $2000-$2500. It's suggested it might have the multiple AF points of the EOS-3 and the ability to AF at f8, like the EOS 1D series. Maybe a 1.6x sensor, maybe 1.3x, but with an 8MP pixel count. The new EOS 1D mark II sensor seems like a possible candidate.

However there has been no sign of such a camera at PMA and no increase in the strength of rumors, so that one will have to wait. May guess is that something along those lines must be in the works, but whether we will see it this year is an open question. Maybe PMA 2005?

The other persistent rumor, which has been around almost as long as the 10D, is that of a 10D upgrade. No doubt this has been fueled by the fact that the D60 was introduced and replaced within a 12 month period. Well, the 10D was introduced at PMA 2003 and it doesn't look like it will be replaced at PMA 2004.

I'm not really sure what an upgraded 10D would be. I can see adding the new E-TTL II flash technology, but I think a larger sensor is unlikely simply on cost issues. It's possible that an 8MP CMOS sensor could be developed, still keeping the 1.6x multiplier. Perhaps and EF-S lens mount so the cheap wideangle lenses developed for the digital Rebel could be used. Maybe AF tweaks? Perhaps something similar to what Canon did to the Elan 7 to create the 7N.

Canon have been quoted as saying that the 10D will be in production "well into 2004". My guess is that maybe we will see an upgraded 10D in the fall. The fall is a traditional time for new product announcements (Photokina, the major international photo show, is held every other year in October). The fall is also the right time to announce products that will be widely available by the time the Christmas shopping season comes around.

So it look like 10D owners can keep their wallets intact for a little while longer, and that it should be safe to buy one today without fear it will be discontinued tomorrow! The same goes for the digital Rebel (EOS 300D). I can't see any upgrades on that before the fall either.
January 2004
With the Photo Marketing Association show coming up in late February, rumors are flowing fast and free about new Canon EOS products. Many of them may turn out to be bogus, but some may not be.

Here are a few of what may turn out to be on target, but I don't know. Until Canon make an official announcement, these are just guesses.
New Canon EOS 1D (mark II)
8.2 MPixel CMOS sensor with either 3 or 8.5 fps
Same sensor size (1.3x multiplier) as current 1D
40 frame buffer for JPG and 20 for RAW
ISO 100-1600 with 50 and 3200 option
1/250 sync
Firewire and USB 1.1
CF and SD card slot
New Canon lens: EF28-300/3.5-5.6L IS USM
Replacement for the 35-350L, but with wider zoom range and IS added.
New Canon lens: EF70-300/4.5-5.6 DO IS USM
A diffractive optics lens. Smaller and lighter than the current EF75-300/4-5.6 IS USM which it may replace.
Like I said, these are just rumors, backed up by some real looking documents which purport to be from Canon that have been posted on a few websites. They are supposed to be copies of real Canon documents, posted by error on the Canon (France) website (and very quickly removed!). Time will tell...
...Well it didn't take long... - On Jan 29th, Canon made an announcement confirming this rumor is true!
[Return to Top] or [Return to Home Page]
© Copyright Bob Atkins All Rights Reserved
www.bobatkins.com