Tamron SP AF200-500MM F/5-6.3 Di LD (IF) Review
Nature photographers are always looking for a longer, cheaper, better, faster, more convenient telephoto lens, and a zoom lens that goes from 200mm to 500mm is one certain to attract attention. The Tamron SP AF200-500MM F/5-6.3 Di LD is relatively inexpensive for a 500mm lens and the 200mm to 500mm zoom range is attractive. It's not especially fast, being f6.3 at 500mm (F5.6 at 400mm and 300mm), but it is quite light and small by 500mm lens standards.
The SP AF200-500MM F/5-6.3 Di LD (IF) is one of Tamron's new "Di" lenses. These are lenses designed with digital SLRs in mind. This is what Tamron says about their DI lenses:
Di: Digitally Integrated Design, is a designation Tamron puts on lenses featuring optical systems designed to meet the performance characteristics of Digital SLR cameras.
Tamron's new Di (Digitally Integrated design) lens series offers users of both film and digital cameras:
Higher resolution
Control of flare and ghosting
Minimized peripheral light fall-off
Reduced chromatic aberrations
Of course it's hard to say if, or how much, "digital" lenses are better than "non-digital" lenses since there are rarely (if ever) digital and non-digital versions of the same lens. While it's true that there are some aspects of lens design that could be optimized for digital use, it's hard to say just how much better a new "digital" design would be when compared to a new "non-digital" design. There are many lenses designed before digital SLRs became popular which seem to work perfectly well on digital SLRs. On the other hand lens design has always been an evolving art and science, and improved designs may give improved performance with both digital sensors and film. It certainly never hurts for either to improve resolution, lower chromatic aberration, minimize light fall-off and lower flare and ghosting, whether the application is for film or digital!
Here are the specifications of the Tamron SP AF200-500MM F/5-6.3 Di LD (IF)
Tamron SP AF200-500MM F/5-6.3 Di LD (IF) Specifications

Model Number
A08
Lens Construction (Groups/Elements)
10/13 (2 LD elements)
Angle of View
12°-5°
Focal Length
200mm to 500mm
Maximum Aperture
f5 to f6.3
Diaphragm Blade Number
9
Minimum Aperture
f/32
Minimum Focus
2.5m (98.4") (entire zoom range)
Macro Mag. Ratio
1:5.0 (at 500mm)
Filter Diameter
86mm
Weight
1237g (43.6oz)
Diameter x Length
3.7 x 8.9in. (200mm setting, no hood)
(93.5 x 227.0mm)
Accessories
Lens hood, Detachable Filter Effect Control, Carrying case and strap
Mount
Canon, Minolta-D, Nikon-D
The lens appears to be well constructed and has a low reflectivity black finish with a rubberized zoom control. It comes with the following accessories:
Plastic "bayonet" mount lens hood with ribbed interior to minimize reflections.
Detachable tripod mount
Soft zippered carrying case with detachable strap
Detachable filter effect control
Front and rear caps, instruction sheet, 6 year warranty
The carrying case is actually useful, unlike either the thin unpadded bags or cylindrical hard cases supplied with some lenses. It's well padded and has a detachable carrying strap. If I owned this lens I think I'd use this case often. I have cases supplied with some lenses I've bought which have sat on the shelf gathering dust since the day I bought the lens!
The Filter Effect Control is an interesting idea. One of the problems of using a polarizer with telephoto lenses is that when you mount the long lens hood you can't easily get to the polarizer to adjust the polarizing angle. The rotating filter effect control is a detachable adapter that allows a polarizing filter to be rotated by rotating the whole lens hood. The filter screws into the adapter and the adapter screws into the lens. The hood then bayonet mounts onto the front of the adapter which is free to rotate.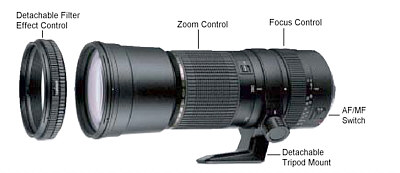 The metal tripod mount is easily detachable, yet hold the lens solidly when in place and locked. There are no "clickstops" for horizontal and vertical alignment, though there is an indicator mark for horizontal orrientation. It tightens and loosens by rotating a small knob on the left side of the lens.
The zoom can be locked in the 200mm position so that the lens doesn't extend when being carried in a downwards position. The lock is only possible at 200mm. Focal lengths are marked at 200mm, 250mm, 300mm, 350mm, 400mm, 450mm and 500mm.
Focus can be switched between AF and MF with a small switch on the left, near the lens mount. Manual focus is smooth, if a little fast for delicate adjustments with about a 57 degree rotation from 2.5m to infinity. There is no depth of field scale, and this is no surprise since DOF scales are pretty useless on telephoto lenses and very difficult to design for zooms. There is no IR focus identification mark.
The image below show how the lens extends on zooming. At 200mm, without the hood, it's similar in size to an 80-200/2.8 zoom or a 300/4 prime. Add the hood and it becomes quite a bit longer and zoom to 500mm and it becomes an impressive sight! For scale, the camera attached to the lens in these shots is an EOS 10D. Note the filter effect control adapter is mounted between the lens and the hood in these images.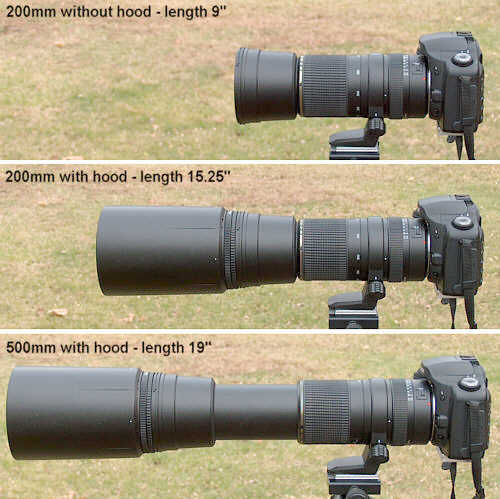 The lens takes an 86mm screw-in filter. 86mm filters aren't cheap and you're unlikely to already own many since few 35mm camera lenses require such a large filter. For example an 86mm circular polarizer (which is probably the most commonly used filter) will cost you somewhere between $100 and $225 depending on the manufacturer. Currently the Tiffen sells for around $120 and the Hoya sells for around $145. Something to budget for if you're addicted to polarizers.
The lens does not change length on focusing (it's internal focus - IF) and the front of the barrel does not rotate when the lens is zoomed or focused. However the focus ring does spin during autofocus, so keep your hands away from it!
The lens has a close focus distance of 2.5m (98.4") at all focal lengths. Maximum magnification is 1:5 (at 500mm).
Performance Tests
Autofocus
Autofocus on an EOS 10D was positive with no "hunting" observed at any focal length under a variety of daylight conditions from full mid-day sun to evening shade. Though not silent, AF noise was low and certainly acceptable. I measured the time taken to shift focus from 2.5m to infinity (or infinity to 2.5m) at 1.1 seconds. By way of comparison, the Canon EF 300/4L USM takes 0.65 seconds to focus from 2.5m to infinity, the Canon EF 75-300/4-5.6 IS USM takes 0.9 seconds to focus from 1.5m to infinity and the Canon EF 500/4.5L takes 1 second to focus from 4m to infinity. So while 1.1 seconds isn't as fast as some Canon USM lenses, it not that much slower. All these times were measured with the lenses mounted on a Canon EOS 10D body.
Focal Length and Aperture
The nominal focal length and aperture is 200mm f5, to 500mm f6.3. I recorded the following EXIF data recorded when the lens was mounted on an EOS 10D and zoomed to 500mm

The blue data is the recorded shooting data which says 500mm, but the green data which is the lens identifier indicates a minimum focal length of 200mm and a maximum focal length of 486mm. When I compared shots taken with a Canon EF 500/4.5L with those taken with the Tamron zoom at full extension (500mm) I measured objects in the Tamron images to be about 3% smaller than those in the Canon images. I've previously tested the Canon lens and found it to be very close to 500mm in focal length, so using that as a reference the calculated Tamron focal length would be 485mm. This is very close to the EXIF value of 486mm, so I tend to believe that it probably does represent the actual maximum focal length. Note that it's still well within the usual +/- 5% standard for focal length measurement which is widely adopted (475mm to 525mm for a 500mm lens) by most lens manufacturers, whether 3rd party (Tamron, Tokina, Sigma etc.) or camera makers (Canon, Nikon etc.). If you look back though Popular Photography lens tests you'll see that lenses are rarely exactly as marked and that most telephotos are up to 5% shorter than their nominal focal length.

When mounted on an EOS 10D or 20D the indicated aperture at 200mm was f5, from 290mm to 450mm it was f5.6 (1/3 stop slower) and from 450mm to 500mm it was f6.3 (another 1/3 stop slower).

Next: Part II - Optical Performance
| | |
| --- | --- |
| Canon EOS Mount | Nikon Mount |
© Copyright Bob Atkins All Rights Reserved
www.bobatkins.com