Tamron SP AF200-500MM F/5-6.3 Di LD (IF) Review
Part III - Multipliers and Conclusions
Multipliers
You might think it would be asking for trouble to use a multipler on a 200-500mm zoom, and often you'd be right. Multipliers work best on high quality (read "very expensive") prime lenses, but since I had a few multipliers around I thought it would be interesting to test them with the zoom. I found that the Canon EF 1.4x TC would fit the Tamron 200-500 as long as the lens was zoomed out. At 200mm the rear element of the zoom comes into contact with the front element of the TC. I also used a Tamron 1.4x TC, though possibly not the current version since I bought it about 10 years ago. The designation on this multiplier is "Tamron-F AF tele-converter 1.4x C-AF MC4".
My first surprise was that the Tamron TC outperformed the Canon TC, even though it cost about $200 less. I repeated the tests and got the same results. The images taken with the Tamron TC were sharper. Neither TC gave very good AF. With the Tamron AF was possible and focus lock was obtained on some subjects, but it wasn't reliable. With the Canon TC there was a tendancy to oscillate about a focus point. Of course you wouldn't expect AF. Canon AF is specified to work only at f5.6 or faster. With a 1.4x TC on the Tamron lens at 500mm the effective aperture is f9. Manual focus was fine, but as I commented earlier, with a 57 degree rotation from 2.5m to infinity, small focus adjustments were tricky - but possible.
Let me apologize in advance for the artistic quality of the test image below, but my "model" wasn't being very cooperative on the day of the test and insisted on hiding in the bushes! The upper image is the full frame shot, taken with the Tamron 200-500 lens at 500mm with the Tamron 1.4x TC added. Manual focus of course, and a focal length of 800mm at f9 (equivalent to 1280 mm on a full frame 35mm body).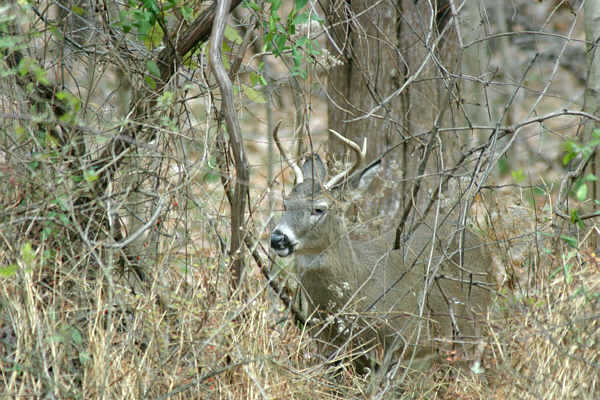 Below is a 100% crop from the center of this image. This is only 456 pixels wide, so the full image would be 6.7 times wider which would be quite a large print. As you can see quality isn't awful. It's decent considering the circumstances and, in fact, better than I would have expected. You can see the eyelashes on the deer! I'd estimate the deer was at a distance of about 50m (165ft). Again, remember this shot is with the equivalent of a 1280mm lens on a full frame 35mm camera.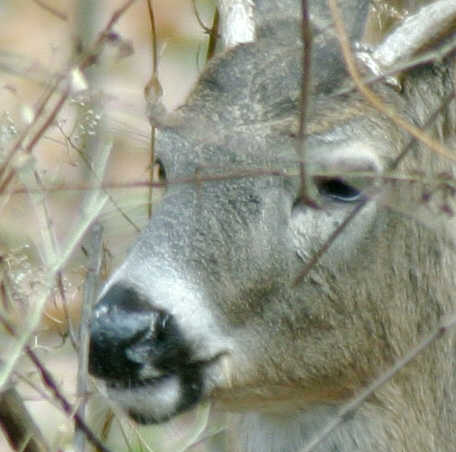 What about use on a full frame film or DSLR?
Well, the general conclusions will still apply. The center of the image will be the same, but the edges will be a little softer on a full frame camera and the extent of chromatic aberration will be a little greater.
Conclusions
The Tamron SP AF200-500MM F/5-6.3 Di LD (IF) is a pretty decent telephoto zoom for the price (around $875 discount). It's well made, feels sturdy, the tripod mount is stable and focus is accurate. The hood is deep and effective and the supplied filter effect control adapter is a neat idea. The supplied soft case is useful and protects the lens well. The 6 year warranty is also a plus. Most lenses only come with a 12 month warranty. Tamron lenses also have a pretty good history of compatibility with new Canon EOS cameras, so it's very likely this lens will work well with Canon's next generation of DSLRs
Optically the lens isn't a match for a prime apochromatic telephoto lens, but that's not really a fair comparison. It's less than 1/5th the price of a 500mm f4 lens and less than a third of the size and weight, plus it zooms from 200-500mm. Zoom lenses are usually a compromise, particularly long telephoto zooms and for most users the compromises are quite acceptable. You get somewhat lower, but still pretty decent, image quality, but a much lower price and a lot more convenience. The "street" price on the Tamron SP AF200-500MM F/5-6.3 Di LD (IF) is around $880 from reputable discount retailers.
If you want a fairly inexpensive super-telephoto zoom I can certainly recommed taking at look at this lens. If you're intending to make your living by selling poster size fine art prints of your work you probably need a more expensive prime lens, but if you're shooting for fun and not intending to make huge prints, the Tamron SP AF200-500MM F/5-6.3 Di LD (IF) is certainly a lens worth considering.
| | | | |
| --- | --- | --- | --- |
| Canon EOS | Nikon | Tamron 1.4X TC | Tamron 1.4x Pro |
© Copyright Bob Atkins All Rights Reserved
www.bobatkins.com