Canon News and Rumors 2006
December 2006
• [12/30/06] - I came across an interesting Canon website while surfing around today. It's the Canon Creative Park. All sorts of odd stuff from tips about printing to hundred of digital images, to calendars for 2007 to a section of the site devoted to Teddy Bears! Poke around and see what you can find.
• [12/20/06] - Canon have issued firmware updates for the 1D Mk II, 1D Mk IIN and 1Ds MkII which allow the use of CF cards of more than 8GB and the use of SDHC (SD High Capacity) cards of more than 2GB.
• [12/13/06] - I'm running a survey on my LensPlay website to try to find out just how many lenses arrive defective. Basically, what are the chances of getting a defective lens. You can take part in the survey by going to the Lens Defect Survey. I think it's better if you don't peek at the results before you complete the survey - but I can tell you that so far it looks like you have a better chance of getting a good lens from Canon than from a 3rd party supplier!
November 2006
• [11/22/06] - There was a recent report of a reduction in MSRP on the Digital Rebel XT (actually they reported the XTi, but meant the XT). I don't know if this is official, but Amazon are listing the MSRP on the Digital Rebel XT as $599.99 (it was $899.99 when first introduced). Whatever the MSRP, the Canon Digital Rebel XT is selling for around $530 - and that's about $70 less than it was a couple of weeks ago. It's not a bad deal for an 8MP DSLR and is about $170 less than the newer Rebel XTi.
• [11/04/06] - Canon have released a minor firmware update (v1.0.5) for the EOS 30D. Full details and the download file are available from the Canon Website. The update allows a semi-gloss paper to be selected in the camera settings when making camera-direct prints, and corrects the phenomenon wherein the displayed number of continuous shots that can be taken increases when images that have been taken are deleted.
October 2006
• [10/13/06] - Canon Canada have announced their rebate program for the fall and like the upcoming Canon USA Rebate Program, it's a "double" rebate scheme (buy 2 different items, get double the rebate on each). It's not exactly the same as the USA rebate program looks like it's going to be but it is similar. You can find full details in the following .pdf file Canon Canada Fall Rebates Program. The Canada program starts today (Oct 13th). The USA program is expected to be announced on October 15th
• [10/04/06] - Looks like Canon will be offering a fall "double rebate" program (last year it was a "triple rebate" program). The only DSLRs included will be the 5D ($300/$600) and 30D ($100/$200). No rebates on the EOS 400D/Digital Rebel XTi, so if you've been waiting to buy one, no need to wait any longer! The program will be effective from October 15th and I'll be posting full details shortly.
September 2006
• [09/25/06] - Nothing new at Photokina, so count me as surprised. Looks like we will all have to wait until PMA in February for any news of a new 1D class camera and/or the successor to the EOS 30D.
• [09/01/06] - Well, September is here and no more news of another EOS DSLR yet. Photokina starts on the 26th so we have a few more weeks to go. At this point there are three rumors about the a new series 1 EOS DSLR. The first is that it will be announced at or before Photokina. The second is that it will be announced at or before Photokina, but that it won't be available until Spring 2007. The third is that it will be announced in Spring 2007. The only thing that seems pretty much for sure is that something is coming and that it will probably use the new Digic III processor (see below)! Personally I'd be somewhat surprised if Canon don't have something else new to announce at Photokina.
August 2006
• [08/24/06] - In a press release today (link) Canon mentioned that they have a Digic III processor. Will we see it in a new 1D series camera soon?

...To support its success, Canon designs, develops and manufactures its own lenses, image sensors, image processors and color rendering software. With consistently high annual investments in research and development, Canon continues to stay ahead of the market with its innovative imaging technologies, such as UA (Ultra High Refractive Index Aspherical) Lens Technology, the DIGIC II (Digital Imaging Integrated Circuit) and DIGIC III image processors, as well as Canon CMOS image sensors for the company's EOS Digital SLR cameras...
• [08/24/06] - It's official. Canon have announced the EOS 400D as expected. See the Canon EOS 400D page
• [08/23/06] - Another finding one of the Canon China pages. Three new powershots?


• [08/23/06] - I'm tracking Canon rumors on a main page here since they are coming thick and fast now. See The Canon Fall 2006 rumors page for general rumors and for the latest info on the EOS 400D, EF70-200/4L IS and EF 50/1/2L leaks from the Canon China website see the Canon EOS 400D page.
• [08/01/06] - In the "For What it's Worth" department, CameraWest (www.camerawest.com) are adding names to their waiting list for the 22MP EOS 1Ds. Also a Leica M8 and the Nikon D80. Wishfull thinking? Guessing to attract viewers to their website? - or do they know something?
July 2006
• [07/28/06] - There's a Canon flash advertising banner running on an Israeli photography website (http://d-spot.co.il/forum/index.php?act=idx) which says (according to one translation) "This year August will be different - 8/24/06 - Every legend has a beginning" (though they use the 24/8/06 date format)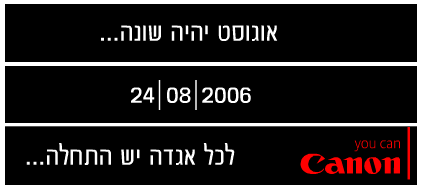 What it means I don't know. Obviously Canon will be bringing out new products for the fall as they always do, and August 24th fits in with their release dates over the last couple of years. Right now I'm hearing rumors all over the map, from a 24MP 1Ds Mk III to a $2000 full-frame DSLR to a sub-$500 EOS 3000D but none of them seem to be more than pure speculation and wishful thinking! If you make enough guesses, one of them will be right I suppose. If and when I hear something that actually seems to have some factual basis you can be sure I'll post it here!
• [07/05/06] - Canon have relased firmware updates for the EOS 1D MkII N and the EOS 5D. The EOS 1D Mk II N update enhances direct printing from the camera to certain Canon printers. The 5D update incoprorates the same enhancements and also corrects problems with direct capture and certain Speedite issues. Full details can be found on the Canon website via the links above.
June 2006
• [06/29/06] - Canon have announced their analysis of the problem reported with the EF 70-300/4.5-5.6 IS USM (lower resolution at 300mm in vertical orrientation) and will be offering a free fix for any lens which shows the effect starting on July 18th. There's an announcement on the Canon Website with full details. Only lenses with a "0" or a "1" as the 3rd digit of the serial number (xx0xxxxx or xx1xxxxx) are affected. Lemses with a "2" (or higher) as the 3rd digit do not show this problem.
• [06/26/06] - They say no news is good news, so this news must be bad...Adobe have aquired Pixmantec. If you've been using Pixmantec's RAW Shooter RAW conversion software, this may not be good news, especially if you've bought the "Pro" version rather than using their free "essentials" software. Full details are on the Pixmantec Website. Adobe want you to buy their "Lightroom" software, so I guess buying out Pixmantec and killing off Raw Shooter is their way of making your decison for you...maybe it's time to give Canon's (free) Digital Photo Professional (DPP) software another look.
• [06/24/06] - Sorry about the lack of news this month. I've been on vacation so updating the site has been difficult, but really not much has happened in the Canon world. Note that the Canon Rebates end in about 3 weeks, so if you're thinking about buying, don't wait too long!

I see that Amazon is now offering the excellent Tamron 17-50/2.8 Di-II lens for $355 with free shipping. If you buy before the end of June, they also offer a free Domke Camera bag (normally sold by Amazon for $60), so that's a pretty good deal if you're looking for another bag. I have a full review of the lens here on this website (Tamron 17-50/2.8 Di-II review)
May 2006 -
• [05/28/06] - Canon have published a technical overview of a couple of their new lenses, the EF 85/1.2 II USM and the EF-S 17-55 IS USM. You can find it on the Canon Website
• [05/25/06] - In the "why am I not surprised" department comes news that Canon are considering the future of further 35mm film cameras. Nikon stopped development last year and I'd assume most major 35mm SLR makers will follow suit at some point (if they haven't already...). Here's the story:

TOKYO (Reuters) - Japan's Canon Inc. said on Thursday that it would consider halting development of new film cameras as it focuses resources on digital models, the latest sign of the rapidly fading role of film in photography. A spokesman at Canon, the world's largest digital camera maker, said it would consider whether it needs to continue developing both compact and single lens reflex (SLR) film models because the markets for both are shrinking. Canon said it would continue to produce and sell existing models and make a final judgment on the business in the future while monitoring market demand.
• [05/24/06] - Canon have added an "EOS WORLD" section to their BeBit Page. It's a Flash based presentation on the EOS system.
• [05/24/06] - Canon have issued a service notice acknowledging that some EF 70-300/4-5.6IS USM lenses may show lower resolution at 300mm at the edge of the frame in vertical orientation than in horizontal orrientation. They expect to have a "fix" for the issue by the end of June. You can read more details on the Canon Web Page. I have this lens and I've been shooting with it for over 6 months. I've been more than happy with the results. It's possible I have a good sample and the problem only affects a subset of lenses or maybe I haven't looked close enough and I'm not that picky! I have tested for the problem and really see an effect large enough to make me think there was any lens defect. Canon haven't commented on the number of lenses affected (and I doubt that they will). I would not let this issue disuade anyone from buying this lens, which I think is great. It gets a Lensplay Rating of 8.5 from users, which is very good, so the problem doesn't seem to bother all that many users. It's something you might see if you do extensive lens testing, but doesn't seem to be an issue for most users based on the 8.5 Lensplay user rating. When Canon issue their "fix" I'll report the details here.
• [05/23/06] - Canon have made 4 new Picture Styles available. They are "Nostaligia", "Twilight", "Clear" and "Emerald". They can be downloaded from the Canon Japan website.
• [05/17/06] - If you haven't noticed it on the menus here, I've launched a new website LensPlay which has an extensive database of EOS compatible lenses (182 at the moment), with specifications, comments, ratings and a user rating feature which seems quite popular. The site is still being developed with more data, features and lenses being added daily.
• [05/08/06] - Adobe have released Camera Raw 3.4 which includes support for the EOS 30D. It can be downloaded from the Adobe website. It's available in a WINDOWS version and in a MAC version
April 2006
• [04/08/06] - Just posted - my "hand-on" review of the new EOS 30D.
• [04/01/06] - As I reported last month, the expected Canon Spring Rebate scheme has been announced with rebates on cameras, lenses and speedlites. It's a simple rebate scheme with a fixed rebate on each item and no additional rebates for multiple purchases. The most signifcant rebates are $300 on the EOS 5D and $100 on the Digital Rebel XT. Full details can be found on the Canon Rebates Page
March 2006
• [03/30/06] - The EOS 30D is now shipping from stock at a number of stores. I'd recommend taking a look at these links from J&R. They're offering free shipping for a limited time and they have a 30-day return policy.


• [03/29/06] - Canon have released firmware updates for the EOS 5D, EOS 1D Mk II N and EOS 30D (which only corrects problems displaying the menus in chinese). You can find them via the Canon BeBit Page. There's an important note about the EOS 5D update though. Version 1.0.5 for the 5D can be installed by users, as long as the 5th digit of the camera's serial number is 2 or higher. If the 5th digit of the 5D's serial number is 1, customers are requested to contact their regional Canon Factory Service Center for further assistance.
• [03/25/06] - Well the 30D has hit the streets in the US. There are reports of a number of smaller local stores selling the 30D over the counter from stock. I don't think any of the major internet vendors have shipped yet, but it's probably only a matter of days before they do - maybe Monday?
• [03/20/06] - Canon have posted software update utilities for the programs suppled with most DSLRs. I think the updates are the same for all cameras, so here's the EOS 20D Link. Click on the "Drivers/Software" link. The update utilities are: ZoomBrowser EX 5.6.0 Updater for Windows, ImageBrowser 5.6.1a Updater for Mac OS X, Digital Photo Professional 2.1 Updater for Windows, Dgital Photo Professional 2.1 Updater for Mac OS X, EOS Utility 1.0 Updater for Windows, EOS Utility 1.0 Updater for Mac OS X and CameraWindow DSLR 5.3 R2 Updater for Windows.
• [03/20/06] - If you're looking for storage, Amazon now have the Hitachi 4GB CF microdrive for $96.34 after a $30 mail in rebate. That's about as cheap as memory gets. Free shipping too!

In the rumor department, it seems possible that Canon might offer a US rebate on the EOS 5D starting in April. There's already a rebate program in Europe and Canada (a $300 rebate if you buy a EOS 5D together with any Canon EF lens - except the EF 24-105 L IS USM - Speedlite or Battery Grip), so this wouldn't be a surprise.
• [03/17/06] - The EOS 30D is now available off the shelf in Canada and Norway (as well as Australia and Singapore). No word on any US sales yet, but the word on the street is that retailers in the US seem to be expecting Canon to start shipping to distributors around the end of next week (March 24th), so retail shipments should begin in early April.
• [03/15/06] - Europeans have all the luck....Canon Europe have a Cashback offer for buyers of the new EOS 30D. It's a rebate scheme for a number of lenses, speedlites and bincoulars. For example, if you live in the UK you get the following rebates: EF 300mm 4L IS USM £105.00; EF 100-400mm f/4.5-5.6L IS USM £105.00; 10 x 42L IS WP £105.00; EF-S 10-22mm f/3.5-4.5 USM £70.00; EF 17-40mm f/4LUSM £70.00; EF 70-300mm f/4.5-5.6 DO IS USM £70.00; 18X50 IS All Weather £70.00; EF-S 60mm f/2.8 Macro USM £35.00; Speedlite 580EX £35.00; EF 70-300mm f/4-5.6 IS USM £35.00; MR-14EX £35.00; 10X30 IS £35.00; Extender EF 1.4x II £35.00; Extender EF 2x II £35.00.

Still no word on EOS 30D availability in the US and no word of any similar US rebate schemes. Note though that most items are still cheaper in the US without a discount than in the UK with a discount!
• [03/11/06] - The EOS 30D is now available from many stores in Hong Kong and Singapore. The HK list price is $HK 9880 = $US 1,275. Still no word on when it will first be available in Europe and the USA. US and UK stores are still quoting delivery dates anywhere from "a few weeks" to mid-May. I guess they don't know either!
• [03/07/06] - The EOS 30D is currently available in Australia "over the counter" in some photo stores. No word of any US shipments yet.
• [03/06/06] - If you can't wait until your EOS 30D arrives, you can download the manual from the 30D support page
• [03/03/06] - Well PMA is over now and Canon made no more significant announcements of DSLRS or SLR lenses. It's the 30D, EF-S 17-55/2.8 and EF 85/1.2L II. If Canon are true to form the next signifcant announcement of new products will probably be at the end of August.

In the meantime the prices on the Digital Rebel XT have now dipped below $700 and the EOS 20D is down to $1120 (or $1160 with the 18-55 kit lens, which is a pretty good deal). There's no word on how long Canon intend to keep the 20D in the lineup. Right now, at $280 cheaper than a 30D, it's not a bad low-cost upgrade path for 10D and Digital Rebel owners. It does not look like there will be any "fire sales" on remaining 20Ds and there's little sign so far of people "dumping" them at low cost to upgrade to the 30D.
February 2006
• [02/25/06] - The Canon BeBit site has added an article on Canon Flash (Speedlite) technology and operation. The URL is http://www.canon.co.jp/Imaging/flashwork/index.html
• [02/21/06] - It's the EOS 30D! Big news is that it's still an 8.2MP sensor, but it has the larger 2.5" LCD as predicted, along with 1/3 step ISO settings, picture styles and a larger image buffer. It also has a 3.5% spotmeter and ISO display in the viewfinder (like the EOS 5D). Predicted street price is $1400. For more information see The EOS 30D preview which is being updated as more information comes in. The rumored EF 85/1.2L II ($2100) and EF-S 17-55/2.8 IS ($1150) have also been verified. There are some 30D sample images on the Canon Japan website HERE, though there seems no reason why they'd be different from 20D images since it's the same sensor and Digic II chip.
• [02/20/06] - If no news is good news, I have good news - there's no news! I have to congratulate Canon on keeping their new products mostly under wraps. We have some names and numbers, but the detailed specs are all still unknown. It looks like by this time tomorrow we will know, and as soon as I get them, I'll post them. Those looking for bargains once the new products appear might note that the prices on both the EOS 20D and Digital Rebel XT have been dropping (see the Amazon ads above).
• [02/17/06] - Is it real....or is it Memorex? A page which looks like it may have been from the Canon Spain site linked to below (see 02/13/06) has either been leaked of faked. It listed the following items:

• IXUS 800iS • IXUS 65 • IXUS 60 • Powershot A540 • Powershot A530 • Powershot A430 • Powershot A700 • Powershot S31S • EOS30D • EFS 17-55mm • EF 85mm

Could be a fake, could be real, I'm not sure. However it is reasonable. I'd assume an EF-S 17-55 would be a new faster lens (f2.8?) and not just a tweak of the 18-55 kit lens [note the news item below from 02/15/06 about the similar new Tamron 17-50/2.8 Di II]. The 85 would presumably be the rumored upgrade of the 85/1.2L incoporating distance info for E-TTL II. EOS 30D? Maybe, though EOS 35D seems to be the most popular rumor name. Then again, Canon aren't listening to rumors so they can call it whatever they want! On Tuesday Feb 21st, we'll find out which of the rumors turn out to have been right!
• [02/16/06] - Between February 21st 2006 and June 30th 2006, Canon Europe will be offering a 300 Euro rebate on the Canon EOS 5D. Note this is Canon EUROPE only at this time and it will certainly apply in Germany. Which other countries it will be valid in is unknown right now. No word from Canon USA on any sort of similar scheme. This would drop the price in Europe to maybe 2250 Euros, which is around $2700. In Japan the 5D sells for around 310,000 Yen, which is around $2630. The current US price seems to be running around $2950 so some sort of similar ($300??) rebate could be possible here. I stress possible. In the past rebate programs offered in Europe have not always been offered in the US and vice-versa.
• [02/15/06] No new EOS 35D news today, but.....Tamron have released 3 new lenses in a Canon EOS (EF) mount. The most interesting is a 17-50/2.8 Di II (for 1.6x DSLRs only). There are also updated "Di" versions of the 70-300 and 28-200 with full frame coverage.
• [02/14/06] - The Canon Spain website (referenced below) removed the splash screen announcing the upcoming announcement scheduled for February 21st! I presume this means nothing other than that they decided not to pre-announce their announcement!
• [02/13/06] The Canon Spain website (http://www.canon.es/) is running a splash screen that says Canon will be announcing 70 new products on February 21st, but of course gives no clue as to what any of them might be! It's a pretty good guess that one of them will be the Canon EOS 35D though!
• [02/12/06]- There's a report that Canon Norway have scheduled a press briefing for 11:00 GMT on February 21st at which they will talk about new products including a DSLR, lenses, digicams, projectors and printers. 11:00 GMT is 6:00am in New York and 3am in Los Angeles. Not really a surprise with PMA coming up at the end of that week. Fotografi.no are speculating about the possibility of the EOS 35D (the name most currently in favor) being a 1.3x DSLR but I think they are alomost certainly wrong about that. I'm sticking with my opinion that 1.6x is the most likely sensor size in any new consumer DSLR in order to maintain compatibility with EF-S lenses. See my current predictions
• [02/02/06] A pre-PMA release of a new Canon camcorder. The Canon DC40 records directly to a 3" DVD, has a 10x zoom and a 4.3MP CCD sensor. It also records still images on a mini-SD memory card.
• [02/01/06] - Less than 4 weeks to PMA now (it opens February 26th). Nothing new on the rumor front, just the same old speculations and PhotoShop composites of the new Canon DSLR! The most likely date for some sort of announcement from Canon is probably February 20th. It's the last Monday before PMA and Canon seem to like to make announcements on Mondays. From dealer reports the 20D does seem to be on its way out though it's still anyone's guess what the specs are of whatever will replace it - except than the name, which seems to be the EOS 35D. Here's a link to my best guess
January 2006
• [01/27/06] - Canon Europe seem to be taking direct action against "parallel imports" (otherwise known as grey market goods) according to an item on the Canon UK website.
"Canon recently secured an interim injunction against Crown International BV, a Dutch company to stop the sale of parallel imported Canon camera products in EEA (European Economic Area)...Canon has also obtained an injunction against an Internet dealer, Priskrig AB, based in Sweden"
No word from Canon USA as to whether they will try similar tactics to stop grey market sales.
• [01/20/06] - well no lack of rumors. One site has an EOS 3000D posted. 6MP, very low cost DSLR. Possible? Maybe. Trouble is that the images they posted first appeared on the web last August as a rumor of a new model which turned out to be the EOS 5D. Oh well, you can't always believe what you read!

I've also seen rumors that the image quality of the new EF70-300IS lens is worse in portrait mode (vertical) than in landscape mode (horizontal) when zoomed out. I checked mine, vertical, horizontal, autofocus, manual focus, upside down - all the same. I saw no difference in image quality at all and I was shooting resolution test targets at 300mm, which should show up even small differences in sharpness.
• [01/19/06] - Canon announced today that they had made their 30 millionth EOS lens. That's 30 million lenses in less than 20 years. In the last 5 years they have made 10 million EOS lenses. No word on how many of them were EF-S though!
• [01/17/06] - No, I don't have any inside info on the Canon EOS 30D! I've listed ny thoughts on the subject here. I suspect that we'll probably see a new 1.6x DSLR with a 10MP sensor, 2.5" LCD, style picture modes and tweaked AF announced at PMA in late February, but that's just a guess. Right now I don't trust any of the "leaks" which are circulating on the web.
• [01/11/06] - Canon Europe CPS Newsletter #15 has been released. There are a number of photo essays as well as a technical articles on using PhotoShop to correct lens distortions and using the new "Picture Styles" which are currently available on the EOS 5D and EOS 1D MkII N.
• [01/05/06] - Just a reminder that the current Canon Triple Rebate program ends on January 15th. All purchase invoices must be dated on or before that and all claims must be mailed by February 6th and received by February 13th. If Canon stick to their usual pattern, this rebate will not be extended and the next rebate program (which is likely to be a lower value "single item only" program) probably won't appear before late spring/early summer (and of course there's no guarantee of that either).

Since you can save $300 on a 20D, $225 on a Digital Rebel XT, up to $150 on each lens and $75 on a printer, it would be a shame to miss the rebates if you're intending to buy something soon!

The Consumer Electronics Show (CES) is running right now in Las Vegas. Nothing new announced from Canon as yet, but Samsung, HP, Fuji, Sony etc. have announced a bunch of new digicams, none of which are particularly earth shattering. Usual stuff, a few more pixels, an extra bell and whistle and a slightly bigger LCD. Canon may well wait until the PMA show at the end of February before announcing new products. It's focused more on photography than CES.