Tamron SP AF11-18mm F/4.5-5.6 Di-II LD Aspherical (IF) Review
Optical performance at 18mm
The only lens I had for comparison was the 18-55/3.5-5.6, so that's what I used. Not a fair comparison to use the short end of a cheap consumer zoom against the long end of a superwide zoom, but it was that or nothing, so I chose that! The full frame shot is shown below, the red areas are where the 100% crops were taken from.
The crops below were taken from the center of the image. It's pretty clear that the difference is small and neither lens sharpens up when stopped down, showing that aberrations are well controlled in the center of the field.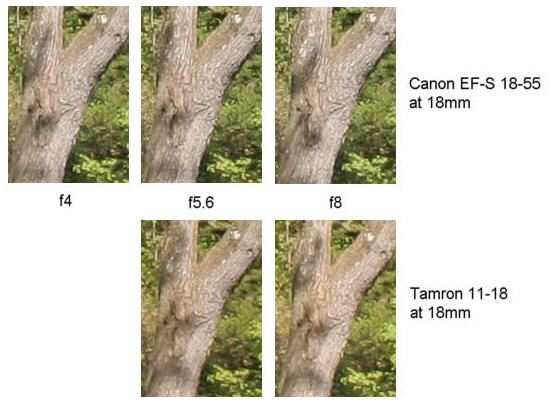 However at the corner of the image it's a different story. The Canon EF-S 18-55 is clearly soft and low contrast wide open and only a bit better when stopped down to f5.6. It doesn't really get acceptable until it's stopped down to f8. On the other hand, the Tamron 11-18 is pretty good wide open at f5.6 (much better than the Canon) and even slightly better at f8.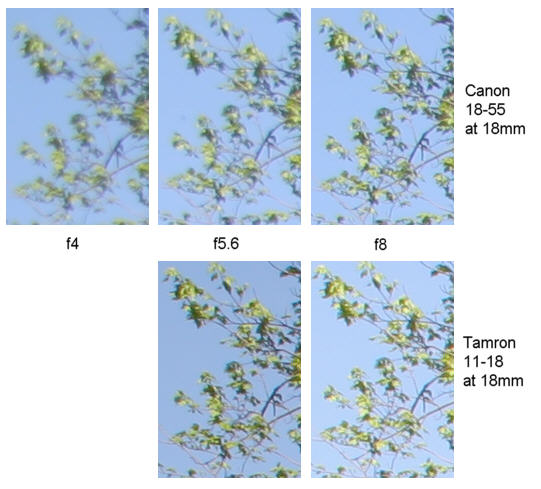 So at 18mm the Tamron lens is significantly better then the Canon away from the center of the field. Probably what you'd expect, so no surprises there.
Optical Performance at other focal lengths
Unfortunately, I don't currently have access to any lenses shorter than 18mm apart from fisheye lenses, and there's little point in comparing fisheye lenses to rectilinear lenses when you're doing a rectilinear lens test. So the following images have to stand on their own.

These are 100% crops from 20D images with the sharpening parameter set to "normal" and no post exposure unsharp masking. On my monitor (17" 1280x1024) they represent sections of about a 24" x 36" image. On the most common monitor/screen setup (17", 1024 x769) they'd be equivalent to crops from something like a 28" x 42" print.

First center and edge at 18mm: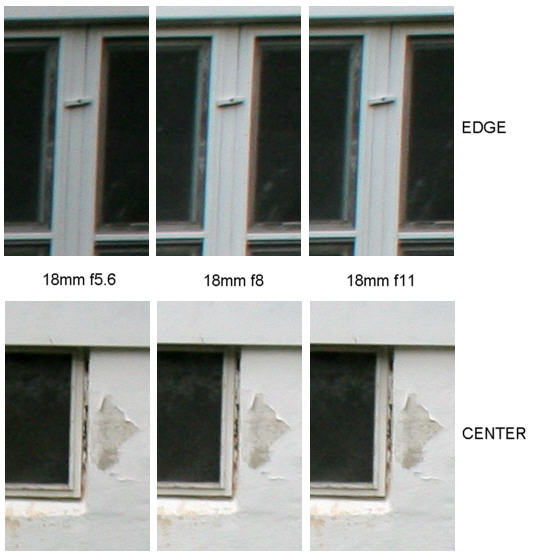 Second, center and edge at 14mm: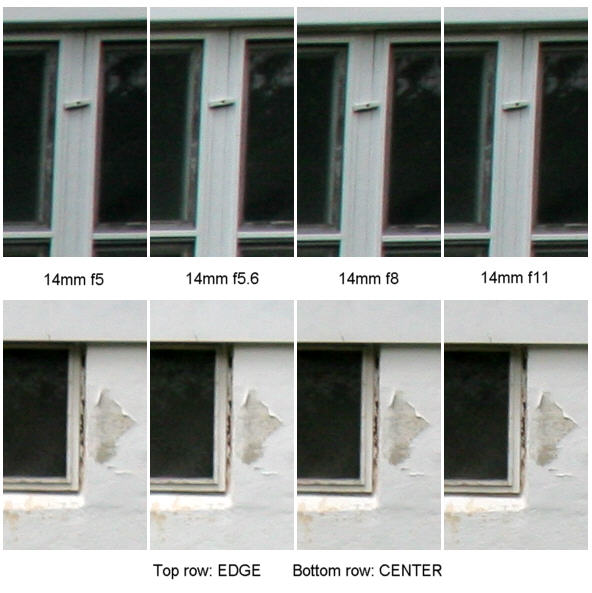 Third, center and edge at 11mm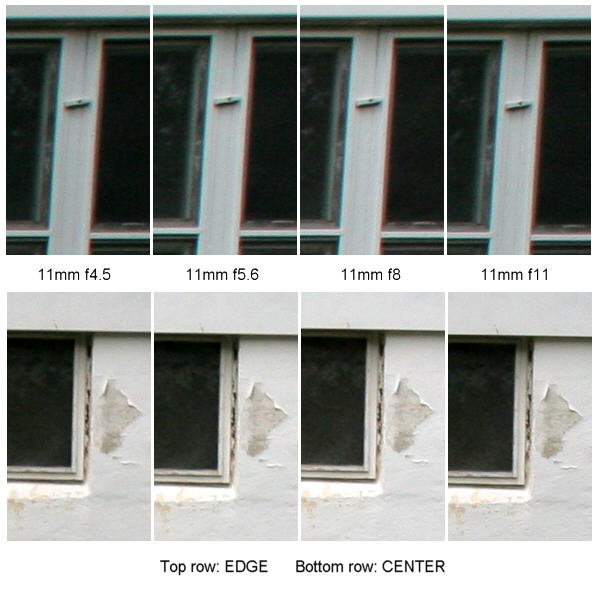 What these images show is a remarkable consistency. Image quality varies little with focal length and sharpness wide open is almost as good as sharpness when stopped down. Some chromatic aberration is visible at the edge of the image at all focal lengths and it's slightly stronger as the lens is zoomed to shorter focal lengths.
[Update - following images added 05/18/05]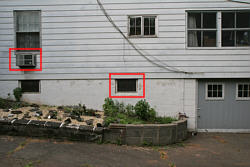 Since I didn't have a similar zoom to compare the Tamron SP AF11-18mm F/4.5-5.6 Di-II LD Aspherical (IF) against, I took a couple of shots comparing it with a Canon EF24/2.8 prime. The images below are 100% crops from EOS 20D shots as shown by the red boxes in the image to the left.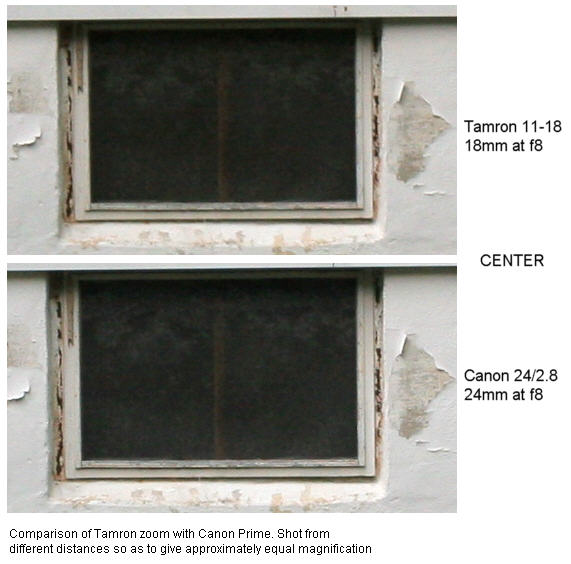 The prime lens is better, but it should be. There's not a "night and day difference" here and I think the zoom does pretty well.
Here's a look at the edge quality: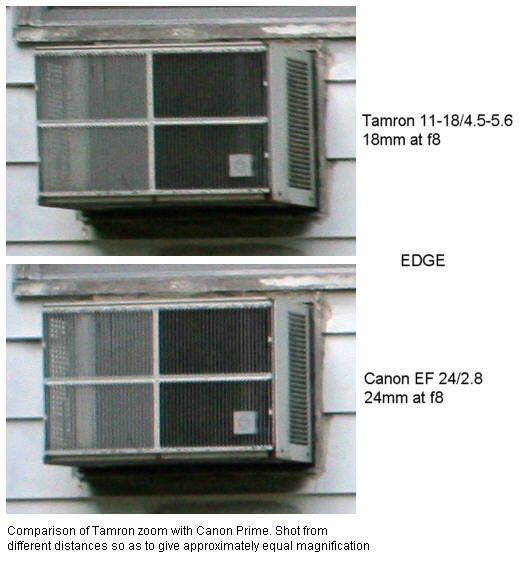 Again, the prime is obviously better, but the zoom isn't too bad. Remember these 100% crops represent section of images that, viewed on most monitors, would be around 24" x36" - pretty big prints!
[NEXT: Chromatic Aberration and Flare]
© Copyright Bob Atkins All Rights Reserved
www.bobatkins.com