Tamron SP AF11-18mm F/4.5-5.6 Di-II LD Aspherical (IF) Review
Chromatic Aberration
Chromatic aberration was judged from shots such as the one below, taken at 11mm, 14mm and 18mm. The image in each case was the same so the shots were obviously taken from different distances.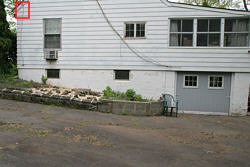 Below are the shots at 11mm, 14mm and 18mm showed as 100% crops. This a significant degree of enlargement, used here only to better show CA. On my monitor (17") a 100% crop is equivalent to a 2ft x 3ft print.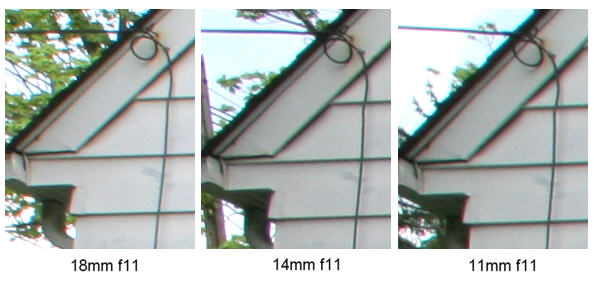 Chromatic aberration is evident in all three shots and the increases as the lens is zoomed to shorter focal lengths.
Chromatic aberration can be corrected to some extent using software. Chromatic aberration (lateral) is sometimes known as chromatic difference of magnification and the result is that the images in red, green and blue light are slightly different sizes. By adjusting the size of each component in a color image a significant degree of correction is possible. PhotoShop CS can correct during the RAW conversion process and Picture Window Pro can correct JPEG files.
Flare
Here are two sets of shots taken first with the sun in the top left corner of the frame, and then the same scene with the sun blocked out. Manual exposure was used so that the exposure for each image was the same. The first pair of images were taken at the 11mm setting and f5.6: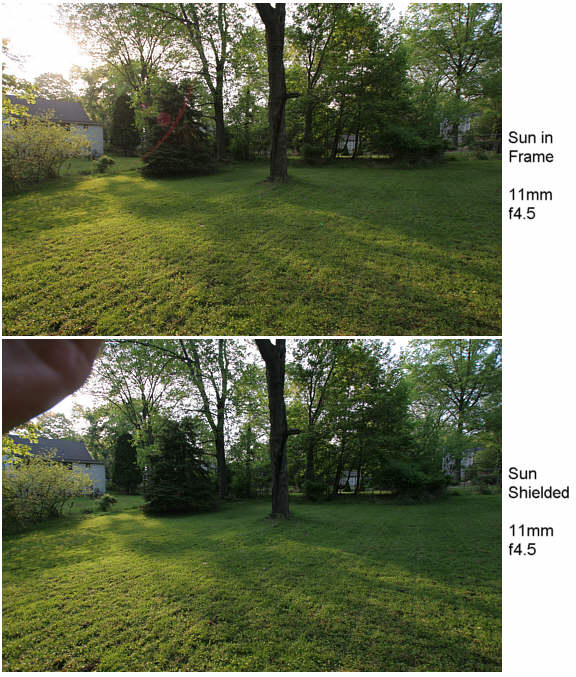 In the upper image (with the sun in the frame) some flare is observed in the form of a red circle and arc. This is not unexpected under such severe conditions. The interesting thing is that there is little veiling flare (overall loss of contrast), as can be seen by comparing the upper shot with the lower shot. Most of the image is similar in contrast, showing good overall flare suppression.
The second set of shots (shown below) were taken under similar conditions at 18mm and f5.6.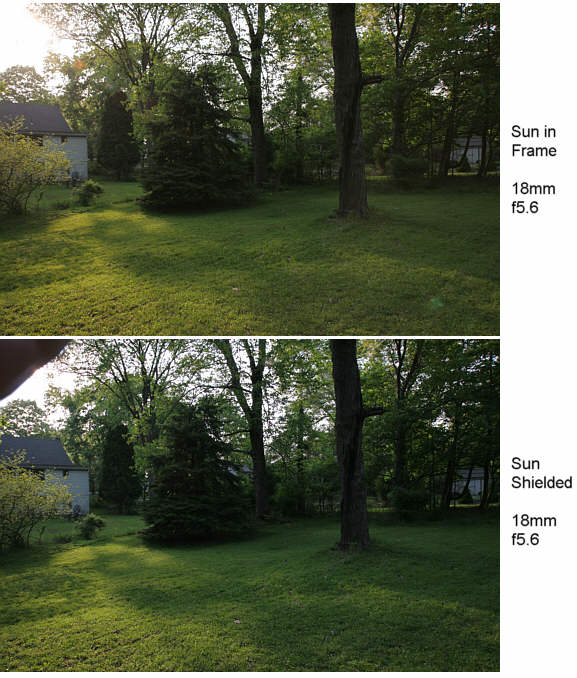 Again flare is well controlled. In the upper shot with the sun in the frame there's a small faint red circle at the upper left and a faint green mark at the lower right. However again comparing the two shots you can see that there's very little loss of overall contrast showing good flare suppression.
Overall the Tamron SP AF11-18mm F/4.5-5.6 Di-II LD Aspherical (IF) shows very good resistance to flare.
[NEXT: Distortion and Vignetting]
© Copyright Bob Atkins All Rights Reserved
www.bobatkins.com